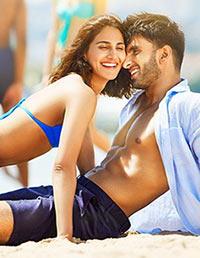 It's hard to muster up excitement for something that looks this inane, feels Raja Sen.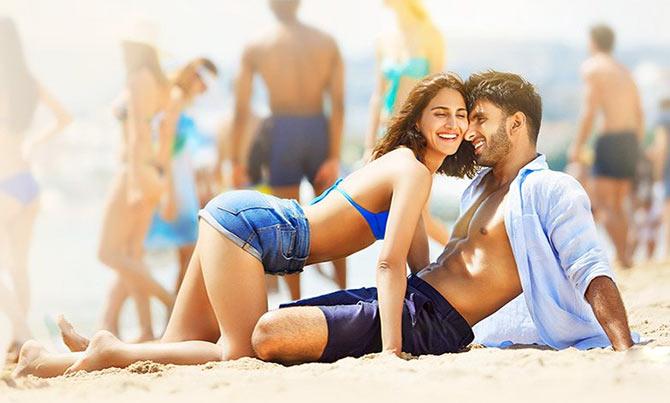 Aditya Chopra has returned -- with a film that looks positively moronic.
Befikre -- a film about reckless romantics -- stars Ranveer Singh and Vaani Kapoor, and, judging by this first trailer, delights in making a monkey out of them, while constantly asking them to make out.
It is one of the year's most disappointing trailers, and judging purely by this, Befikre might be a December release worth ignoring.
It starts with Singh and Kapoor eating burgers and learning to say 'never say I love you' in French.
We see them meet, do shots, dance on the road and tumble into bed, all in quick succession, following which the girl says she doesn't want anything complicated, while the boy looks on, thunderstruck.
It's a setup we've seen many times before -- most recently in the Sunny Leone starrer One Night Stand.
Then Ranveer propositions her, after which she dares him to slap a policeman. Only then will she go outwith him.
Singh obliges, following which we see a montage of dares, most of which involve public makeouts and the leads walking around in their underwear.
From this glimpse, it all looks terrifically tacky -- the shot of Singh strutting through a black-tie gala in a cowboy hat and white briefs, for example, is reminiscent more of Gunday than anything watchable the actor has been in.
Kapoor, a pretty girl with a striking smile, is frequently photographed poorly, often appearing unrecognisably odd -- especially when wearing a baseball cap.
It appears that this is Chopra's attempt to try making Yann Samuel's Love Me If You Dare, a sexually charged and heady French film starring real-life lovers Marion Cotillard and Guillaume Canet.
The film is about a pair of romantics who constantly dare each other to do outrageous things -- they take turns handing each other a tin box and saying the word 'game' -- and it is an immensely fun ride.
Befikre, judging from this ominously poor trailer, might not prove to be as much.
The dares seem repetitive, the actors look uncomfortable -- especially when making out in a car, with their body language all wonky and wooden -- and simply throwing some French words into a Hindi trailer doesn't automatically class it up.
The film releases on December 9, and right now it's hard to muster up excitement for something that looks this inane.
The trailer ends with the two of them riffing on a DDLJ routine and making a gag of it, because, as we know, it isn't humanly possible for Aditya Chopra to avoid referencing his greatest triumph with every single Yash Raj production over the last two decades.
Le sigh.