'When Sultan released, I got greedy. I decided to make another film with Salman because he gets me a lot of box office.'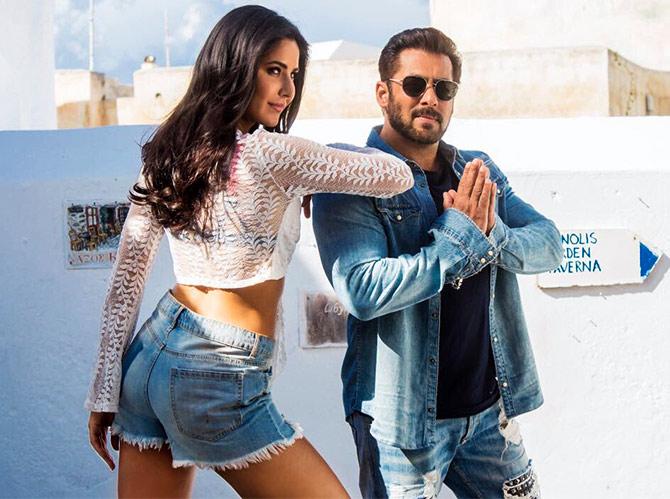 IMAGE: Katrina Kaif and Salman Khan in Tiger Zinda Hai.
After making Mere Brother Ki Dulhan, Gunday and Sultan, director Ali Abbas Zafar gives us the biggest movie of the year, Tiger Zinda Hai.
Zafar says he got 'box office greedy' after Sultan, and couldn't make his next film with anyone else but Salman.
So he adapted a script, and made it a sequel to the hit Tiger franchise (Ek Tha Tiger).
Zafar tells Rediff.com's Patcy N that he's been having sleepless nights since.
How was your experience working with Salman after Sultan?
It was a great experience.
He's funny as always, always pulling my leg.
In the first film, we were still trying to get to know each other. This time, we were more comfortable.
Once again, I pushed him hard in the film, and he would keep complaining.
But we enjoy working together.
How much did Salman and Katrina's stardom affect the filming process?
I could only mount a film of this budget because of the stardom.
With time, superstars like Salman Khan and Aamir Khan are getting careful about the characters they play. They want their characters to be bigger than them.
Whether it is Dabangg, Sultan or Bajrangi Bhaijaan, they want people to call them with their character names because of the impact the films create. And that is possible only if the characters become bigger than them.
Because he is Salman, people love everything he does. They think he is contributing to their lives.
Will Salman and Katrina's chemistry overshadow the story?
When you make a small or niche film, it's easy because with your trailer, your audience will make up their minds whether they want to go and watch it or not.
But it's very difficult to make a commercial film.
A segment of the audience may like action films, another may like romance, others may like a family film... you have to cater to everyone.
When you're making the most hyped film of the year, you have to keep in mind that no one should feel that 'isme hamare liye kuch bhi nahi hai.'
So I can't be selfish and say that if it's an action film, I will only show people firing their guns.
I have to be true to his fan base. People who like to watch Salman and Katrina together will also get excited and come to the theatres.
When they watch the film, my story will either hold their attention or it will not.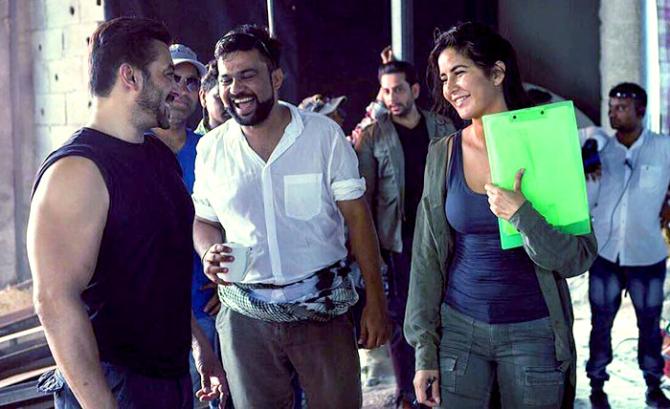 IMAGE: Director Ali Abbas Zafar chats with Salman and Katrina on the sets of Tiger Zinda Hai. Photograph: Kind courtesy Tiger Zinda Hai/Instagram
Kabir Khan directed the first film. Was he involved in this?
No, not at all. But I shared the story with him.
Actually, when I wrote the story, it was not supposed to be a sequel to Ek Tha Tiger. It was called 360 Hours and was a rescue mission with Indian and Pakistani agents.
But when Sultan released, I got greedy. I decided to make another film with Salman because he gets me a lot of box office.
So I went to Adi (Aditya Chopra) and told him about 360 Hours.
When he asked me who I had in mind, I told him I wanted to make it a Tiger franchise.
He laughed.
I explained that the script had Pakistan and Indian spies, and so could be adapted as a Tiger franchise.
I told him we could have a kickass title like Tiger Zinda Hai. So he got greedy as well and agreed.
In a week's time, I adapted the script and made it a sequel to Tiger. I narrated it to him and he felt it would work.
We planned what Salman and Katrina's characters had been doing for eight years and why they joined the mission, and it became a more relatable story.
Then I went to Salman and he asked me what the title is. I said Tiger Zinda Hai.
He loved the title and asked me to narrate the script. Within 20 minutes -- he doesn't hear the whole script narration usually -- he said, 'Ali, whether it is a sequel or not, I will do it because the story is the hero. It's bigger than Tiger and Zoya.'
Katrina had the same reaction.
After this, I went to Kabir and told him the story and that I wanted to make it a sequel. He thought it sounded interesting and was very supportive.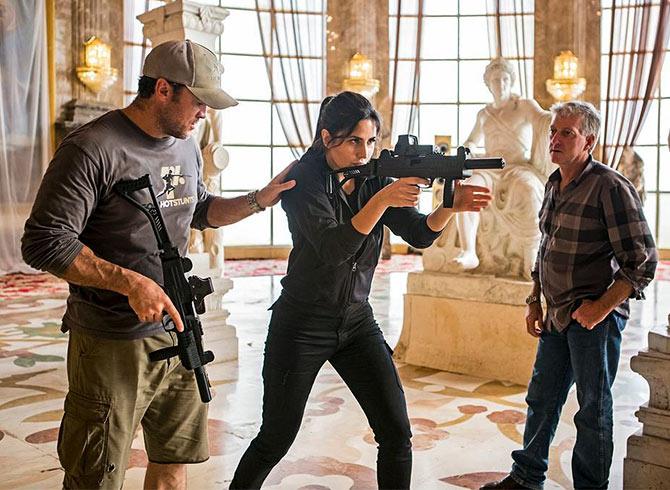 IMAGE: Katrina prepares for the action sequences. Photograph: Kind courtesy Tiger Zinda Hai/Instagram
This is the second time you are working with writer Neelesh Misra, after Sultan.
We worked on the film together. He's is very good with documentation; he's been a journalist. We were planning the story with a real event, so his contribution was valuable there.
Salman's last film Tubelight didn't do well. Did you have a discussion with him about his fans wanting to see him in a certain way?
No, it comes from the story.
Sultan was also very challenging for him as an actor. He was not in his best shape then.
The idea was to make him look a certain way, as that was a part of the story.
It was about a man who has given up everything and living the life of a recluse.
But the film had great wrestling sequences, which made people emotional. The story was also very emotional.
Tiger is also an emotional story. Obviously, there is a lot of action, as there is a rescue mission.
A lot of his fans like him doing action. That's why I wanted to present him in a way where his fans will not be disappointed, but it will all come from the story.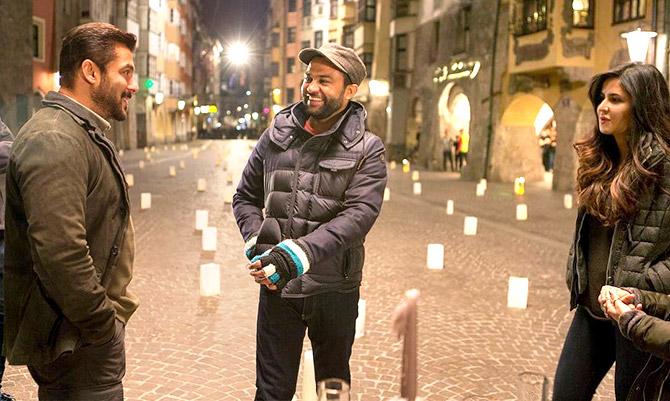 IMAGE: Director Ali Abbas Zafar discusses the song Dil Diyan Gallan with Salman Khan and Katrina Kaif on the sets of Tiger Zinda Hai. Photograph: Kind courtesy Tiger Zinda Hai/Instagram
What attracted you to this real life event?
When this episode happened in 2014, it was also the time when Prime Minister Modi came to power, and the Beti Padao Beti Bachao slogan (became popular).
These girls were captured around the same time.
Everyone said, those girls were 'hamari desh ki izzat, that we need to get them out no matter what.'
I was in awe that they were caught on ground zero in Iraq, and we pulled them out without firing a single bullet! That made me think that what if things were different and there was a team that would go and get the nurses out? How will that mission look like?
It was an inspiring story on a global scale because this news was covered by the international media as well.
The film is not jingoistic; it is a very patriotic film. It is a very human story as well. Not just these nurses but the local Iraqis were also troubled by the situation. There are many layers to the film.
If no bullet was fired, why did you add guns in your film?
If I do a replication of what actually happened, it will be a documentary. But I am making a film.
My expertise comes in when I create something that doesn't exist.
Sultan was also based on real events that wrestler face. At the same time, it is a completely fictional character.
I researched on the lives of each nurse but I did not pick up any of the stories there because if I got into that, I would have to do justice to each nurse's story there.
So I created my own group of nurses and gave them stories.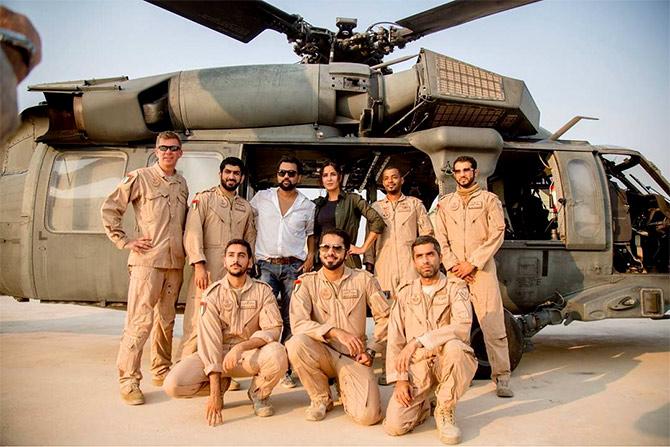 IMAGE: Ali Abbas Zafar and Katrina on the sets of Tiger Zinda Hai. Photograph: Kind courtesy Tiger Zinda Hai/Instagram
Are you worried about the comparison with the Malayalam film Take Off?
There will definitely be comparisons. I have heard it is a brilliant film, I have to watch it.
They are very different films.
The Malayalam film is very true to the incident while I have completely fictionalised it.
It's like Dangal and Sultan. Dangal was a film based on real wrestlers while Sultan was a fictional story. But both films created an impact.
Tiger Zinda Hai is not only about the nurses though it is an important chapter. I am also dealing with the local Iraqis, the way Indian intelligence works, what goes behind training agents...
Plus, my film is not political at all. My film takes a human stand.
What were the major challenges you faced before you wrote the script?
The main question is: How does this affect you or why would an Indian go and watch this film?
A lot of people did not have any idea about Neerja's story. But when you watched the film, you understood what that girl did.
There are a lot of unsung heroes, only a few get the limelight.
We didn't know what goes into mounting a mission, so we did a lot of research for three to six months.
I spoke to people in Iraq as well as people who were involved in the operation. I thought about what information to use and what to fictionalise.
You have to be very sure about the details, like how the people look, how they walk, what do they eat, what would the situation be at ground zero...
We shot in Abu Dhabi because we wanted certain military equipment, which was not available in India, like Blackhawk choppers, Humvees and so on.
We also wanted a facial texture of Iraqi men, women and children.
My main villain is from Iran who lives in Abu Dhabi. We have also got cast from the US and UK.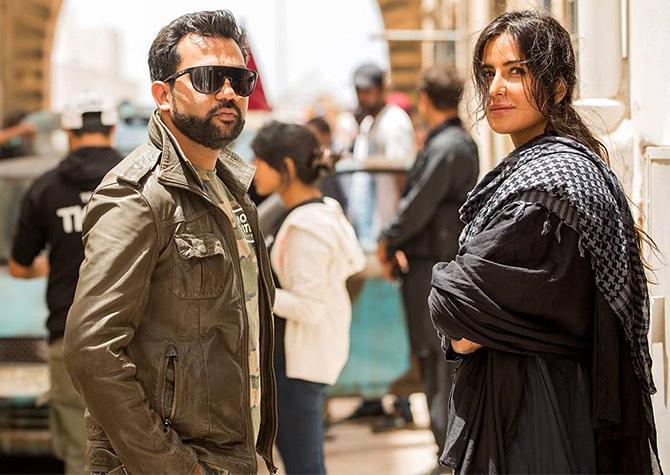 IMAGE: Zafar with Katrina. Photograph: Kind courtesy Tiger Zinda Hai/Instagram
Girish Karnad was reportedly sick and did not want to shoot.
Yes. That's why he first said no.
But I told him that apart from Tiger and Zoya, he is the only thread that continues from the first film. So he had to be a part of the film.
He asked me to send the script. After three hours, he called me back and said it's a good script to be part of.
This is your second film with Salman. Will it be tough to do a film without a superstar?
Yeah. The box office is directly proportionate to the money you spend on your film.
For me, the biggest film of 2017 is Hindi Medium because it was made on a shoestring budget of Rs 5 crore (Rs 50 million) and it made Rs 60 crore (Rs 600 million).
I always believe that you should cast for a film according to your script.
When I wrote Sultan, I was clear that only Salman Khan could do it because only he can pull off the character.
Plus, no one else has the physique of a pahelwan.
When you write a character like Tiger Zinda Hai you need a star because when he goes to save the nurses, it should look believable.
This has been our traditional style of storytelling from the time of the Ramayana and the Mahabharata. We need our quintessential hero.
It is very important for the director to understand that certain films will work only with a superstar, and sometimes you don't need them.
For me, the box office is not a high. My high is the story.
I felt equally passionate about Mere Brother Ki Dulhan and Gunday as I did about Sultan or Tiger Zinda Hai.
When I write a film, I don't think which actor is going to play the part. I just know that this is the story I believe in.
But when Salman is a part of the film, doesn't it add a lot of box office pressure?
Yes, it does. It gives you sleepless nights. I have not slept in the last two, three weeks and I won't sleep till December 25.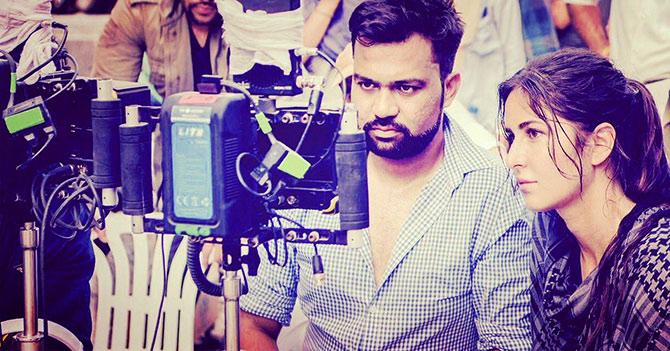 IMAGE: Zafar checks out the rushes with Katrina on the sets of Tiger Zinda Hai. Photograph: Kind courtesy Tiger Zinda Hai/Instagram
Are you worried that someone may take offence to the film since it is based on a real life incident?
From Day One, I have been saying it is a fictional story.
Border was a fictional story, but the war did happen.
Lakshya was a fictional story, but the war did happen.
Gadar: Ek Prem Katha is a fictional story, like Garam Hawa, but Partition did happen.
Lagaan was a fictional film, but the British did rule over us.
Padmavati is a fictional story, but it has become controversial.
When such things happen, people should sit across the table and discuss it.
The governing bodies should make the final decision. Hopefully, the right thing will happen finally.
Will it stop film-makers from making films based on real life?
Not at all. We are a very empowering industry.
What is the progress on your next film, Bharat?
The script is done, and Salman has loved it.
Once Tiger releases, I will take a small break and hopefully start work in February.
Bharat is an adaptation of a Korean film, Ode to My Father. But they are different films.
That film is about the country's history, so obviously we will adapt it to India.
We will have to consider our history, so a lot of research has gone into that.
It's a big budget film and it will take a lot of time to mount it.
Bharat will be your first film outside Yash Raj Films. Is Aditya Chopra okay with it?
Yes. I am still signed with YRF, so I will finish the film and come back.