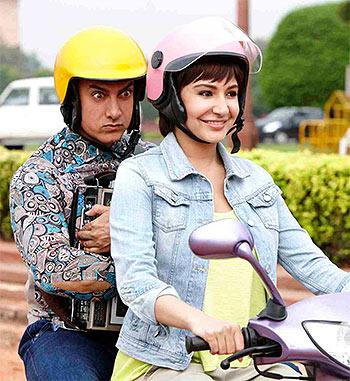 In an escalation of protests against Aamir Khan blockbuster 'PK', Bajrang Dal activists on Monday vandalised theatres in Gujarat exhibiting the film for making "fun" of Hindu gods and godmen and warned that its screening be stopped.
Besides Gujarat, the right wing activists also staged protests in Agra and Mau in Uttar Pradesh and Bhopal in Madhya Pradesh and tore posters of the film. There were reports that one theatre in south Mumbai's Parel had stopped screening of the film.
Violent protests were held in Ahmedabad and in other parts of Gujarat and the activists compelled at least 2 theatres to stop the screening of the film that has grossed over Rs 200 crore in Indian box office in the first 10 days since its release on December 19.
Angry at the theatre owners ignoring the 'diktat' not to screen the movie that has raised the hackles of a plethora of Hindu organisations, volunteers of the Bajrang Dal outfit descended on City Gold Multiplex and Shiv theatre on Ashram Road in Ahmedabad, smashing glass panes at ticket windows and tearing down posters.
By the time police arrived, the raiders had vanished.
"We are yet to identify the persons behind these attacks, which took place at around 10 am. We learned that the miscreants vandalised the ticket windows of both these theatres. We are now collecting CCTV footages to identify the persons. Theatre owners are in the process of lodging a case against the unidentified vandals," Dy Commissioner of Police Virendra Singh Yadav, said.
Though the police did not name Bajrang Dal men as perpetrators, the right-wing organisation claimed responsibility and warned of similar protests in coming days if theatre owners did not obey their command.
"Around 15 to 20 of our members today went to these theatres, which are screening Aamir's movie PK. I am warning other theatres to stop the screening, otherwise, we will intensify our protest in the city in coming days," said city Bajrang Dal chief Jwalit Mehta, who led the attack.
Claiming that the Aamir starrer had hurt the religious sentiments of Hindus by making "fun" of their gods and devotees, Mehta said he had called up theatre owners in the city on Sunday and asked them to stop its screening. "They, however, ignored our warning," he said.
"Since they underestimated us and ignored our warning, we went to these theatres today to show them what we can do. I want to warn them that if they don't stop the screening, we will not hesitate to take extreme steps in coming days," he said.
"If his (Aamir's) intention was right, they why the movie didn't show anything about his own religion Islam? Why only Hindu gods are depicted in bad light?" Mehta asked.
In Nadiad town of Kheda district, Bajrang Dal staged protests outside three theatres in the town by shouting slogans against Aamir Khan and burning posters of his movie.
In Surendranagar town, Bajrang Dal members gathered outside Milan Cinema and set ablaze the poster of PK.
Activists of the hardline Hindu outfit also staged a protest outside Jyoti Talkies in Bhopal where the film was being screened. However, there was no report of any violence.
Bajrang Dal activists also staged similar protests in various parts of Gujarat throughout the day forcing at least two theatres to suspend screening of the movie.
In Nadiad town in Kheda district, the activists held demonstrations outside Rajhans, Panda and Vaishali theatres where they raised slogans against Aamir and set posters of 'PK' on fire.
They forced the management of Vaishali Cinema, a single-screen theatre, to stop screening of the film.
"They burnt posters of the film and shouted slogans at all these three places," police officials said.
In Surendranagar town, Bajrang Dal members gathered outside Milan Cinema and burned a poster of 'PK' even though the cinema owner had already announced that screening will be stopped.
"Though the cinema owner had already announced that screening will be stopped, they (activists) gathered outside the theatre and shouted slogans. They left the premises later," said Surendranagar SP R V Asari.
Image: Aamir Khan and Anushka Sharma in PK