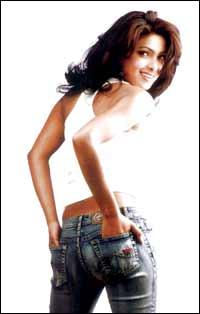 P
riyanka Chopra seems to have joined the A-list of actresses like Aishwarya Rai, Preity Zinta, Rani Mukerji and Kareena Kapoor, as Karan Johar recently stated in his
Koffee With Karan
chat show.
And here's proof. The 2003 Miss World is not only starring opposite Hrithik in Rakesh Roshan's Krissh, but she has also replaced Ash in a Pritish Nandy Communications movie.

The 23-year-old actress is in talks to play the pivotal and complex role of chhoti bahu in a new adaptation of Bimal Mitra's Sahib Bibi Aur Ghulam. Earlier, a much-celebrated screen version of the literary classic had featured Meena Kumari as the unforgettable daughter-in-law in a Bengali feudal household battling bigotry, gender discrimination and alcoholism.
Priyanka stepping into Meena Kumari's place sounded far-fetched. When asked about it, Deepa Mehta, who was to direct the film, denied any knowledge of Priyanka Chopra or of the movie. "I've no clue where this came from. I've never met Priyanka, never discussed any project with her. As far as I know, that project is a part of my past," said Mehta.
Deepa was keen to cast Aishwarya Rai and Vivek Oberoi as c
hhoti bahu
and her faithful Man Friday Bhootnath (played by Guru Dutt in the original). Now, she appears to have washed her hands of the project.
Sahib Bibi Aur Ghulam
has now passed into the hands of Rituparno Ghosh, who directed a television series of the same, with Raveena Tandon playing
chhoti bahu
.
Ghosh says, "Yes, I've met Pritish and his daughter Rongita Nandy about a possible new version of Sahib Bibi Aur Ghulam. When Priyanka's name was mentioned for the pivotal role, I was sceptical. They showed me a photoshoot of her dressed as chhoti bahu. I must say I was impressed."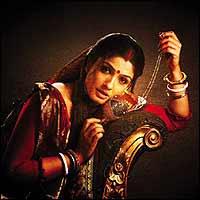 But wasn't chhoti bahu an older character in the film? Ghosh explains, "Yes, in the film she was older because she was played by Meena Kumari. But in Bimal Mitra's novel, chhoti bahu was much younger. Priyanka would be fine. I'd love to do Sahib Bibi with Priyanka. But not right away. I've just done two period films, Chokher Bali and Antar Mahal, based on Bangla literature. A third one will be too much for me. But yes, I'd like to get into it sometime later."
At the moment the future of this project and Bangla literature in mainstream Hindi cinema depends on the fate of Vidhu Vinod Chopra's new adaptation of Sarat Chandra Chattopadhyay's Parineeta.
If this ornate period piece does as well as Chopra's former protégé Sanjay Leela Bhansali's adaptation of another Sarat Chandra novel Devdas, then PNC is bound to revive Sahib Bibi Aur Ghulam.