It's not just another horror film.
SV Rajendra Singh Babu, better known as just Babu, is one of the most acclaimed directors in Kannada cinema, managing to achieve commercial as well as critical success. Some of his films that have won prestigious awards are Bandhana, Muththina Haara, Nagarahole, Mungarina Minchu, Kurigalu saar Kurigalu and Antha. He is also among the few to have won the prestigious Puttanna Kanagal Award from the Karnataka state government, which is reserved for the best directors for their contribution to cinema.
He has made films in Hindi and Telugu too, with actors like Dilip Kumar, Jeetendra, Rekha, Nagarjuna and Hema Malini. And yes, he has been a trendsetter in Kannada, with 'political' films like Antha and children's adventure films like Nagarahole to his credit.
Now, Babu is ready for the release of Mohini 98867 88888, which he describes as a completely different film. It is a genre he has never tried before, so R G Vijayasarathy caught up with the director to find out more.
Going by the stills and promos, is an out-and-out horror film?
If you see my track record so far, you will see that I have not focused on one element in any of my films. They all have different elements packaged to appeal to a larger section of people. When I started writing Mohini 98867 88888, I had just one thing in mind -- it should be different from all my earlier films. After that, everything moved smoothly. Still, I had to write 10 versions to get the final script. As for the horror elements, they are certainly part of the film, but only to the extent that the script demands.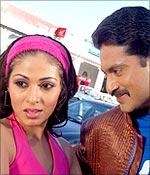 During the shooting, you said the title had a lot of significance for you...
My father, the late Shankar Singh, produced and directed a film called Jagan Mohini, which ran for 25 weeks in a theatre at Davanagere. It was the first silver jubilee hit in the history of Kannada cinema. We saw a lot of ups and downs after Jagan Mohini and, during a bad phase, my father decided to make another film called Pathala Mohini. It was a huge hit and enabled our production company to gain financial strength.
My last film, Love, was not a commercial hit. I am now making Mohini at a time when I need a hit. Even my son Audithya, who is the hero of this film, found success with Deadly Soma but didn't do too well at the box office with his last film. We genuinely hope this Mohini will be accepted and achieve much success.
Many are calling it a film about a female ghost thirsting for revenge. Is that true?
I have always felt that products should speak for themselves, rather than talking about them before release. The team of Mohini has worked so hard that we are confident of success. My producer Mohan, cameraman Giri and music director Hamsalekha have done their best; the audio has already been a big success.
It is said that you have focused more on the technical aspects of the film.
I would like to reiterate one thing here. No amount of technical finesse can help a film if it has a weak script. The first and foremost factor for success is the script, and I have given it importance in Mohini. Technical elements like graphics and sound effects are used only because of the demands of the script, not for anything else.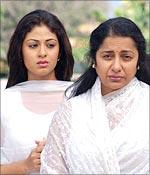 Why did you opt for Sada as the heroine -- because of commercial considerations like an opportunity to dub in other languages?
This is not the first time that Sada is acting in a Kannada film. After her Tamil film Anniyan, she has become more focused. Her looks have gone in for a change. I opted for her because she suited the role of a TV journalist. My prime consideration is the success of the Kannada version, only then will dubbing opportunities arise.
Suhasini Maniratnam stars in all your films since you opted for her in Bandhana. What is her role in Mohini like?
Hasini and Mani (Ratnam, her director husband) have been my good friends for a long time. And Suhasini is good in any role. I took her because the role was a bit complex, and I felt only she could do it justice. It is a tiny role, but a sweet one, and Suhasini has added dignity to the character in a way that only she can.