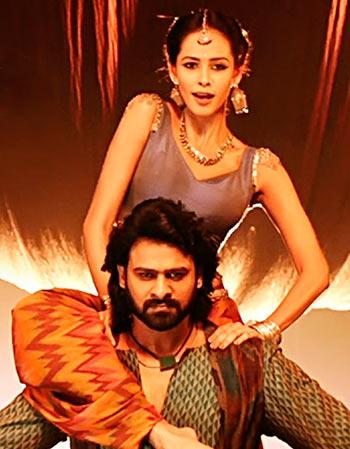 Every year, 1,500-2,000 films are produced in India, losing up to 30 per cent of their business to piracy.
This July, as the film industry was celebrating the success of S S Rajamouli's magnum opus Baahubali, the anti-piracy cell of Telugu Film Chamber of Commerce (TFCC) was pursuing the kingpin of a film piracy racket.
They finally tracked him down in Jabalpur and arrested 10 others from his gang.
On July 10, the day when Baahubali was released, the alleged kingpin uploaded the movie on 65 torrent and allied websites.
Investigations later revealed that the kingpin was an employee of a leading information technology (IT) company. He used the company's servers to store the films.
Sometimes, movies and videos are leaked on the internet even before their official launch.
"It's convenient. People with the know-how can easily pirate a film on the day of its release and upload it. The websites are very advanced and some even use bitcoins for transactions," said Rajkumar Akella, chairman of the TFCC anti-video piracy cell.
Baahubali is among the highest grossing movies from India with Rs 380 crore earnings (net after tax). It was, therefore, on the hit list of pirates. This incident has led to the setting up of the country's first anti-piracy unit -- the Telangana Intellectual Property Crime Unit (TIPCU). Its main task will be to monitor online piracy and recommend blocking of websites. It will also prosecute the pirates and choke their revenue sources.
The taskforce is expected to start work in the next few months. It will have representatives from cyber crime police, state IT ministry, internet service providers, the Telugu film industry, legal experts and financial experts.
Modelled on London's Police Intellectual Property Crime Unit (PIPCU), the initiative is critical for the Telugu film market, which is the second-largest in South India after the Tamil film industry.
Film piracy is a $1-billion market in India and the formation of TIPCU will have larger implications. Most of the piracy market has shifted online thanks to the growing penetration of smartphones.
Every year, 1,500-2,000 films are produced in India, losing up to 30 per cent of their business to piracy. The industry has long been demanding government intervention in this area. The government also loses a sizable chunk of tax revenue to piracy.
TFCC recently made a presentation to Telangana IT minister K T Rama Rao, explaining to him that 93 Telugu films, released between January and September, lost Rs 361 crore to piracy.
In other words, if one was to consider the average loss of Rs 100 per illegal download/web stream, each movie suffered a loss of Rs 3.87 crore. TFCC has already identified 146 websites that are running this illegal business.
Bollywood is yet to make a concerted effort against piracy. "We did have plans for an anti-piracy cell a couple of years back, but it was never diligently followed," said the top boss of a bollywood studio.
"If TIPCU initiative takes off, other states have a model to follow. Apart from tracking down rogue sites, such cells should also look at educating the masses about the perils of piracy," the studio head added.
While it is not clear how TIPCU will be funded, PIPCU in UK is an independent unit of London Police. It is dedicated to protecting industries that "produce legitimate, high quality, physical goods and online and digital content from intellectual property crime".