As the audience ushered into the Theatre Row's auditorium for the performance of writer Ayub Khan-Din's new play Rafta, Rafta, I had a very strong sense of déjà vu, as if I had walked onto the sets of East Is East. The garish wallpaper, the tacky furniture and especially the kitchen, which resembled George Khan's fish and chips shop, reminded me of East Is East.
The only thing missing was Rahul Khanna, working in the early hours of the morning, heating up oil for deep frying with a hint of spices.
"Those are the kinds of houses where working class Asians live," Khan-Din says a few days later as he sits in the lobby of the Le Parker Meridian hotel in midtown Manhattan.
"I wanted to portray the ordinary Asian immigrants. Normally, you hear about successful shopkeepers and businessmen with their flashy Mercedes and big weddings," he adds.
He is obviously referring to Lakshmi Mittal, or even a Bollywood character such as Dharamvir Malhotra, played by Anupam Kher in Dilwale Dulhania Le Jayenge.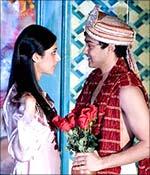 Khan-Din, 47, was born in a similar working class neighborhood in Salford, Manchester, son of an overbearing Pakistani immigrant father and a British mother. The family included of 10 children. In East Is East, Khan-Din's autobiographical play -- later made into a film with Om Puri and Jimi Mistry -- the writer created a cast of six brothers and one sister.
Khan-Din started his career as an actor -- he had a non-speaking part in Stephen Frears' My Beautiful Launderette (1985) and later played the lead in the director's next film Sammy & Rosie Get Laid (1987). Both films were scripted by Hanif Kureishi. Khan-Din has written two other plays, Last Dance at Dum Dum and Notes on Falling Leaves.
Rafta, Rafta -- the title taken from the Mehdi Hassan gazal -- is not an autobiographical play, although it does have at least one common element -- the father-son complex theme.
Actor Ranjit Chowdhry plays Eeshwar Dutt, another overbearing immigrant father in Bolton, Manchester, who shows off and often competes for attention with his two sons. Other cast members include Sarita Choudhury, Manish Dayal and the soul of the play -- a very solid Sakina Jaffrey.
Rafta, Rafta is based on Bill Naughton's 1960 play, All In Good Time, which was later made into a film The Family Way (1966) with John Mills. And like East Is East, the new play has some hilarious situations.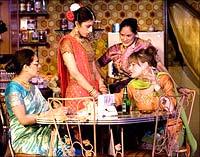 "A lot of people see Rafta, Rafta and they find it hard, because one moment they are laughing-out-loud and at another moment, they want to cry," Khan-Din says. "I tell them that in my family if we did not have a great sense of humour, we would have gone mad. When you come from a large family, there is a certain dark humour that you have, especially when you and your siblings are getting the worst of your father. It is kind of light relief."
Khan-Din discovered The Family Way at a Bafta screening and later realised that its original source was the Naughton play. He immediately sensed that it could be adapted into an Asian play.
"It translated so easily, it was amazing," he says. Rafta, Rafta is set in present day England, and it reflects the economic plight of all working class families. "Everyone is on the same boat now, given the economic situation. Most young people and couples in England feel that they can't afford to buy property because you have to line-up 25 to 30 percent of the mortgage for down payment. So it's becoming normal that they carry on living in the family house, with all the problems -- the frustrations and the anxiety of still living in the house with their parents."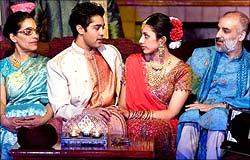 Rafta, Rafta was a hit in the UK. "These plays are becoming more commercial," he says. "East Is East came out the same time as Goodness Gracious Me (the radio show that became a hit BBC sit-com). Bend It Like Bechkam was a few years later and suddenly, we were mainstream. I wasn't writing a play for an Asian audience. I was writing a play to be inclusive and have a universal appeal," he says.
The success of Rafta, Rafta also negated the myth that Asians in England do not enjoy theatre. The play did bring a lot of Asians to the National Theatre -- thanks in part to the production company's outreach efforts. But Khan-Din has seen Asians at most unlikely theatre performances -- including at the Jewish American comedian Jackie Mason's one-man shows. 
"The Asian community in the UK is very mature, established and integrated," the author says.
But this was not the case in the 1980s. Straight out of drama school, Khan-Din joined a traveling Asian theatre company called Tara Arts. The company went to smaller towns in England -- wherever there was an Asian population. "And you couldn't drag people to the theatre," he says. "We weren't still considered mainstream or commercial."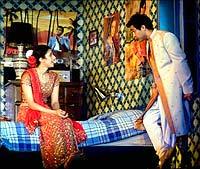 From theatre he moved to television, working on sit-coms and soaps. He played everything from doctor, lawyer to shopkeeper. But the success of East Is East changed it all. "After East is East, I got better work as a writer than an actor," he adds.
Khan-Din is currently working on two projects -- a film script of Rafta, Rafta and a sequel to East Is East. The new film is going to be called West Is West.
"People have been asking me for years to do a sequel but I had to do it my own way," he says. In the film, George Khan takes a trip to Pakistan with his British wife and his youngest son, Sajid (inspired by Khan-Din's character). He makes attempts to show Sajid the Pakistani way of life. But once there, he is confronted with the decisions he made about leaving his first wife and daughters in Pakistan.
"It is like a coming of age story for a 55-year old man," the author says.