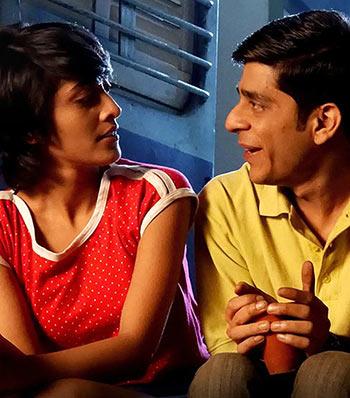 'We wanted to make a true coming-of-age story since all of us have been through adolescence.'
'Most people are afraid of commenting on what these boys go through behind closed doors.'
'We just wanted to bring out that truth.'
'People know what adolescents do, but they do not know how they do it.'
IMAGE: Anula Navlekar and Shashank Arora in Brahman Naman.
London-based Naman Ramachandran wears quite a few hats.
He is a journalist, a frequent contributor to Variety, an author of books like Lights, Camera, Masala: Making Movies in Mumbai and the recent, Rajinikanth: The Definitive Biography.
In his new avatar, Ramachandran has written the script of a new 1980s-based English language film, Brahman Naman, tracking the lives of a group of Bangalore-based college friends, their journey in the world of quiz competitions, and their obsession with getting drunk and hitting on the right girls.
A delightful comedy, Brahman Naman is directed by filmmaker Quashiq Mukherjee (Gandu and Tasher Desh), who prefers to be identified by the letter Q. Starring Shashank Arora (Titli), Tanmay Dhanania (Indian Summers) and Sid Mallya, Brahman Naman opened earlier this year at the Sundance Film Festival where it received a lot of attention.
Later the film was bought by Netflix for the company's direct to consumer online streaming service. It was a first of its kind deal for an Indian film. Netflix made the film available to subscribers in all the countries it operates on July 7.
Aseem Chhabra spoke to Ramachandran about the Netflix deal, and the writing and the making of Brahman Naman.
Will the same cut that was shown at Sundance and other festivals release on Netflix?
Yes, pretty much. There was some video cleanup in terms of frames.
Why did you choose to take the Netflix route instead of going through sales agents and then look for distribution in every country? Is that the advantage of the Netflix path?
You have answered your own question.
We looked at the sales agent, theatrical release route and found that having checked other independent films -- not just Indian films -- you are looking at a few months of the festival-by-festival path. Even at the end of it, you do not see profit. There are very few exceptions like The Lunchbox.
Apart from that, independent films always struggle to find wide distribution. And here we are in 192 countries in 20 languages.
More importantly, having done that, we can and we already have moved on to our next projects. We won't be sitting on the same film for the next two or three years.
I know you have watched the film with audiences at festivals, but what about the thrill of seeing the posters and name of your film on the marquees in theatres? Or is that a very old fashioned way of looking at cinema?
We experienced a part of that pleasure at the festival screenings.
Also during Sundance, one of the screenings was held in Salt Lake City in a multiplex and it wasn't your typical Park City, Utah, festival audience.
At the end of it, an elderly couple came and hugged Q and me and said, 'We had only seen the exotic side of India. Now you have shown us a different side of India.'
Digital is the new paradigm, at least for independent cinema. You just put on your film and then move on.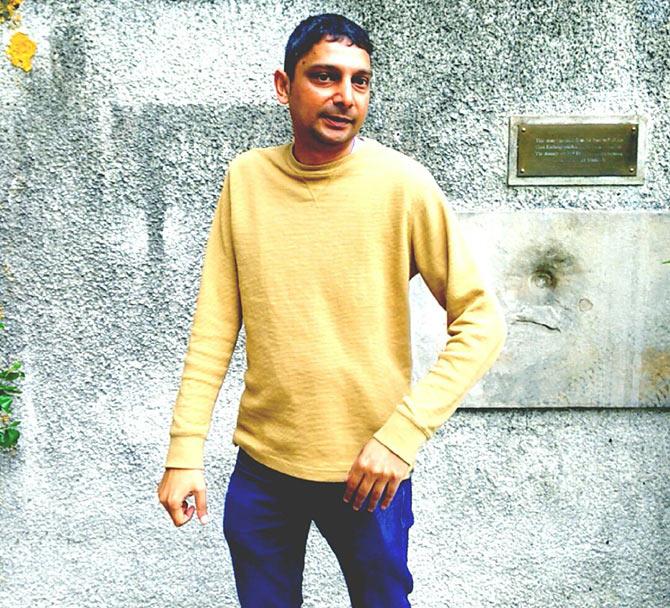 IMAGE: Naman Ramachandran
How autobiographical is the film? You call the lead Naman, giving him your name.
We had thought of different names. The lead is an epic loser. And I thought why call somebody Ravi or Vijay, why subject other people's names? Instead, let me give the epic loser my name.
You are not an epic loser. You have had a lot of success in life as a writer and journalist.
Well, maybe not now. But at some point, everyone is a loser.
While it is drawn on real life, all of those things did not happen to me, but a lot did happen to people back in the 1980s. I took composite of situations and characters. Like Naman himself is made of two different people. Then I just stitched the whole thing together to form a narrative.
So two different people means one is you?
Well, one has parts of me and he's got my name.
Is this the first script you have written?
I have written about 20 scripts before, but this is only the second one to get produced. The first one was Aditya Bhattacharya's BMW with Sarita Choudhury and Tannishtha Chatterjee. But I have not seen that film yet. It has run into some sort of a roadblock.
When you wrote the two scripts, did you have directors in your mind?
BMW was written in close collaboration with Aditya. I spent a few months in his house in Rome and we wrote it together.
This one was written entirely on my own, with guidance from Steve Baron (producer). He had commissioned me.
We also inputs from Rose Garnett, who worked with Steve earlier and is now the head of development at Film Four. She is very forthright in her opinions of what works and that is really useful for a writer.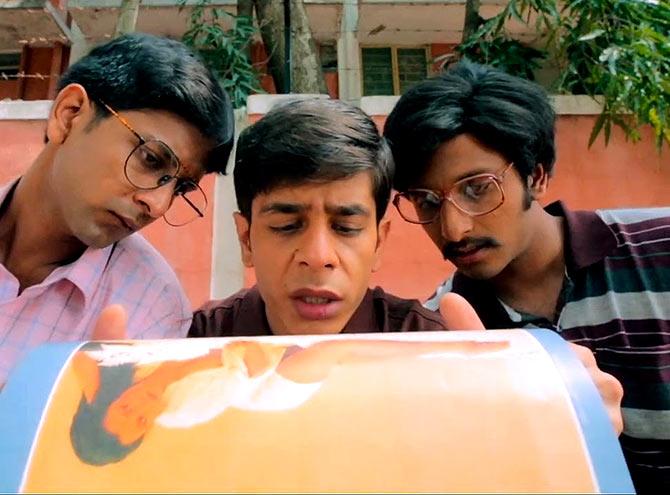 IMAGE: Tanmay Dhanania, Shashank Arora and Chaitanya Varad in Brahman Naman.
What is Steve's background?
He has directed a number of music videos -- Billie Jean for Michael Jackson, Money for Nothing for Dire Straits, Take Me On for Aha. Right now, he has finished directing the first season of The Devils, which is a big hit on ITV in the UK.
And you came in as an executive producer?
Apart from writing the script, I was bringing in so many other things to the project like talent, technicians, locations, so they decided to give me a formal credit.
At what stage did Q come into the picture, and why as the director? He has not made a real fiction narrative. Both Gandu and Tasher Desh were quite experimental.
Initially, Steve was supposed to direct this film. But then during the London Indian Film Festival, he saw Gandu and Tasher Desh. He called me the next day and said 'Q has this kind of an intense manic energy. Do you think he would be right choice to direct the film?'
So then we sent the script to Q who called back two hours later and asked, 'Where do I sign up?'
Like me, Q is a also the child of the 1980s and he has also participated in quizzes. He has also gone through the age when you can't get close to girls.
Also, a third of the film is set in Calcutta where he grew up. So he identified a lot with the script.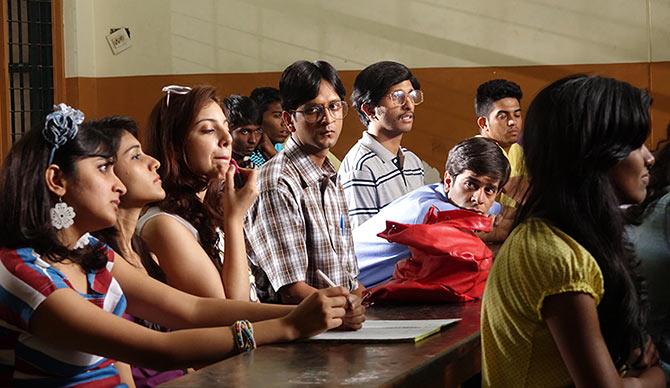 IMAGE: Anisa Butt, Tanmay Dhanania, Shashank Arora and Chaitanya Varad in Brahman Naman.
How to you describe the film? Is it about quizzing in the 1980s and a representation of a time period or is it about the sexual awakening of these teenagers? Or is it both?
The idea was to look at it as a coming-of-age comedy. But we wanted to make a true coming-of-age story since all of us have been through adolescence.
Most people are afraid of commenting on what these boys go through behind closed doors. We just wanted to bring out that truth. People know what adolescents do, but they do not know how they do it.
Quizzing was a strong backdrop. I have been a quizzer myself, and the world of knowledge is a refuge for boys. Whenever they can't get girls, they seek refuge in esoterica. So it was kind of a happy marriage of the two ideas.
How much of the incidents in the film -- like when the guys are sitting at a bus stop checking out girls or the music -- came out of your memory?
Pretty much all of it is from my memory and later on from Q's memory.
One of our big agendas in making the film was when you look at the 1980s Indian cinema, it's considered a black hole. While you have the song and dance numbers, no one has captured the slowness of the time.
If you were sitting at a bus stop waiting for someone, and if your friend was an hour late, you would wait -- there were no mobile phones. There was nothing else you could do. You could go to a PCO and make a call, but where would you call? You could call his house, but he had left already.
Apart from Q and I, no one else on the set was from the 1980s. They were very young, so we had to constantly supervise things and correct it.
In real life, boys are all winners. But during the workshop process, we got them to dress up in characters, observe silences and get into the rhythm of that era. We did this in a house in Mysore since the city still has old world charm. Bangalore is too fast paced these days. We brought the actors to this house and slowed them down.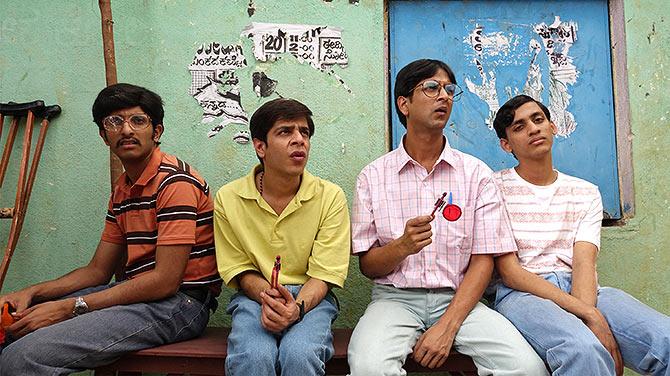 IMAGE: Chaitanya Varad, Shashank Arora, Tanmay Dhanania and Vaishwath Shankar in Brahman Naman.
Were there actual exercises you did?
Yes. Every evening at 5 pm, we would take them to the terrace without their mobile phones, in character and ask them to interact with each other. We wanted to make sure that they were not constantly checking their messages, looking at Facebook or Twitter. And on the terrace in Mysore there is nothing else you can do, but look at each other.
We made them dress up as their characters and then sent them to a posh nightclub to pick up girls. Because none of these boys have known rejection before. We asked them to walk up to hot girls and offer to buy them drinks. We wanted them to experience rejection first hand.
I heard that Shashank Arora was not going to do the nude scene. Was that written in his contract?
As far as I know, there is no nude scene in the film.
Well there is a fish tank scene where a body part is shown.
Well, I don't know really if it was in his contract or not. But it all worked out in the end.
You got a body double to do that scene for Shashank?
No comment on that.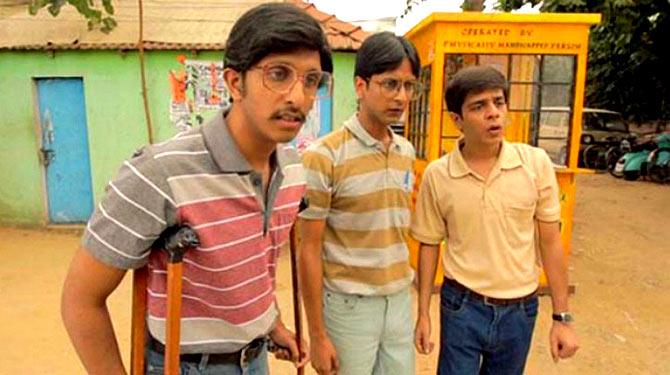 IMAGE: Chaitanya Varad, Tanmay Dhanania and Shashank Arora in Brahman Naman.
What was it like working with Q?
He's very calm and works under great pressure. There were times we were shooting 20 pages a day. We had two 24 hour-days, and one 36 hours-day. Our average day was 18 hours.
He's very chilled, but at the same time he is very focused. He doesn't blow his top, unless he absolutely has to. So that had a very good affect on the cast and crew. They respected what he wanted to do.
We were going to make a full-length feature in 22 shooting days, knowing that even if we went one day over, we would not have the money.
Also because of the workshops, we were like a family while we were shooting. Shashank knew the script by heart. You could ask him what happened on a particular page and he would rattle it off.
Tell me about working with Sid Mallya. Why was he cast? He has a name that people know.
He auditioned like everyone else, and nailed it. His agents came to us. He is a trained drama actor with degrees from the US and the UK.
When he came for the workshops, we were really impressed. He came with a dossier where he had worked out the backstory of his character. He was a one or two take actor and very hard working. He looked and spoke the part.
What's next? Are you doing any other projects with Q?
I have a number of things planned and two of them are with Q. One is at the treatment stage. But Q has to finish two feature films before we get to our next one.
Are you planning to direct films also?
I have absolutely no ambition to direct films. It's best left to the experts.
You started acting though. You have a cameo in Brahman Naman. Is that going to happen more often?
Hopefully not. That day Q and the crew insisted, so I had to oblige. It was the second most pervy role in the film. The most pervy role was played by Q, but unfortunately, we had to leave it out. That will be in the extras at some point.