Aamir Ali and Sanjeeda Sheikh were all smiles after they were declared winners of the third season of Nach Baliye, in a live telecast on Saturday, December 22.
And despite all the controversy, what with runner-up Rakhi Sawant claiming that the contest was rigged, the couple are quite busy accepting congratulatory calls.
One of the calls Aamir got as soon as he won was from his Kya Dil Mein Hai costar Abigail. Aamir then tells us that the 15-year-old actress went to everyone on the sets, including the hairdresser and the spot boy, to SMS votes from their cells. "We were too shy to ask for votes," Aamir admits, blushing.
Aamir and Sanjeeda take us through their winning night.
So, what was the secret to your win?
Aamir: It was a combination of hard work, dedication, luck and God's blessings. Thanks to viewers for voting for us too. I think Sanjeeda is popular because of her show, Kya Hoga Nimmo Ka. I want to tell everyone that if I can work hard and win the competition, anyone can do anything.
Did you expect to win?
Aamir: When we entered this show, we never saw it like a competition. We just thought that we will do better in the next round. We wanted to do this show without any stress. We didn't have much time for promotional shows. We were busy shooting for our respective shows, and rehearsed whenever we had time. Recently, when we went to Ahmedabad, we got a good response from the audience. That boosted our confidence. We're happy that we reached the finals and won this competition.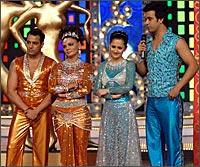 How did you feel on the day of results?
Aamir: I had crossed the level of nervousness and was laughing.
Sanjeeda: I was very nervous too but it did not show on my face.
How will you celebrate the victory?
Aamir: We have to shoot two-three days for a special episode for a charity show. After that, we are going to Goa for the yearend.
Rakhi Sawant and Abhishek stormed off the sets when you were declared the winners.
Aamir: They are very good dancers. But they should have been graceful in accepting defeat. We have been watching this show for two years, and we know that making it to the finals itself is a big thing. It's a competition, one has to lose and the other has to win.
Sanjeeda: I wish they had appreciated the fairness of the game.
How do you rate this show in comparison with your other achievements on television?
Aamir: Nach Baliye is one of the best things that has happened to us. The kind of response we have got from this show is incredible. Just imagine the love we got! I think people could relate to us. The judges (David Dhawan, Vaibhavi Merchant and Isha Koppikar) were classy; they were not rude at all. And we made friends with all the contestants. There was so much of positive energy.
Your favourite moment on
Nach Baliye
?
Aamir: It was after the second round. We used a table as the prop. Everyone started recognising us and calling us table boy and girl, instead of our names! That was the most innovative round.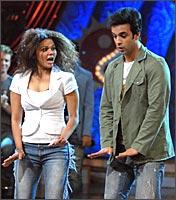 What lesson have you have learnt from
Nach Baliye 3
?
Aamir: I wasn't even able to make up my mind to sign the contract.  I was not sure of dancing. I am thankful to Sanjeeda for convincing me to be a part of this show. When they had just launched this show, some of my friends and journalists asked me if I was sure I wanted to dance. I said I would work hard and dance. Now, winning the competition is a dream come true.
Unforgettable moments?
Sanjeeda: When Aamir got full marks and I scored 28 in the solo round. He got the best comment as Mr Perfect.
Do you have any offers to work together on television?
Aamir: People have liked our chemistry and we have been getting offers. Let's see.
Sometimes, spending too much time together may lead to friction.
Aamir: It is difficult for me to spend five hours with her, imagine spending 12 hours if we are working together! (laughs)
Sanjeeda: I don't mind spending 12 hours with him!
Any Bollywood plans?
Aamir: I have done one film, am waiting for its release.
Sanjeeda: I have acted in South movies. I will concentrate on them now, as I have finished this show.