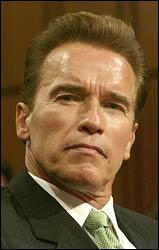 The Governator is riding onto screens again.
USA Today reports that Arnold Schwarzenegger will finally return to theatres next year, albeit in a cameo. The chosen film is Kid & I, a comedy written and produced by the Governor's good friend and True Lies co-star Tom Arnold.
Making an appearance on Fox's The Best Damn Sports Show Period, hosted by Tom Arnold, Shwarzenegger confirmed his presence in the upcoming film. The project will further reteam Arnie with his most famous on-screen co-star, Terminator 2: Judgement Day's Linda Hamilton. Jamie Lee Curtis, who played his wife in True Lies, is also set to make a cameo.
Schwarzenegger didn't reveal his role in the movie, directed by Penelope Spheeris and slated for a 2005 release.

An independent project, Kid & I reportedly shuffles around Aaron Roman (newcomer Eric Gores), a 17-year old with cerebral palsy, dreaming of being in an action movie. His wealthy entrepreneur father (Joe Mantegna) tells Aaron he can have anything he wants for his 18th birthday, only to have to hustle to get the movie made.

Tom stars as an out-of-work actor who collaborates with Aaron on the new project. The cast further includes Shannon Elizabeth and Richard Edson.
Well, it was inevitable, really: he's back.
Photograph: Getty Images