'Wish u were here Mom.'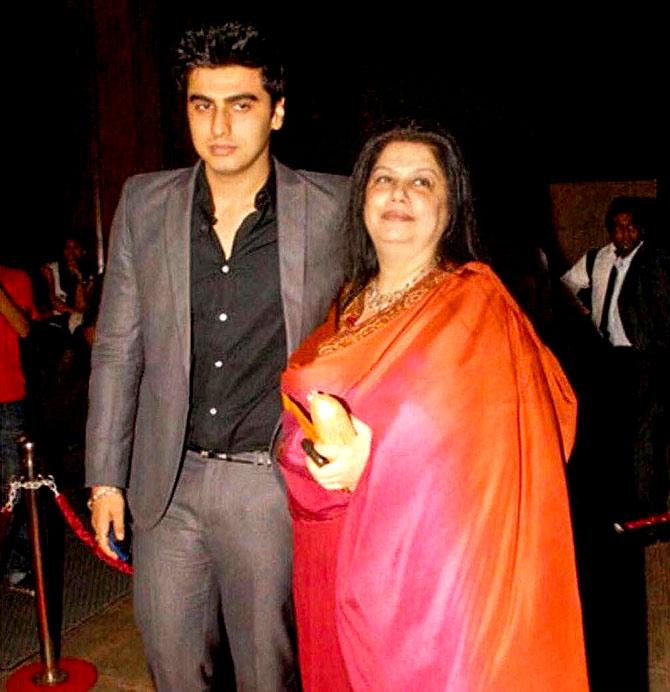 A mother's place in a child's life is irreplaceable and Arjun Kapoor knows that only too well.
It has been six years since his mother Mona Kapoor passed away on March 25 -- two months before he made his debut with Ishaqzaade in May 2012.
There hasn't been a day that he hasn't thought about her, and Arjun shares his feelings in a heartfelt post on Instagram.
'As I was shooting by a canal today in Patiala wishing I could send u a picture of how nice the location was Mom I realised I never quite got to walk the red carpet with u to show u one of my films but I'm certain in the last 6 years u have walked every step of the way with me thru these 9 films Along with mine and Anshula's personal journeys...'
'Wish u were here Mom so much has transpired so much where I would have looked at u for answers and looked at u to draw strength...'
'I don't know if I'm doing a decent job at it but I'm taking one day at a time and making each moment count trying to be a truthful reflection of u n ur teachings...'
'Can't believe it's been 6 years to the day but I have thought of u every breath I have taken pls smile spread ur warmth n positivity wherever u are cause god knows the world me and Anshula need it...love u forever and beyond...'
Photograph: Kind courtesy, Arjun Kapoor/Instagram