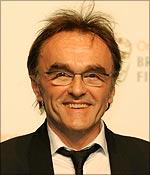 At the recently concluded 37th Telluride Film Festival in Colorado, USA, people fainted at the screenings of Danny Boyle's new film 127 Hours (watch the trailer here). Two years ago, the director had held the world premiere of his multiple Oscar winning Slumdog Millionaire at the same film festival.
127 Hours was not listed in Telluride's official programme. Instead, the film was show as a sneak preview. This was Boyle's way to say thank you to the organisers and attendees of the Telluride festival -- the event that made Slumdog a big success before it was shown at the Toronto International Film Festival two years ago.
127 Hours is a harrowing true story about a mountain climber Aron Ralston (based on his book Between a Rock and a Hard Place), who had to cut off his right arm to free himself, after a fallen boulder trapped him in an isolated canyon in Utah.
The film has a remarkable script -- written by Boyle and his Slumdog screenplay writer Simon Beaufoy -- and it is brilliantly made, shot three hours by road from Telluride.
Boyle is at his directorial best. And this was evident from a standing ovation given by the audience to Boyle, his lead actor James Franco and Ralston (who was present at the screening). It was an emotional moment as the standing ovation continued for several minutes.
127 Hours is a very difficult film to watch and not recommended for the weak-hearted. At least one person fainted at each of the three screenings the film had, and had to be escorted out of the theatres by paramedics. Unlike horror films like the Saw series, the gore, blood, tension and claustrophobia in 127 Hours appear very real. And the camerawork by Enrique Chediak and Anthony Dod Mantle gives 127 Hours a sense of immediacy -- rarely seen in films.
In what may become a long term relationship, Boyle once again hired A R Rahman to compose the soundtrack of his new film. Rahman's music -- often exhilarating and complementing the opening and the ending spirit of the film -- mostly makes use of western instruments and compositions. But we can hear Indian tones in Rahman's quieter compositions. In last year's Couples Retreat, Rahman's music was barely audible. But this time, his soundtrack is very much a character in the film, enhancing the story's emotional depth.
"I wish I could just have Rahman work with me," Boyle later said at an after party organised by the film's producer and distributor Fox Searchlight. "When he goes to Chennai, he gets pulled into so many projects. But he has a studio in London and I got him there for a few weeks to focus on my film."
Talking about his future projects, Boyle said that for the next two years he is going to be busy with the London Olympics 2012, where he has been hired as the artistic director of the opening ceremony.
He will work on the project with his Oscar-nominated colleague Stephen Daldry (Billy Elliot, The Hours and The Reader), but will not to pursue a film project based on Suketu Mehta's Maximum City: Bombay Lost and Found.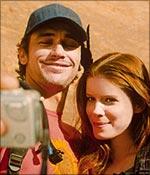 While promoting Slumdog, Boyle often mentioned that in addition to the original source -- Vikas Swarup's Q&A -- he referenced Mehta's book for the visual imageries in the film. But he did not officially thank Mehta in the credits of that film or give him any royalties. Then last year, after Slumdog won eight Oscars, Boyle optioned the right to make another film in India -- this time based on Mehta's book.
"There has been some television interest in Suketu's book," Boyle said. "And since I am busy for the next two years, I have told Suketu that he can go ahead and pursue the television project."
127 Hours opens on November 5 in the US, in time for the award season. Given the film's extremely difficult subject matter, it will be interesting to see how the older members of the Academy of Motion Picture Arts and Sciences react to it. There is already Oscar nomination talk for Franco -- whose face is captured in at least 70 per cent of the film.
Boyle is still riding on the Slumdog love he got from the Academy last year, so there is a strong possibility that he and some of his other off-screen collaborators on 127 Hours may find themselves nominated again.