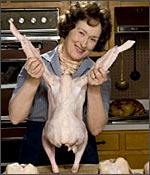 The Oscar buzz for Meryl Streep began a few weeks before the exuberant and funny Julie & Julia opened. The buzz is becoming stronger, now that the film has had a healthy $20 million weekend in North America and was accompanied by mostly appetising reviews.
Streep, who has been nominated for the Oscar 15 times since 1979 and won it twice (for Kramer vs. Kramer and Sophie's Choice)  plays in the new movie the legendary chef and cookbook writer Julia Child. Joining her is Amy Adams, the Oscar nominee for Doubt and Junebug, who is seen as an unhappy person with a government job. She cooks over 500 recipes in a year from Child's Mastering the Art of French Cooking. She is hoping to revitalise her own life by creating the French recipes Julia Child brought into millions of homes.
Julie & Julia was the No 2 film of the week following G.I. Joe: The Rise of Cobra which grossed $56 million over the weekend.  But while G.I Joe cost $175 million, the Streep  movie was made for $38 million. Its successful opening proves what a wonderful box-office draw Streep, 60, has become in recent years. When most actresses approaching 40 complain that Hollywood movies have no room for them, Streep has been showing her much proven versatility in films of such diverse range as Julie & Julia, The Devil Wears Prada and  the feisty musical Mamma Mia! Her singing in Mamma Mia! was also a special asset to the film which grossed $600 million worldwide.
Her latest film directed by Nora Ephron (You've Got Mail and Sleepless in Seattle) is based on a best-selling memoir by Julie Powell that began as a blog and then an international bestseller. The film also uses Julia Child's memoir My Life in France.
The tagline for the film: Passion. Ambition. Butter. Do You Have What It Takes?
Sony opened Julie & Julia as a counter programming move against Paramount's action packed  G.I. Joe, one of the worst reviewed films of the year.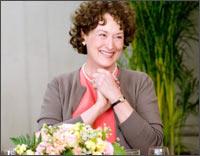 G.I. Joe, inspired by the Hasbro action figure,  follows Paramount's Transformers franchise. The latest film in the series is approaching $400 million in North America. While G.I. Joe would be lucky to reach $150 million, Hollywood analysts believe that it will still make money for Paramount and may also lead to a sequel.
Sony executives decided to open Julie & Julia satisfy the hunger among the women and the older audiences for a film that was not an adrenaline pumping or a wild comedy.
'We felt the audience we were going to start with was going to be very hungry by this point,' Rory Bruer, Sony's head of distribution told reporters. 'It's a really fun movie with heart and humour and good food.'
Streep has said that she was cautious so that she won't end up creating a caricature of Julia Child who was also familiar to millions of people across the world through her TV shows. So you see the famed actress looking like Child, walking like her, cooking like her but Streep also brings out the soul of the indefatigable Julia Child.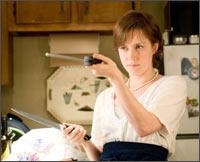 And review after review has praised the actress's work.
'By now this actress has exhausted every superlative that exists and to suggest that she has outdone herself is only to say that she's done it again,' wrote The New York Times. 'Her performance goes beyond physical imitation, though she has the rounded shoulders and the fluting voice down perfectly.
Often when gifted actors impersonate real, familiar people, they overshadow the originals, so that, for example, you can't think of Ray Charles without seeing Jamie Foxx…But Ms. Streep's incarnation of Julia Child has the opposite effect, making the real Julia, who died in 2004, more vivid, more alive, than ever.'
Austin Chronicle wrote that 'Streep wears Child's notorious height and heft beautifully, and the light touch she and Stanley Tucci (playing her husband) bring to the funny, sexy, sophisticated Mr and Mrs Child is irresistible.'