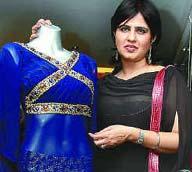 India will be hosting the Commonwealth Games in 2010. And, as is custom, our culture will be showcased as part of the closing ceremony of the ongoing games in Melbourne.
Anna Singh has the coveted task of designing the attire for the Indian extravaganza that Melbourne will witness on Sunday, and she gives rediff.com the dope on what we can expect.
I was told two months in advance that I would be doing the Commonwealth costume designs. I was specifically briefed that it would have to be Indian clothing. Actors like Aishwarya Rai, Rani Mukerji, Saif Ali Khan, Lara Dutta, Priyanka Chopra, Isha Sharwani, Taufiq Qureshi, Shreya Ghosal, Sunidhi Chauhan, Sonu Nigam, Shiamak Davar and Shivmani will be performing at the occasion.
Aishwarya Rai will be wearing a gold outfit -- a lehnga choli that has different textures of gold embroidered on it, highlighted with emerald-coloured stones.
Saif Ali Khan will wear a bhangra outfit in peacock green and blue -- the colour of the national bird. It's an old brocade and is very nicely highlighted.
Priyanka Chopra will wear a red and yellow sari with beautiful Rajashthani motifs. They all have matching custom-made jewellery as well.
Lara Dutta is to wear a red and shocking pink sari.
Shreya Ghoshal, Sunidhi Chauhan and Sonu Nigam are wearing colours of the Indian flag. We have tried to incorporate the Indian theme in whatever we are doing.
Taufiq Qureshi will wear an off-white sherwani with ruby and dull gold work.