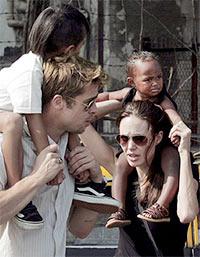 Angelina will retain the children, who will continue 'therapeutic' visits with their father.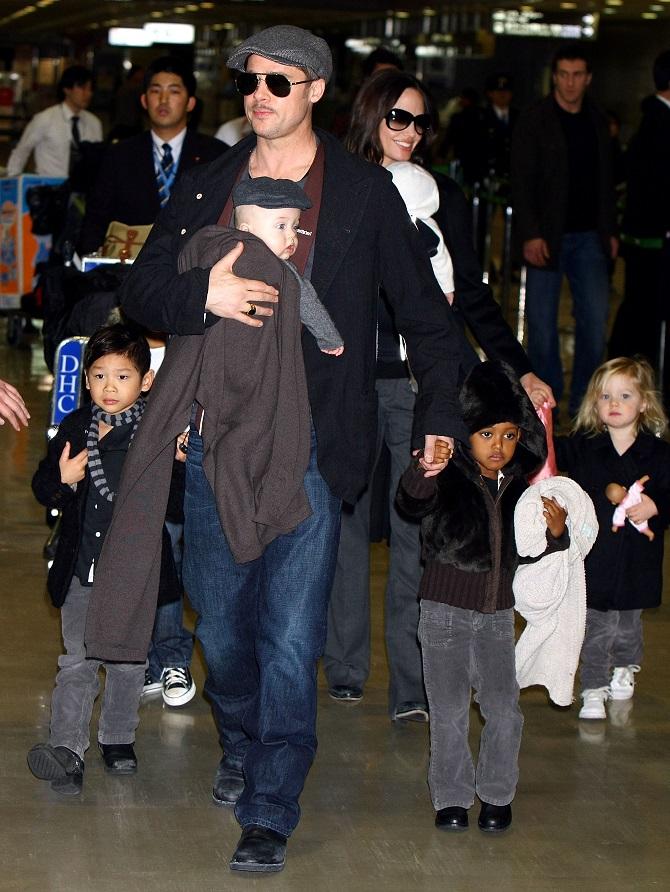 IMAGE: Angelina Jolie and Brad Pitt with their children. Photograph: Junko Kimura/Staff Getty Images
Angelina Jolie and Brad Pitt have come to a custody agreement regarding their children, according to which the actress will retain custody.
Maddox, 15, Pax, 12, Zahara, 11, Shiloh, 10, and eight-year-old twins Knox and Vivienne will continue 'therapeutic' visits with their father, reported E! online. 'We can confirm that childcare professionals have encouraged a legal agreement. accepted and signed by both sides over a week ago,' a representative for the actress said in a statement.
'In accordance with this agreement, the six children will stay in their mother's custody and the children will continue therapeutic visits with their father. This has been determined by childcare professionals to be in the children's best interest.'
The statement continued, 'We are not in a position to discuss the details. We hope now that it is clear that (as) the events which led to the dissolution filing involved minor children and their well being, there will be understanding of the sensitivity of the family situation. We believe that all sides are committed to healing the family and ask for your consideration during this difficult time.'
Last Friday, Pitt filed for joint custody of the former couple's children as Jolie, 41, asked for sole custody at the time of the divorce announcement in mid-September. The 52-year-old actor has been under investigation over a mid-air altercation on a private aircraft September 14 with son Maddox.
The alleged incident prompted an anonymous call to the Los Angeles County Department of Children and Family Services over claims that the Allied star had been both physically and verbally abusive towards the teen.
Pitt has seen his kids twice since Angelina filed for divorce, and Maddox for the first time just recently. Pitt and Jolie married back in 2014 and were first romantically linked back in 2004.
This marks the second divorce for Pitt, who was previously married to Jennifer Aniston, and the third divorce for Jolie, who was earlier married to Billy Bob Thornton and Jonny Lee Miller.
***
Brad won't promote Allied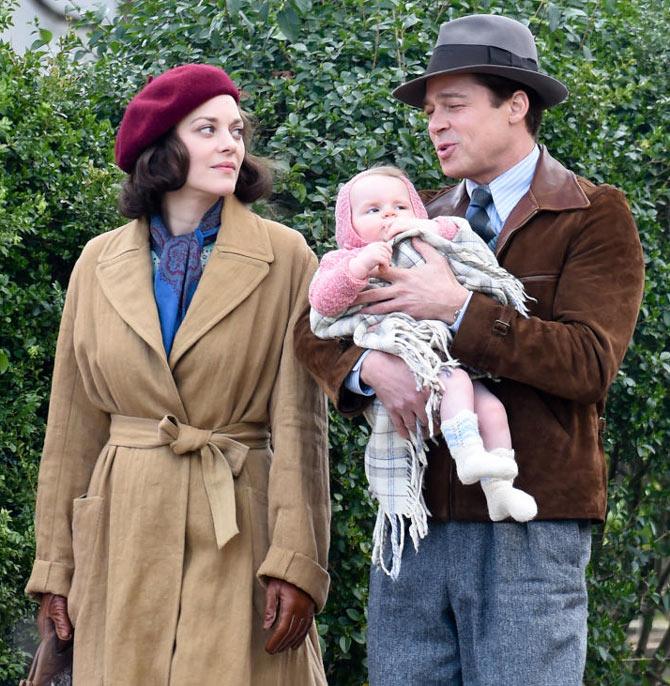 IMAGE: Brad Pitt and Marion Cotillard in Allied.
Looks like the Brangelina split is taking a heavy toll on Brad Pitt, who recently pulled out of all his 'promotional commitments' towards his upcoming movie, Allied.

The 52-year-old star, who plays the lead role of Max Vatan in the romantic thriller, has reportedly refused to do any interviews, press junkets or chat show appearances following his rather public divorce proceedings with Angelina Jolie, reports the Daily Mail.

'This was supposed to be the start of a big campaign push for Brad to finally win an acting Oscar but there's too much controversy for him to risk any publicity,' a source told The Sun, adding, 'It also doesn't help that there were rumours he had an affair with his co-star Marion Cotillard, which both deny.'

The source claimed that loads of chat show studios are 'gutted' as they had Pitt booked to come on and dozens of journalists had to 'scrap' their interviews with the actor.

'They know it's important he been seen to support the film but this is a huge crisis for him and the current tactic is to lie low. If he does appear, he'll not say a word to any media and sneak in a side door,' the source added.

Also Read: