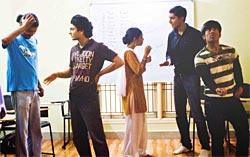 There are many more independent filmmakers today and Bangalore has a fair share of them. Theatre person Arvind Kamath is all set to join their ranks with Innuendo.

The Kannada film has three 'chapters', as it were, titled Reticent, Writer's Block and Bachelor's Party.

The first explores the mindset and fascinations of an 18-year-old.

Writer's Block, as the title suggests, is about the struggles of a writer, while Bachelor's Party revolves around a bizarre incident that takes place at a bachelor party.

"It is an accident that one of my friends meets with after attending my party that connects all the three stories. The film in fact starts with an accident and ends with one," says Monish Nagaraj who plays the lead role of Anurag in Bachelor's Party.  

Monish was offered the role after Arvind saw his performance in a film that they had acted in together. There are 20 actors in the film, all chosen through auditions. 

Even though Arvind is himself an actor, and Innuendo is based on incidents that took place in his life, he has no on-screen

role. He has written the story and screenplay, is directing the film and will also be editing it and overseeing the lighting. The music is by Bharath and Kenith.

The film has been made in the digital format, on a budget of just Rs 6 lakh. "This has been possible as I have my own studio, Pixel Garage. I will also pay the actors only if my film sells," says Arvind.

Clearly, the director is looking beyond commercial benefits. "I have been working on the script for over one-and-a-half years now and am very curious to assess people's reactions to the story and my characters. I will focus on sending the film to festivals and have screenings for film enthusiasts and makers. There are plans of taking the film to colleges as well. A TV channel has approached us for the rights, but I have put the matter on hold as of now. Plans are on to release it in multiplexes as well, but that's only at a later stage," Arvind adds.

The film will have dialogues in both English and Kannada. It will have a cosmopolitan feel and will reflect the mood of Bangalore. 

Shooting will commence in August-September and will be completed in a 25-day schedule.