'I would get very pampered on the sets so my grandpa used to get very scared about that.'
'He would think I would feel great from inside and my life would get messed up.'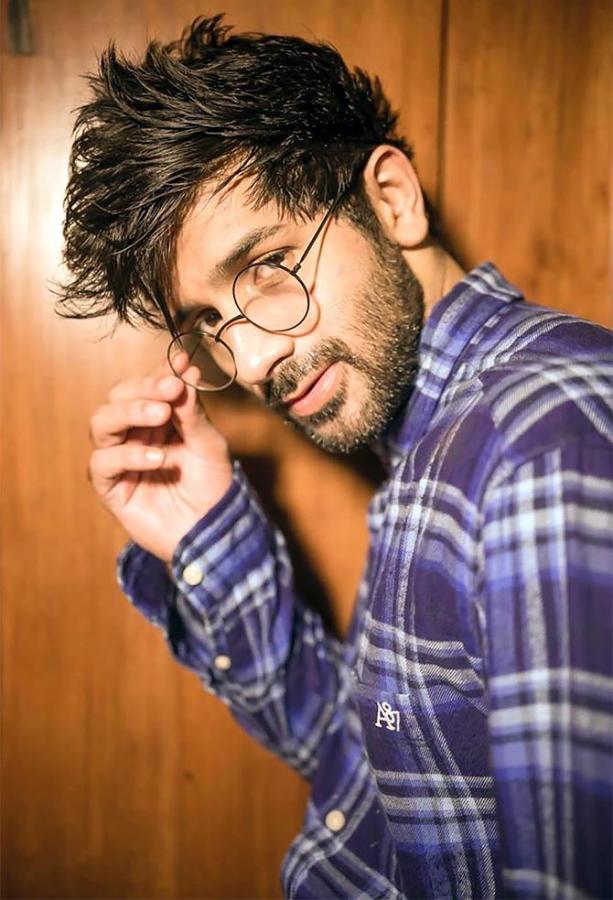 Amrish Puri's grandson Vardhan is all set to make his debut in the movies.
Yeh Saali Aashiqui is a romantic thriller and co-stars newcomer Shivaleeka Oberoi.
As Vardhan gets ready for his big break, he tells Rediff.com Contributor Divya Solgama, "I am very excited to take this legacy forward."
What are your fond memories of Amrish Puri?
I have the best memories with my grandpa and feel lucky to have spent time with one of the kindest and most gentle human beings in the world.
It's a privilege to be born in this family.
My grandfather Amrish Puri, along with his brothers, Madan Puri and Chaman Puri, have given so much to the world of cinema.
I am very excited to take this legacy forward. I feel deeply humbled.
He was a normal grandfather and would spend as much time as he could (with me), even though he was the busiest 72-year-old man I have ever known.
Whenever he would get time, we would spend it together having meals, watching cinema and playing badminton.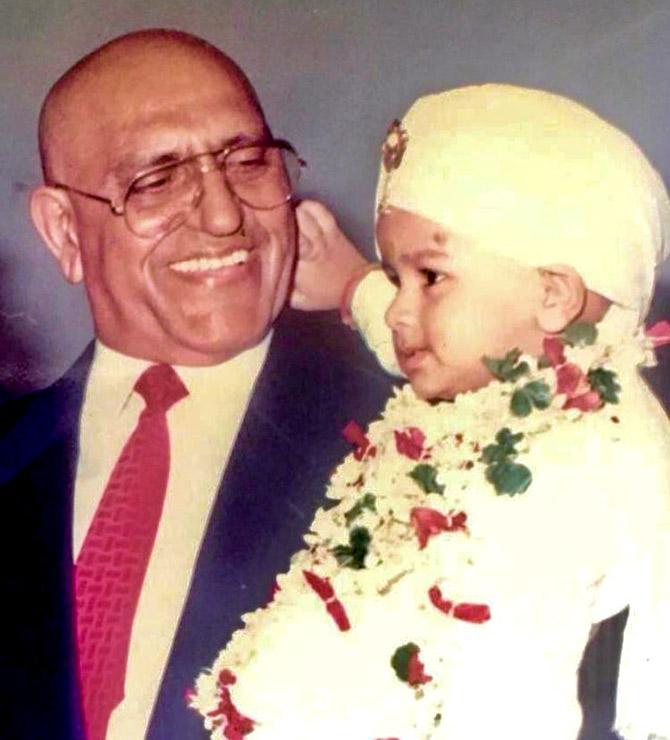 Amrish Puri started his movie career at the age of 40 and had quite a good physique at the time.
He was extremely fit and had one of the greatest physicalities I have ever seen in world cinema.
Whenever I meet directors and producers who have worked with him, they say they haven't seen that kind of body language, charisma and stature in any other actor.
I have seen pictures of my grandfather in his 20s, 30s and 40s, posing in tiny shorts on the beach and on various photo-shoots.
He had one of the most inspiring bodies.
I dream of having a body like my grandpa.
Several actors are seen with six-pack and eight-pack abs today, but he had that physique in 1949.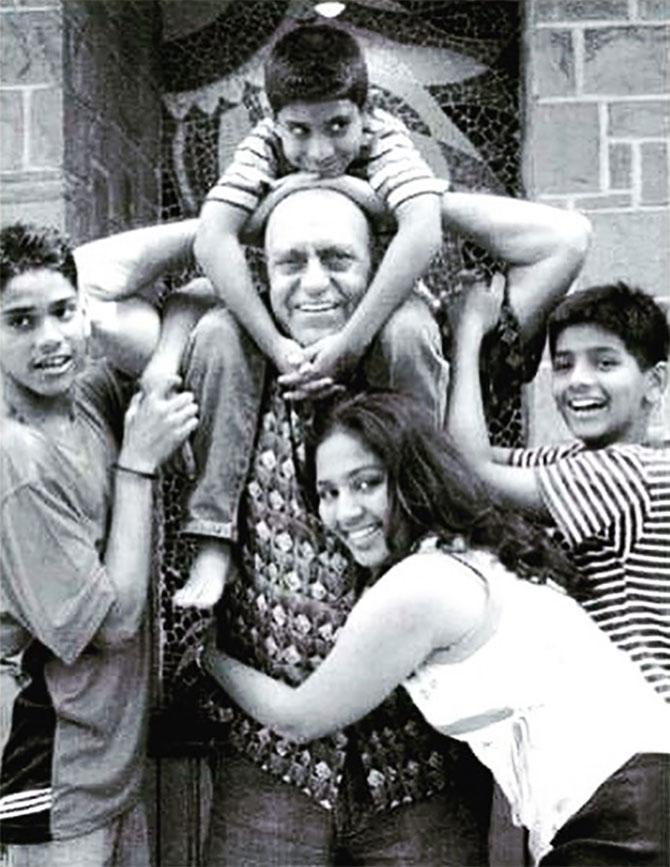 Can you share any anecdotes?
I visited the film shoots of various movies like Gadar: Ek Prem Katha and Chori Chori Chupke Chupke.
I would get very pampered on the sets so my grandpa used to get very scared about that. He would think I would feel great from inside and my life would get messed up.
So he banned me from his sets.
I would get very upset because I loved to go on the sets; my dream was always to become an actor.
Whenever I went on the sets of a film, I would be close to my dream.
So I would be upset when he would ban me from his film sets.
Today, I feel really grateful for that. That broke my ego when I joined theatre.
I got an opportunity to learn the nuances of entertainment from the grass-root level in theatre.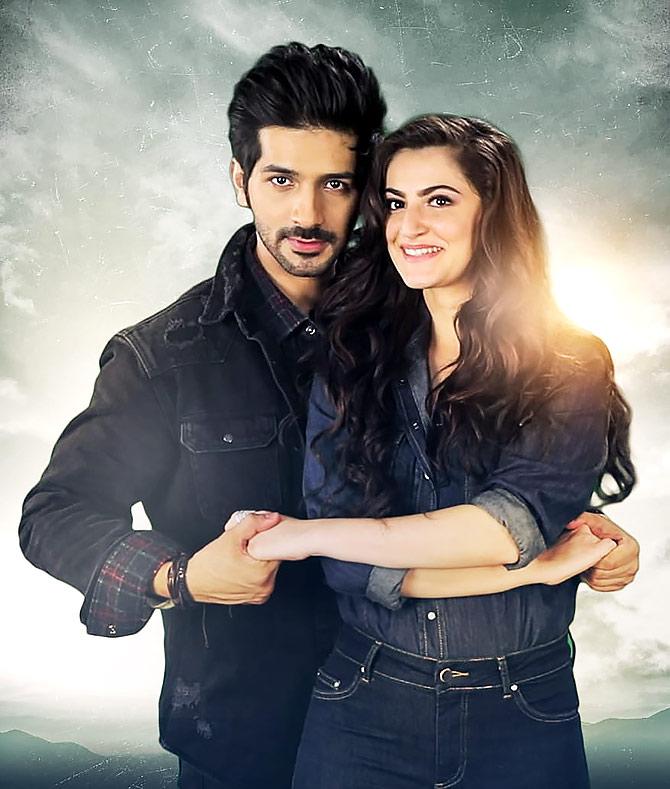 Was being a film actor always your plan?
No. My dream was to become an entertainer, whether it was theatre or the movies.
It was a very organic journey, where I did theatre from the age of five till 21.
After that, I started assisting in Yash Raj Films.
I got feedback from several people that I had actor qualities in me.
That's when I started thinking about making a career as a film actor.
I started giving screen-tests and auditions.
I was very theatrical while giving auditions; I would project more than necessary in front of the camera.
So I got feedback to change my acting technique.
I learnt that I don't have to be loud for films; I needed to do that for theatre so that the last person seating in the hall could hear me.
As a result, I learned the technique of film acting.
Soon, I got the green signal from people in the industry and started getting offers.
Now, I will make my debut with Yeh Saali Aashiqui.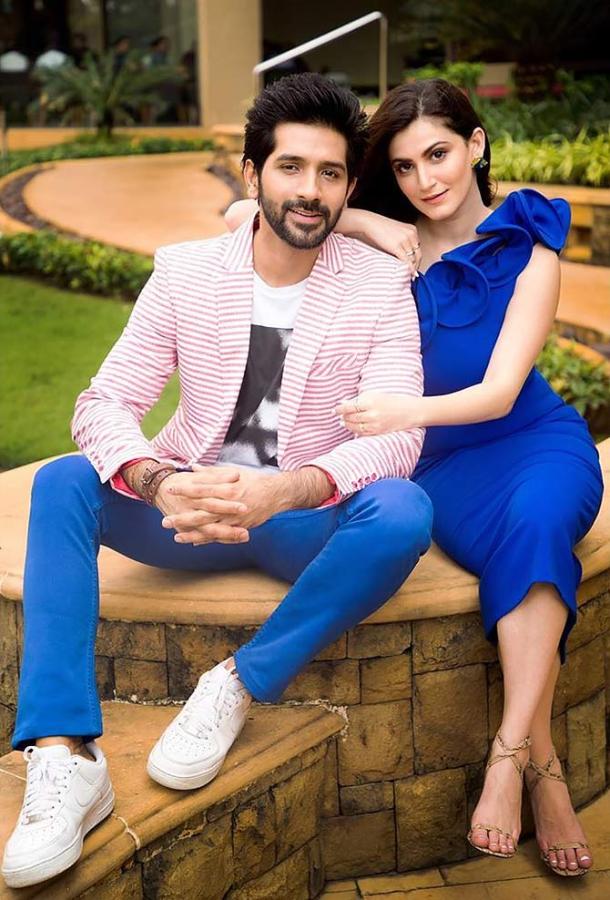 Was Yeh Saali Aashiqui the first film you were offered?
I was supposed to make my debut with another film.
I was selected to play the lead and worked on my role for about six months, but unfortunately, I got replaced with another actor at the last minute.
I was very upset and went into depression.
It was a very dark space for me.
My family encouraged me, saying that my grandfather was working in the industry from his 20s, but he met success only from his 40s.
Somehow I motivated myself and got back on track.
Soon I got another film offer from (Mahesh) Bhattsaab. It was called Naam Hai Sultana and was supposed to be one of the biggest films made in India.
It was about a real life dacoit Sultana who was known as the Robin Hood of India.
The film did not go on the floors because the studio backed out after the Padmaavat controversy.
It was a big budget film, but the makers thought there could be political disturbance and so it got shelved.
I got depressed again.
But then I remembered what my grandpa had said. He had told me to just work and not expect the result because things will happen when they are meant to.
I am now blessed to make my debut with Yeh Saali Aashiqui.
Are you open to negative roles in films?
I am open to do any good character.
If I find honesty in a role -- whether it's positive or negative -- I will do it for sure.
On the other hand, I would be lying if I said that everyone just wants to be an actor, not a star.
Everybody wants to be star because it's a great feeling to be celebrated, that you can sell a film.
But you have to be an actor before becoming a star.
My grandfather was a superstar in character and villainous roles because of his performances.
So my focus will always be on performance.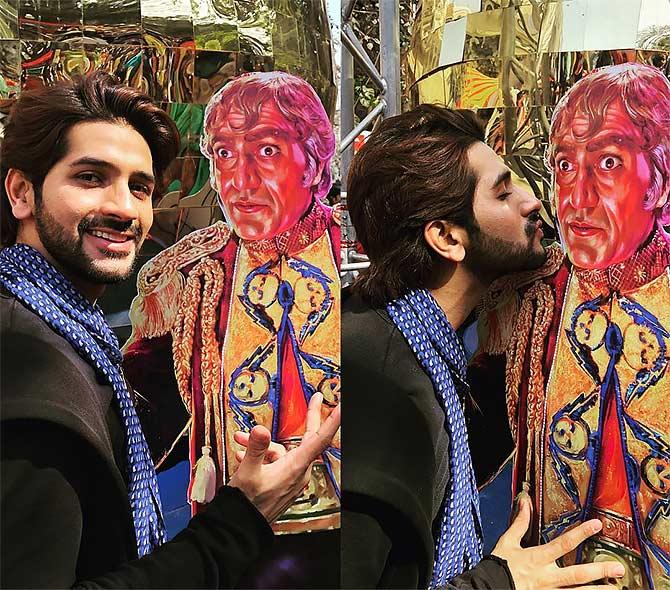 If you are offered an iconic role done by your grandfather, which one would it be?
My favourite is Virasat. It would be a pleasure to play Bade Raja Thakur on screen.
Mogambo from Mr India is also a dream to play.
He was outstanding in Muskurahat, Ghayal, Gardish, Ghatak, Chachi 420, Hulchul, Nagina, Damini, Meri Jung... the list is endless.
But we have to remember that my grandfather started his journey from his early 40s and I am very young to play such roles.
Most characters are written with a certain age in mind, and so all the characters that he played are very mature.
I have to be of a certain age to pull off those characters.
Amrish Puri have shaved his head for a character in a film. Would you do that too?
Yes, I will do whatever the role demands.
I am the greatest fan of Amrish Puri in the world.
Why didn't your father explore the movies?
My father did not have that passion in films.
His passion was to sail and explore the world.
He was a qualified marine navigator and worked in the merchant navy for 11 years.
He left when my sister was born in 1987.
When I was born, my father was my grandfather's 'back office'. He took care of my grandpa's career and made sure everything was smooth.
I believe there has to be one person who binds everything together in a family.
If one person is working continuously, there has to be someone to take care of everything like the family business, the relationships etc.
My father is the real reason why my grandfather became what he did.
My father was the backbone behind his career.
My father and my grandmother deserve 50 percent credit behind my grandfather's success.
My grandpa was working 18, 19 hours a day, and he achieved it because of my family's support and smoothness they created in his everyday life.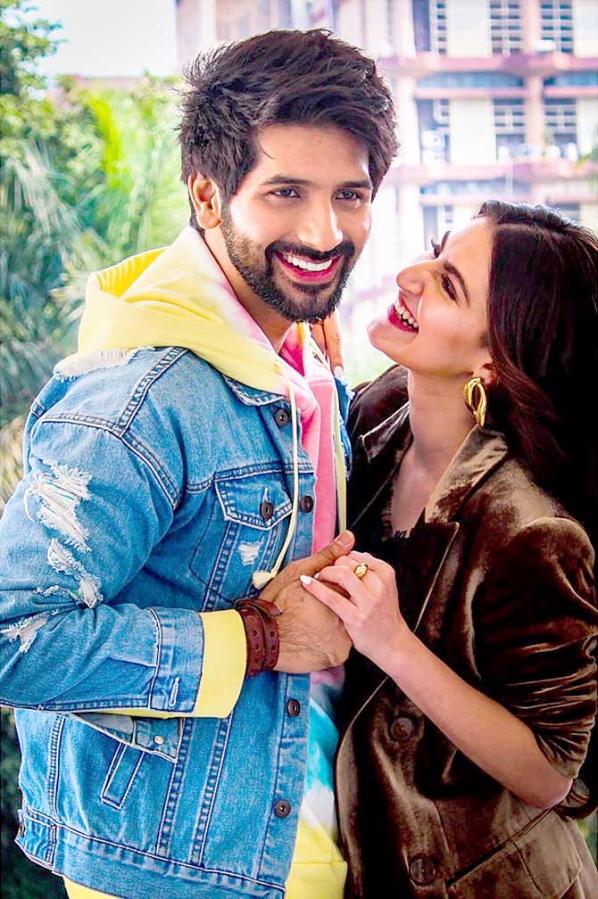 How did you groom yourself to be an actor?
I have been acting since I was five.
I had the greatest teacher in the world -- Pandit Satyadev Dubey, who is my grandfather's mentor.
The experiences and readings that I have shared with him and the performances that I have done under his tutorial prepared me to be an actor.
I have also done film acting courses, but theatre is the greatest teacher and that has groomed me as an actor.
I believe grooming is more internal then external.
Theatre acting does not work on the looks and the body, so I haven't done those things actively.
Who are your closest friends from the industry?
My closest friends are not from the industry; they are the ones I grew up with.
But yes, I do have some close friends from the industry like Cherag Ruparel (Yeh Saali Aashiqui, director), Sunny Kaushal, Sooraj Pancholi, Zaheer Iqbal...
Did industry change its attitude towards your family after Amrish Puri passed away?
As I said earlier, my father was not from the film industry and had a different passion altogether.
My mother and sister are doctors.
Almost everyone on my maternal side is a doctor.
So we did not have that connection with the industry since 2005.
My father does not enjoy going for film premieres because he thinks everyone there gives biased opinions about films.
No matter how the film is, those people will appreciate it.
Also, my parents don't attend filmi parties.
We got actively involved in the industry for the last couple of years because of my debut film.
Otherwise, we are a non-filmi family.
---
Divya Solgama loves masala entertainers as well as hard-core realistic films. Divya can be contacted at movies@rediff-inc.com