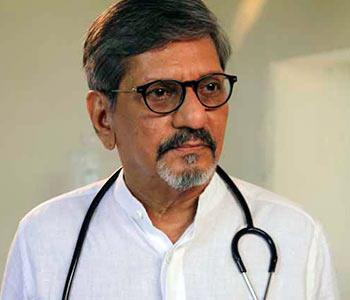 'If you look at my career, I am among that rare species that has always worked in non-mainstream films. And people liked it. As for TRPs, popularity, and 100 crore club, I have never thought about it.'
Amol Palekar gets ready for his television comeback.
Amol Palekar will make a comeback to television with Roshni... Ek Nayi Umeed, premiering Monday, July 13, on the Life OK channel.
A medical drama, Palekar plays the grandfather of the lead (Pooja Gor), who guides her in her journey as a doctor.
Palekar is still fondly remembered for his directorial ventures on television, Kachchi Dhoop, Naqab, Mrignayani and Krishna Kali in Hindi and Paool Khuna in Marathi, as well as his beautiful movies Gol Maal and Baton Baton Mein.
In an earlier interview to Rediff.com, Palekar had said that people liked him because he wasn't Superman.
He tells Rediff.com contributor Rajul Hegde about his new show.
Why choose this show as your TV comeback?
I have a strong allergy to this word 'comeback'. I don't think there is any kind of 'comeback'.
I was an actor by accident.
I chose to become a filmmaker and so I stopped acting. But having stopped acting, I had never closed the shop.
If there was something interesting, challenging, different, I would be happy to do it.
Were you waiting for the right role?
When I was an actor, I was not dying to do 20 things; I was known to be choosy.
I used to reject nine offers out of 10. I left acting 30,35 years ago, but in between, I made the film Samaantar in Marathi.
Sandya Gokhale, my wife, wrote the script. I played the main lead and Sharmila Tagore played a role as well.
Jab achi cheesey hoti hai kar leta hoon (when something good comes along, I do it). But I don't wait for roles.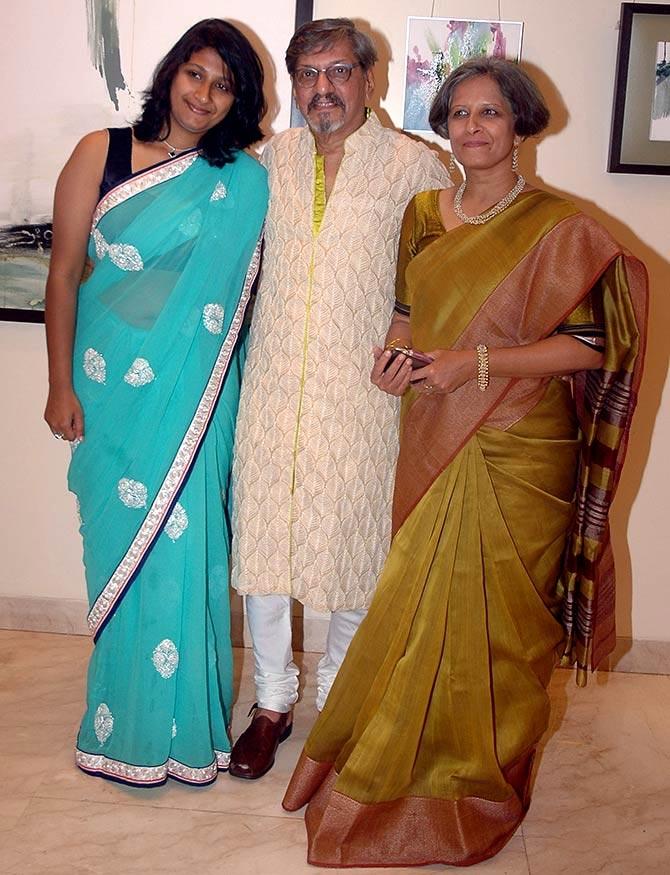 Image: Amol Palekar with daughter Samiha and wife Sandhya Gokhale. Photograph: Pradeep Bandekar
Have you given any inputs to the show?
I am a disciplined actor. I fully surrender to the character as an actor. The director and writer guide me together and I believe in that.
I liked the content and the approach of the production team. Whatever was told and promised to me is happening. I was very happy to be part of this show.
You said you are a disciplined actor; do you see the same in today's actors?
The actors of this generation are probably much more disciplined than they were during my time. They are far more professional, as they should be.
During my time, people used to say arrey kya baat hai Amol Paleker time pe athay hai (Wow, Amol Palekar has come on time). Now, every actor does that.
I come on time, remember the dialogue and deliver it. That's the minimum requirement of an actor and there is no need to glorify it.
What changes do you see in television after nearly a decade?
There are lots of changes. I think everybody is far more professional, which is nice.
I had heard horror stories about the television scenario from my colleagues, particularly daily soaps -- how they shoot, how people have to work round the clock...
I was assured that nothing of that sort happens here and I can vouch for it that we are working nicely as professionals and enjoying our work.
I have been associated only with Doordarshan, with shows like Kachchi Dhoop, Mrignayani, Naquab and Krishna Kali.
In that sense you can say this is a different step, since I am working with a commercial channel (Life Ok).
Television shows are rated on TRPs (television rating points). What do you have to say about that?
The channel and production house have to worry about that, not me.
I have never thought about TRPs. When choosing or doing a film, I never thought about how popular it would be. I do it if I like it. When you do something from the bottom of your heart, people will like it.
If you look at my career, I am among that rare species that has always worked in non-mainstream films. And people liked it.
As for TRPs, popularity, and 100 crore club, I have never thought about it.
Do you watch Indian television shows?
I watch television for only live shows like Wimbledon, football and news.
Apart from that, I don't think there is any interesting stuff to watch on our television.
You are a painter too.
For the last one-and-a-half years, I was into painting. I thoroughly enjoy being a painter. (Click here to see Palekar's paintings)
I started my career as a painter; I am from the JJ School of Arts.
From 1967 to 1984, I did seven solo shows. Even while acting in films and theatre, I was a painter too.
But hamari yahan actor ka helloo bahut zyada hota hai na? Baaki kuch dikhta nahi...hum log actor kay peechay hi bagthay hai. Aab jakay actor nahi raha, isliye dikhraha hai, acha aap painting bhi kartay hai. (In India, we give more importance to actors, we don't see other capabilities of actors. Today I don't act much, so people can see I am a painter too).
You have not directed anything after Paheli. Any plans of directing a Hindi film?
I am like a horse... I do one thing at a time... I am enjoying what I am doing now.