As Amitabh Bachchan celebrates his 72nd birthday on October 11, he tells us what his biggest happiness is.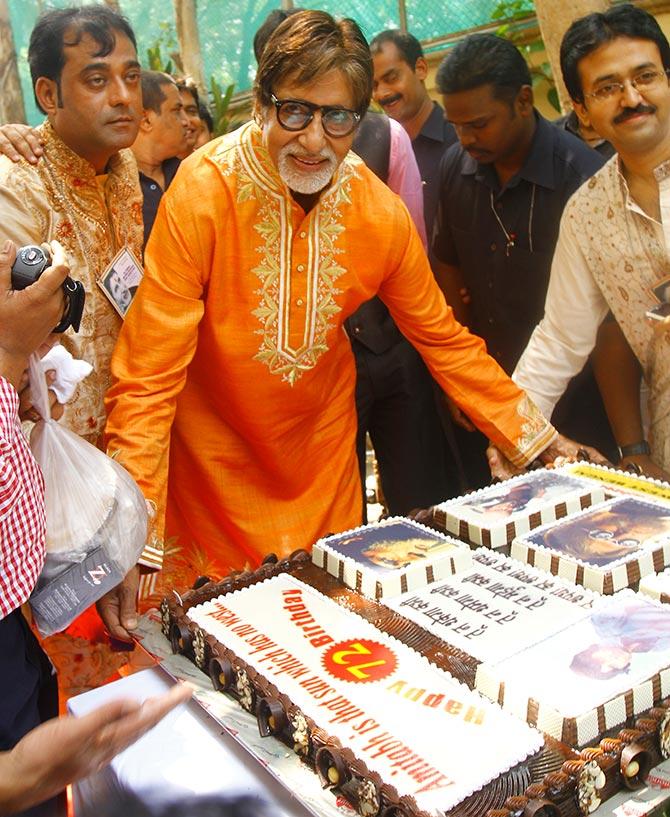 Image: Amitabh poses with the cake. Photograph: Hitesh Harisinghani
Amitabh Bachchan is said to be one of the most punctual actors in the Hindi film industry. But on his birthday on October 11, he kept the media waiting for more than an hour.
As soon as he arrived, he gave his reasons for the delay: "I am late because I had to go to Prateeksha (Bachchan's former home) to take Ma and Babuji's blessings. Even after their death, I believe they are still in my old house."
The superstar will not be celebrating his birthday this year. "It is Karva Chauth today and all the female family members are fasting. Their fast will break only after they see the moon. So whatever (celebrations) there is, it will be in the evening with the family. Last night, everybody at home wished me and gave me their love."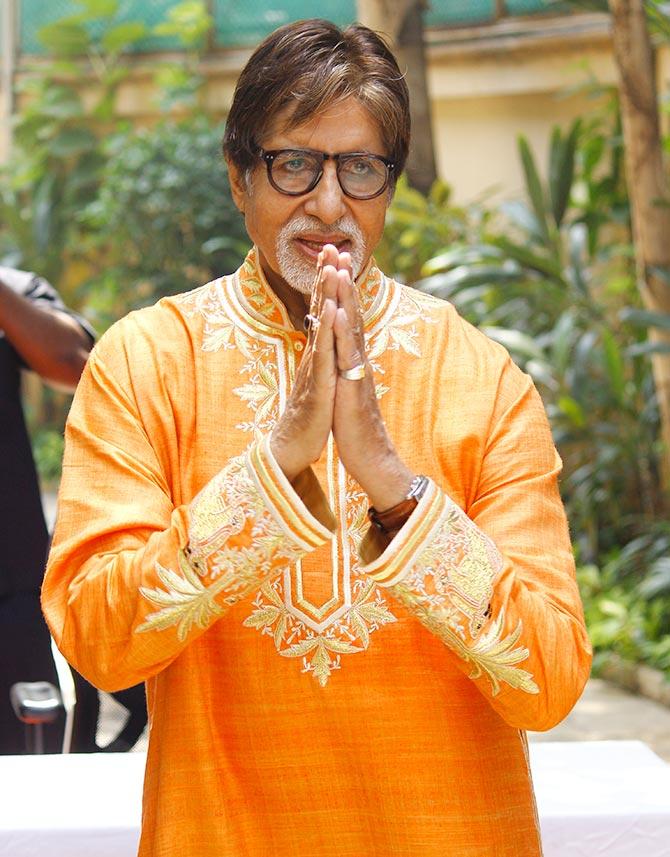 Image: Amitabh enters his office premises Janak. Photograph: Hitesh Harisinghani
The 72-year-old actor joins his wife Jaya Bachchan for the Karva Chauth fast every year but this year, he has excused himself for health reasons. "I don't fast on Karva Chauth anymore because of my health. I have to take a few medications, and for that I have to eat. The doctor has advised me against fasting."
When asked what was special about his birthday, he replies, "My biggest happiness is Aaradhya but she was sleeping when I went to Prateeksha. I have not met her yet. I would like to spend the day with her and the rest of the family."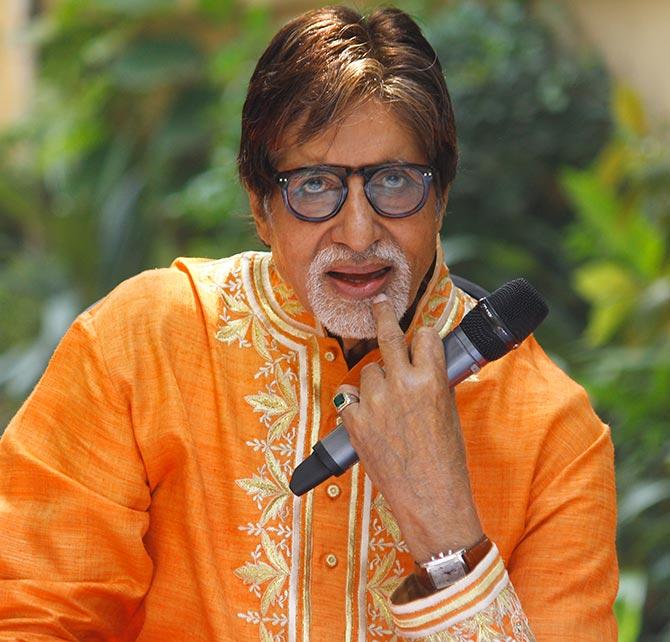 Image: Amitabh Bachchan talks to the media. Photograph: Hitesh Harisinghani
Amitabh's bright orange kurta was designed by Abu Jaani and Sandeep Khosla. "Abu and Sandeep are my good friends. They make new outfits for me on every special occasion," he says.
Amitabh's father Harivansh Rai Bachchan never celebrated his son's birthday with a cake and candles, as he did not see anything Indian in that ritual. Instead, he wrote a poem for his son: Varsh Nav, Varsh Nav, Jeevan Main Harsh Nav.(New Year, New Year, Life is full of happiness.). Amitabh makes sure to recite the poem every year on his birthday.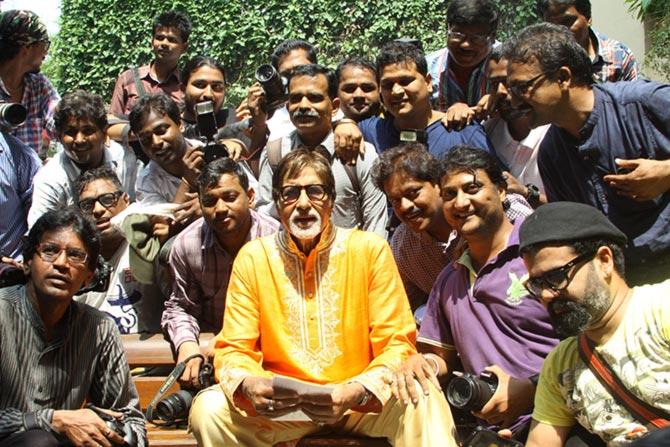 Image: Amitabh Bachchan poses with the photographers. Photograph: Pradeep Bandekar
Talking about the fans who wait outside his bungalow gates every year, Amitabh says, "I cannot give anything to my fans. The most I can do is work in good movies for them. I don't get lead roles now but I do everything good that comes my way."
So what's his secret that makes him look youthful even now? "It is genetic that I am energetic," he replies. "But the love of my fans keeps me going. Plus, I have made a rule for myself that if I have to look good, I have to dress well and look presentable."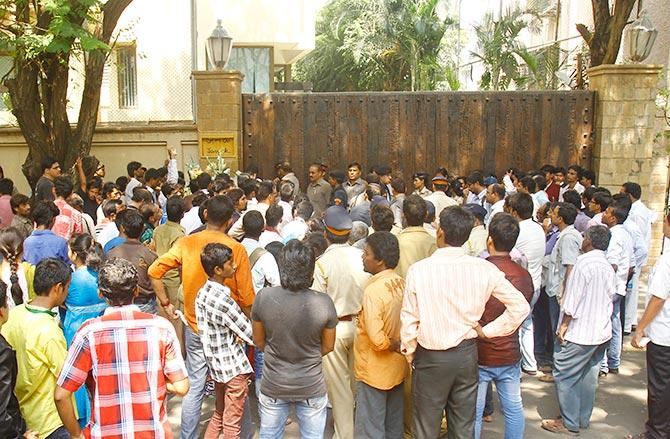 Image: The crowd outside Amitabh Bachchan's office Janak. Photograph: Hitesh Harisinghani
This year, there were no flowers adorning his bungalow gates. "Earlier, we would decorate our house with flowers on my birthday. Now, we don't because Jaya thinks the flowers dry up. So now we take the bouquets that come on my birthday and give them to patients in nearby hospitals," he explains.
Talking about Indian child rights activist Kailash Satyarthi and Pakistan's Malala Yousafzai, who have been awarded the Nobel Peace Prize, Amitabh says, "I congratulate Kailash Satyarthi and Malala, who is the youngest Nobel Prize winner. They have done unique work -- working against child labour is the most important thing to do. It is nice that a socialist and activist, who has worked so hard has received a worldwide recognition, An Indian to win it is laudable and I am very proud of it."