'When I sign a film, I know exactly what I am supposed to do. No one tells me I have 10 kissing scenes and five lovemaking scenes. Alone is the boldest film I have ever done.'
Bipasha Basu, who celebrates her birthday today, discusses her upcoming film.
January 7 may be Bipasha Basu's birthday but for the actress, it's just another working day.
That's not to say that Bips doesn't party hard.
"I am still in rehab mode from Goa. I danced nonstop and had a ball of a time," she says, referring to her New Year's Eve celebrations.
In this conversation with Sonil Dedhia/ Rediff.com, Bipasha explains why she's a big 'fattu', and why she prefers lovemaking scenes to kissing!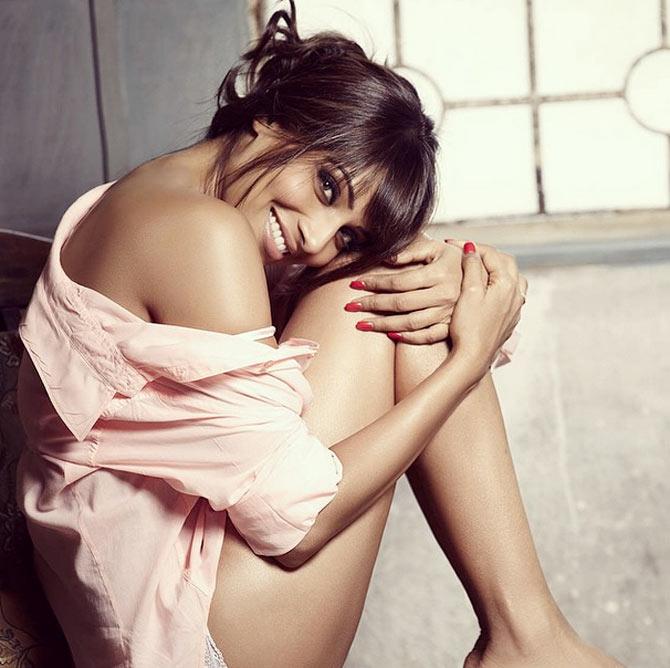 Image: Bipasha Basu
You turn 36 today. What are your birthday plans?
I wish I could plan something but I am busy promoting my film Alone.
I don't have time to party but I will celebrate it later. I hope someone plans a surprise birthday party for me (smiles).
Are you excited about Alone, your next big release?
Right now, I am 'Zombatose'. That's my new name for the combination of zombie and comatose (laughs).
I am excited about Alone. People loved the trailer and the songs. It's all positive so far.
Alone is yet another horror film from you.
For me, a film is a film. The discussion that I am a horror queen will go on forever. A lot of people question my decision of choosing only horror or supernatural films.
Alone is not a horror film for me. I signed the film because I haven't done a romantic film for a long time. It is a passionate love story for me.
Everyone, who is married or who has been in a relationship, will identify with this film. Many aspects of relationships have been shown, so the film is not only sexy.
I play conjoined twins in the film and there is a lot of depth in both my characters. Everything about the film has never been seen or done before for me.
Don't you fear being typecast?
The biggest stars of this industry have been typecast.
Apart from Priyanka Chopra, who has been lucky with her films, which actress has been versatile? Everyone has stuck to their own space.
I don't want to name anyone, but once an actress plays a Punjabi role, she keeps playing that. Another plays a pretty girl in love and she always does that.
So, let me be the girl who does horror films.
Every time I do a supernatural thriller or a horror film, I play a different character. In Aatma, I played a protective mother, in Raaz 3, I played a falling superstar, in Alone, I am playing conjoined twins.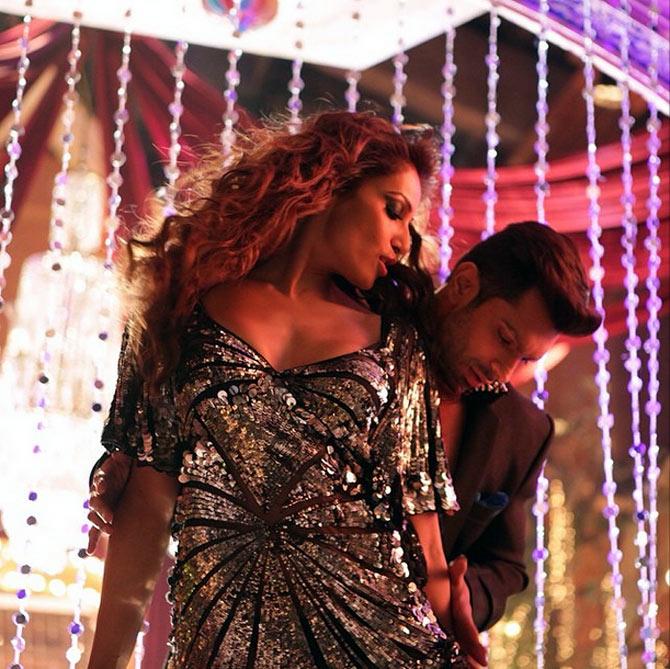 Image: Bipasha Basu and Karan Singh Grover in Alone
Was it difficult to play two roles simultaneously?
It was perfectly fine to play the victim (the character of Sanjana in Alone). Over the years, I have learnt the craft and do everything with conviction. But it was difficult to play the ghost (the character of Anjana in the film).
It was unknown territory, something I haven't done before. I am a big fattu (coward) and am petrified of everything.
When I see a scary film, I shut my eyes. I watch from between my fingers (laughs).
I had requested my director (Bhushan Patel) that I should not use make-up to look like a ghost because that would scare me for life! He was gracious enough to understand and said that we would do certain things on VFX (special effects).
So you admit you are a fattu.

Yes! Bhushan didn't believe me. He must have thought I didn't mean it, as I'm an adult and do horror films.
There was a scene in which I come face-to-face with a ghost. We had a body double to play the ghost. I had to lie down and then turn around.
When I turned around, my face was just inches away from the ghost's face. I couldn't stop howling. Everybody thought I was acting. They didn't know what had happened to me.
My team of make-up artists came in and held me.
After that, Bhushan decided to shoot the sequences separately.
My scene and the ghost scenes were shot separately and then layered with the help of VFX. I had sleepless nights shooting that film.
Any spooky incidents on the sets?
The body double has done a fantastic job. She had this great make-up. Her teeth were black and looked very scary.
I remember the first day she was on the sets. She is just 23 and was excited to see me. In that excitement, she forgot that she had put on her make-up and was looking like a ghost. I walked onto the set happily munching on a biscuit.
She was sitting on a sofa and looked up to me and said 'Hi'. I literally died that moment.
After that day, there were strict instructions that when I was on the sets, she had to sit in the van (laughs).
It's been a while since we have seen you in such a bold avatar in films.
When I sign a film, I know exactly what I am supposed to do. No one tells me I have 10 kissing scenes and five lovemaking scenes.
When I read the script of Alone, I was convinced about it. I wasn't aware who was going to be cast opposite me. I requested the producers that because this is a very passionate love story, whoever you cast has to have chemistry with me.
Thankfully, Karan (Singh Grover) was signed and I guess we make a great pair.
Alone is the boldest film I have ever done.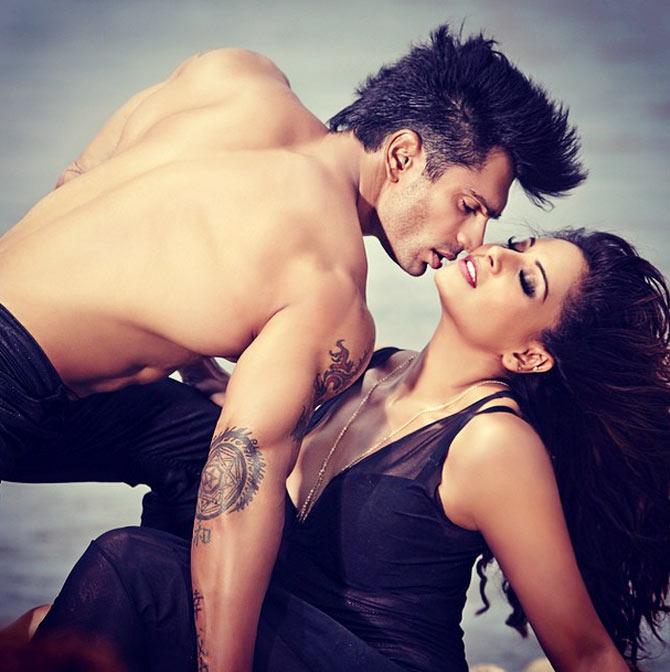 Image: Karan Singh Grover and Bipasha Basu in Alone
The reason I asked you this is because you recently said in an interview that in Bachna Ae Haseeno, you were reluctant to kiss your co-star Ranbir Kapoor.
Yes, I was. When I started acting in 2001, kissing was not necessary in a film. To show intimacy, it was not important to kiss.
Jism was the first film where I did a kissing scene and back then, my co-star was my boyfriend (referring to John Abraham) so it wasn't like I was kissing some random guy.
When I had to do it in Bachna Ae Haseeno, I was kissing a person I didn't know. It was too intimate for me.
I remember I asked Adi (producer Aditya Chopra) to have a lovemaking scene instead. He laughed in my face and said that I was the first weird actress, who is fine with a lovemaking scene and not kissing!
Was it difficult to break the ice with Karan before doing the kissing and intimate scenes?
Today, kissing has become a regular thing in films. Kissing is part of 'U' certificate films also.
When I had to do a seduction scene with Emraan Hashmi in Raaz 3, I almost died. The director had given me dialogues in the middle of a kiss and I was like 'How do you do that?' (laughs).
With Karan, it was very comfortable as we had been shooting for almost a month. There was a friendly vibe from the entire unit which helped us shoot the song (Katra) with ease.
The song has some really hot sequences. I hope my mother doesn't see them! (laughs).
You still haven't worked with the Khans (Salman, Shah Rukh and Aamir) yet.
You ask the Khans. I have no answer for this.
There are actresses who worked with the Khans and have vanished within a film or two.
I haven't worked with any of the Khans -- except for Salman in No Entry, who wasn't exactly my co-star -- but I have still survived for 14 years. My journey is different from everybody else's.
Over the last 14 years, you have done films in various genres. Any new space that you would like to venture into?
I really want to do a funny film which is not slapstick. I want to bring out the quirky side of me and show the world that I am really crazy.
I would love to do a film like Bridget Jones's Diary.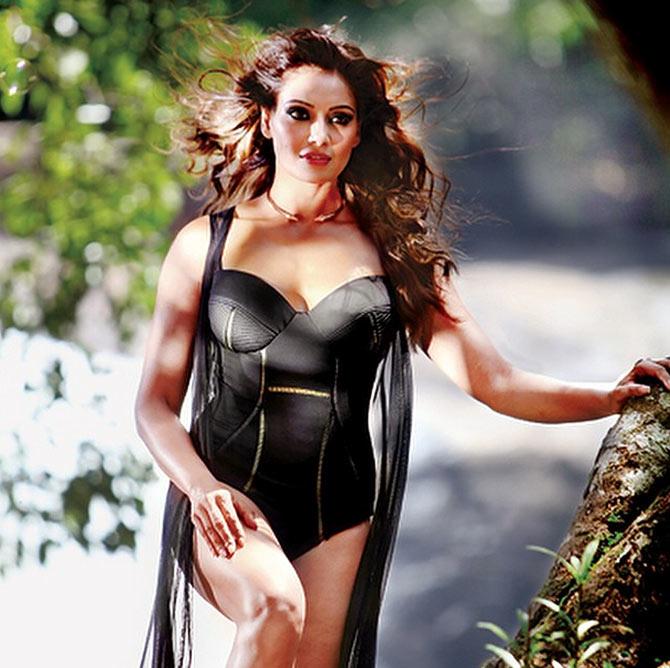 Image: Bipasha Basu
Any marriage plans?
Life is about experiences and the people you meet. If you tell me that all the married couples are happy, I am not buying it.
It's not that a relationship is successful only when it culminates in marriage. I have met fabulous people in my life. I don't think if a relationship fails, it's the end of life.
I believe in the institution of marriage. I am sure when I meet my soul mate, I will get married.
I believe in love and can give a lot of love to people.
Who would you say is the hottest bachelor in India right now?
(Thinks hard) You have to give me a list. I have to see if there is any bachelor, who is worthy of me (laughs).
Salman Khan…
(Interrupts) He is going to stay a bachelor for life. He is better off as a bachelor.