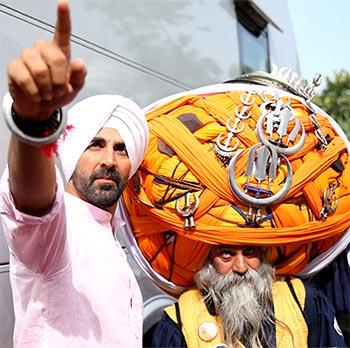 Here's looking at Bollywood's coolest turbanators!
One of India's most vibrant communities doesn't find enough mainstream representation in Bollywood.
Either we have characters masquerading as Sikh to conceal their actual identity. Remember Jeevan Mrityu, Gopi Kishen or even Dil Bole Hadippa? Or they are overblown Santa Banta caricatures offering puerile humour.
Still no one has portrayed the glamorous facet of Sardars as successfully as Akshay Kumar. Caught the song promo Tung Tung Baje of his shiny October release, Singh is Bling yet?
We have. And it's super fun.
Meanwhile, here's a look at the most noteworthy Sardar portrayals on silver screen.
Got a favourite? Tell us below.


Akshay Kumar: Singh is Kinng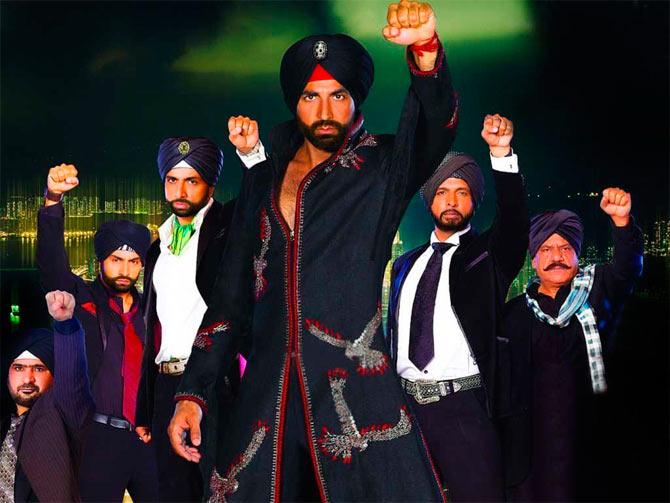 Image: Movie poster of Singh is Kinng
Barring the rhyming title, Singh is Bling bears no connection to his 2008 hit comedy.
Still, it's certainly set the bar high for the new one.
As the trouble-prone village bum Happy Singh packed off to Australia, Akki brings the house down around a madcap Sardar mafia (Sonu Sood, Javed Jaffrey, Yashpal Sharma, Sudhanshu Pandey) with his goofy actions.


Sunny Deol: Border, Gadar: Ek Prem Katha, Yamla Pagla Deewana, Jo Bole Se Nihaal, Singh Saab The Great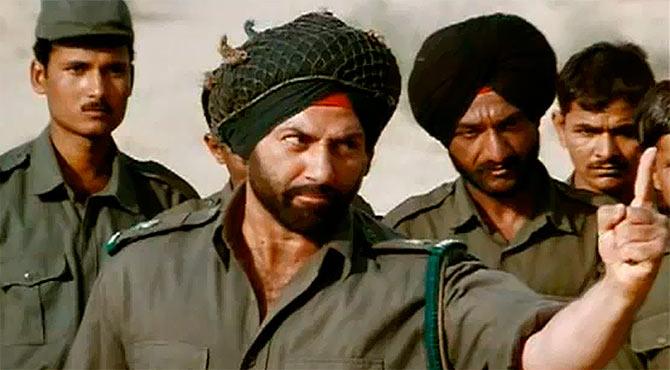 Image: Sunny Deol in Border
Easily Bollywood's poster boy for the Sikh community, Sunny Deol has played many a winsome Sardars in his action-dominated career.
His no-nonsense, valiant Major in J P Dutta's landmark Border is an undisputed favourite.
Further, lending muscle to the 'Deols special' Yamla Pagla Deewana and its forgettable sequel or single-handedly taking on Pakistani troops in the period potboiler, Gadar, the actor made a hard-hitting impression.
Not nearly enough to recreate its success in drivel like Jo Bole So Nihaal or Singh Saab the Great.


Ranbir Kapoor: Rocket Singh: Salesman of the Year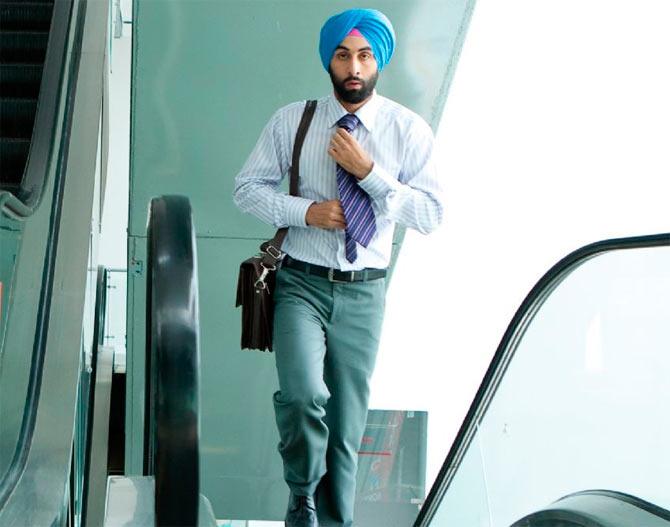 Image: Ranbir Kapoor in Rocket Singh: Salesman of the Year
Ranbir Kapoor creates an utterly believable and endearing Sardar in the Shimit Amin gem. Even mum Neetu Kapoor couldn't stop gushing.
Though the Yash Raj production didn't create ripples at the box office, RK garnered acclaim as the poor academic and young visionary set out to prove his set of beliefs in the cutthroat world of sales and marketing.


Ajay Devgn: Son of Sardaar, Legend of Bhagat Singh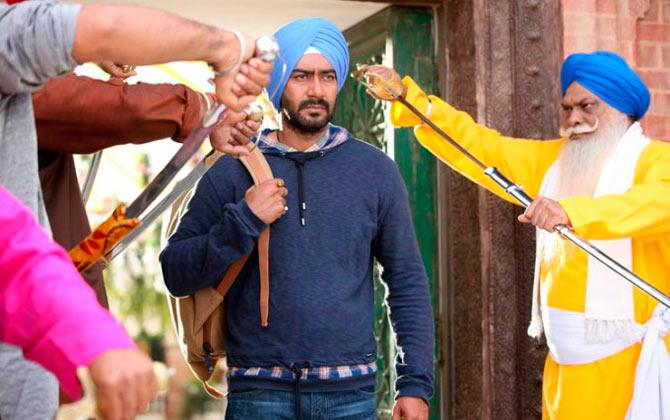 Image: Ajay Devgn in Son of Sardaar
Trust Ajay Devgn to tread extremes.
If his National award-winning turn as freedom fighter Bhagat Singh saw the actor play a historical figure, who later chops off his locks to escape British attention, with restrain and dignity, his Jassi in Son of Sardaar is as filmi as they come.
Despite its over-the-top absurdities and clichés, the remake of Telugu hit Maryada Ramanna did rather swell business.
Only recently Devgn announced his plans for a sequel in 2017.


Farhan Akhtar: Bhaag Milkha Bhaag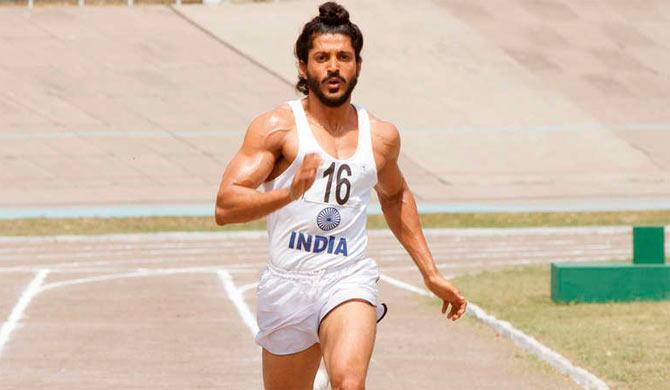 Image: Farhan Akhtar in Bhaag Milkha Bhaag
Farhan Akhtar engaged in extensive research and physical training to play athlete Milkha Singh in Rakeysh Omprakash Mehra's biopic.
Although the script feels wanting and sluggish, FA's efforts hold its own as he transforms into The Flying Sikh.
The 41-year-old received several Best Actor trophies for his work here.


Saif Ali Khan: Love Aaj Kal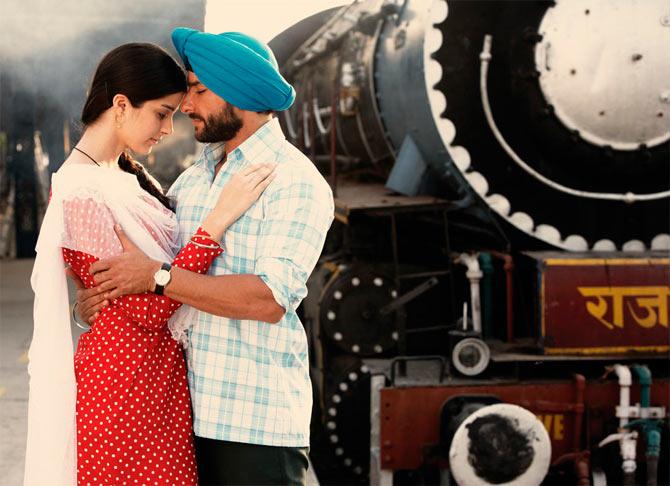 Image: Giselli Monteiro and Saif Ali Khan in Love Aaj Kal
One of the double roles Saif Ali Khan essays in Imtiaz Ali's Love Aaj Kal is a young, romantic Sardar traveling to and fro by train to catch a glimpse of his ladylove.
It's basically a flashback narrated by Rishi Kapoor of his younger days to a contemporary fella seeking romantic inspiration, also played by Saif Ali Khan.
Feeble Punjabi accent notwithstanding, Saif is much earnest.


Rishi Kapoor: Love Aaj Kal, Patiala House
Image: Rishi Kapoor in Patiala House
Besides Love Aaj Kal, which features the actor as a friendly cafe owner in London, Rishi Kapoor dons the turban to play a proud, again UK-based Sardar, in Patiala House.
In the latter, his Gurtej Singh Kahlon disapproves of his son playing cricket for the British side. Eventually, he comes to realise his folly and supports him for the same.
Expectedly, Kapoor is impressive in both roles.


Paresh Rawal: Oye Lucky! Lucky Oye!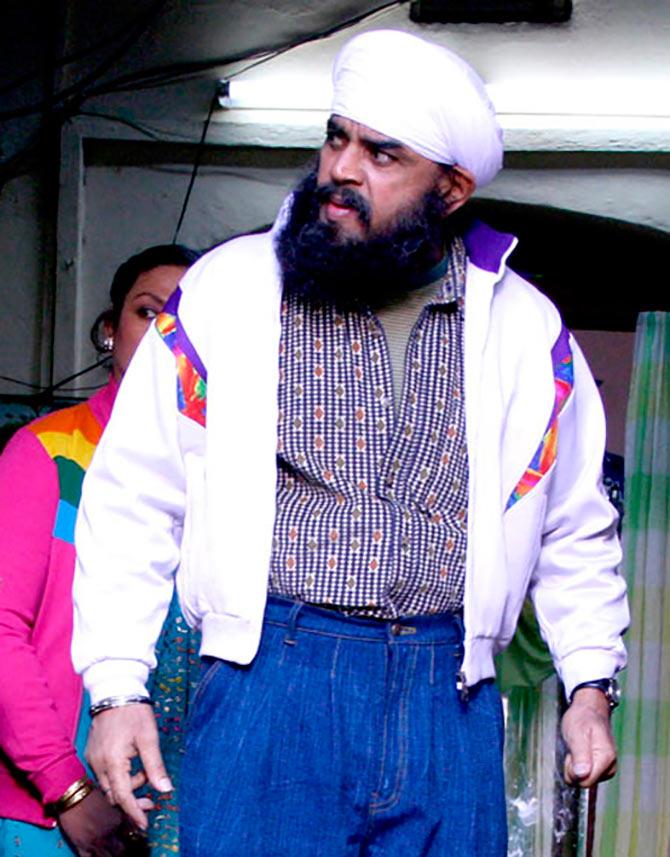 Image: Paresh Rawal in Oye Lucky! Lucky Oye!
Among the many roles he's cast in Oye Lucky! Lucky Oye!, one of them is a perennially disgruntled daddy to Manjot Singh.
Although he can't cast off his thick Gujarati accent, there's no shortage of emotive range in his multifaceted performance.


Boman Irani: Lage Raho Munna Bhai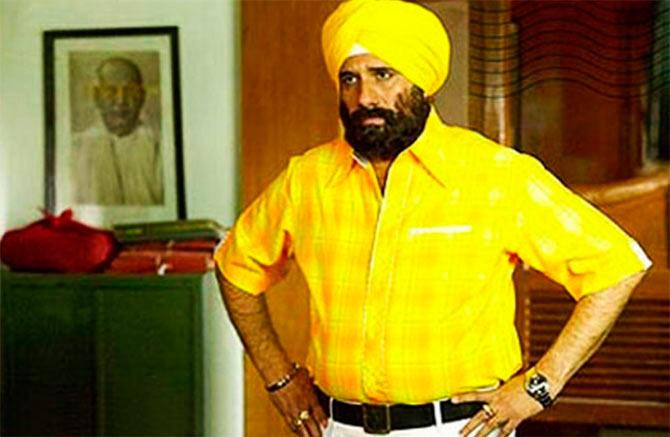 Image: Boman Irani in Lage Raho Munna Bhai
Following the haughty dean of Munna Bhai MBBS, Boman Irani slips into the scheming skin of a Sardar businessman with an affinity for bright coloured shirts in Rajkumar Hirani's even more successful follow-up, Lage Raho Munna Bhai.
His amusing resistance of the peaceful 'Get well soon' protest for his misdemeanour and learning lessons around superstitious buffoons is why we remember Lucky Singh so well.


Irrfan Khan: Qissa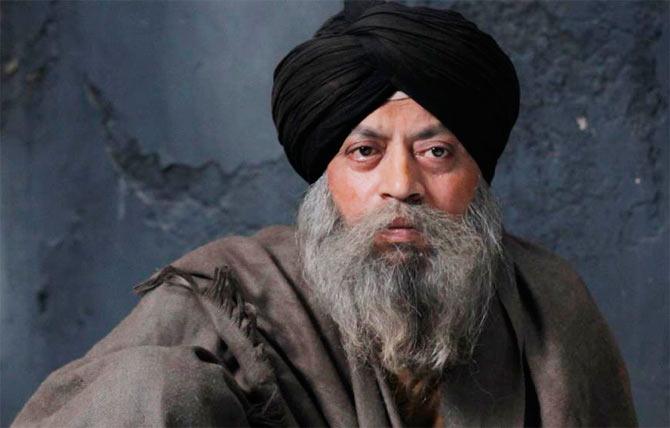 Image: Irrfan Khan in Qissa
Whether he's playing Hindu in Haasil, Muslim in Maqbool, Christian in The Lunchbox or Sikh in Qissa, few can imply the cultural distinction as delicately as Irrfan Khan.
In the critically acclaimed Qissa, he plays a disturbing Sikh father named Umber Singh, who conceals the identity of his daughter and raises her as a boy.


Amitabh Bachchan: Ab Tumhare Hawale Watan Saathiyon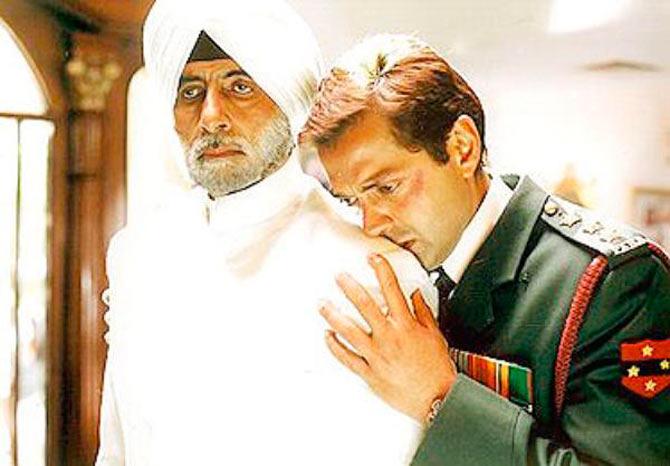 Image: Amitabh Bachchan in Ab Tumhare Hawale Watan Saathiyon
Though it starred the likes of Amitabh Bachchan and Akshay Kumar, few may recall Anil Sharma's decade old war film taking its name from Haqeeqat's immortal melody, Ab Tumhare Hawale Watan Saathiyon.
And the only reason we are now is Big B's charismatic portrayal of a dedicated armyman as a Sardar, the only time he's played one, in an otherwise average movie.


Salman Khan: Heroes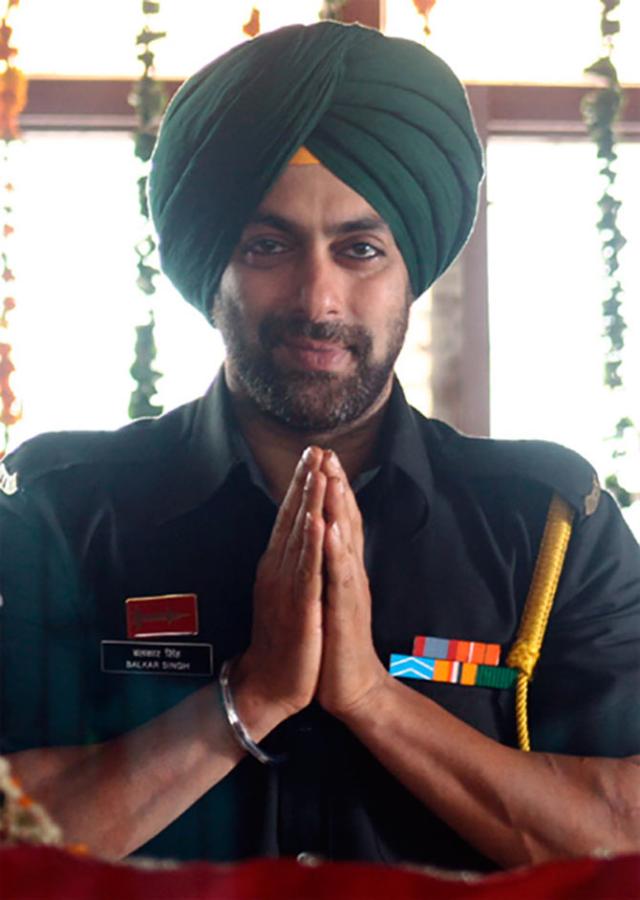 Image: Salman Khan in Heroes
It's not only a cameo but also the only poignant segment in Sameer Karnik's wannabe patriotic ensemble, Heroes.
Salman Khan pitches in as Balkar Singh, a brave Sikh soldier who loses his life in combat. His warm interactions around his family against a picturesque Punjab village extract some sympathy, which dwindles as the uninspiring yarn progresses.


Kunal Kapoor: Vijeta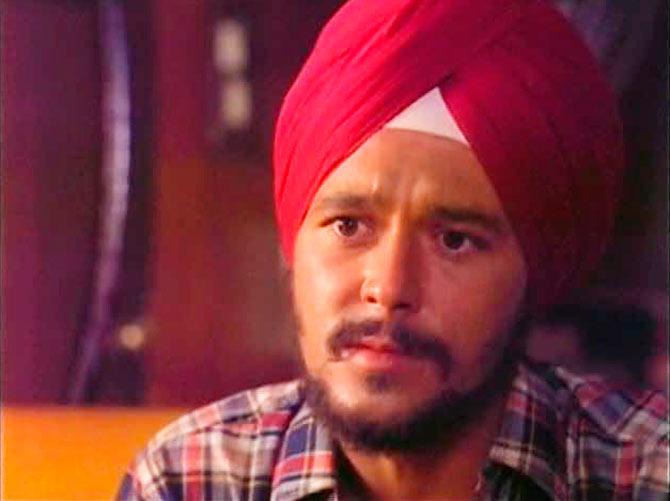 Image: Kunal Kapoor in Vijeta
Govind Nihalani's Vijeta tells the coming-of-age story of a military pilot and his sparring parents.
Shashi Kapoor, producer of this competent drama, plays father to real-life son Kunal in the film.
While Kunal's career didn't soar off like the planes he flies in Vijeta, he is suitably soulful and sensitive as the young Sardar, Angad Singh trying to make sense of the chaos around him.