Just as her
Water
--
nominated by Canada
as its entry for the Oscar for best foreign film -- is looking at a fresh theatrical release despite being a hot-selling DVD, filmmaker
Deepa Mehta
is casting her next film,
The Exclusion
.
She is also conducting research for her first Hollywood production, tentatively called The Julia Project. The film will be shot perhaps in late 2007 in America and Korea and revolves around an American woman married into the Korean royal family in the mid 20th century.
The Exclusion, which costs five times ($15 million) the budget of Water ($3 million), centres on the plight of 375 asylum-seekers from India who were fleeing the British and arrived in Vancouver, Canada, aboard a hired ship, the Komagata Maru, in 1914.
They were not allowed to land, except for a few Indians, and forced to return to India to face British wrath. This is one of the most notorious incidents in the history of exclusion laws in Canada designed to keep out immigrants of Asian origin.
Delhi-born and educated Deepa Mehta, who has called Canada her home for nearly three decades, says The Exclusion is her most challenging film yet.
She spoke to Rediff India Abroad Managing Editor (Features) Arthur J Pais about her new films.
Have you signed Amitabh Bachchan for the film?
Not yet. We met when he was in Toronto recently for the screening of Kabhi Alvida Naa Kehna at the film festival. I gave him the outline of his character. He has to look at his schedule next year and get back to me.
What would he be playing?
A very complex role that is very crucial to the film. He will be Gurdit Singh, an astute businessman, who at 58 rents a ship, the Komagata Maru, and helps sail 375 people, most of them Gadar revolutionaries wanted by the British.
Across a chasm of seventy five years, the eyes of these dead men speak to today's Indian American
Later, when the ship is returned to India and the people aboard are arrested or killed, he goes underground. Only when Mahatma Gandhi asks him to give up does he surrender to the British, with the line that goes something like this: 'My name is Gurdit Singh. I believe you are looking for me.'
Who has been signed and what roles do they play?
John Abraham will play a Bhagat Singh-like character who will hunt the main culprit, a British officer.
The Komagata Maru belched fire and smoke
The incredible Seema Biswas plays Daljit Kaur who is not actually on the boat. But she galvanises the tiny Indian community in Vancouver and raises money to help fight the cause of the would-be immigrants. It is one of the most powerful parts in the film. There are a number of other artists I have in mind.
What does the wish-list look like?
I would like to see Nandita Das, another absolutely brilliant actress, play the role of a traitor's wife. Her husband, who is a doctor on the ship, spies on his fellow Indians. He is allowed to get off the ship in Vancouver because of his service to the Canadians but she stays aboard.
I also want Padma Lakshmi. I saw her over two years ago in a film called Boom.
But that film was a disaster, wasn't it?
I did not care for the film but there was something in her eyes that grabbed my attention. I surely want her in my film though some people may say she is from the South.
But looks can be misleading, isn't it? You can be mistaken for a South Indian.
My mother has often said that in my previous birth, I must have been a South Indian.
I have been to Chennai many times, especially to meet with A R Rahman. I enjoy being there. I enjoy everything from the food to the sights to the people.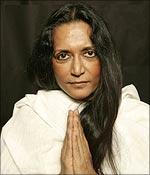 Has Rahman been signed for the film?
Not yet. But I will be very disappointed if, for some reason, he cannot compose the music for this film.
Rahman is on record saying that he quit the Water project after composing the songs because the film became controversial.
He is a great composer and a human being. We have worked together for nearly a decade. We keep in touch. And we have told each other that we would like to work together.
What is The Exclusion really about?
It is a story of heroism, sacrifice and nobility. But it is also a film about the politics of colour. The Canadians were simply scared of what they thought would be a brown invasion.
Have you been thinking about race for a very long time?
Surely. I remember many, many years going to South Africa. There were two or three lines at the immigration at the airport. I found the Arabs in the same line as white visitors. Of course, I was in the other line.
You have also said that the history of the Komagata Maru and its racist component is not widely known.
It got sidelined partly because of World War I. The film is also about people's fight for dignity, and it will look at how racism and economics go hand in hand.
You told me last year that there were heroes and cads on both sides when the ship arrived in Vancouver, and that your screenplay will explore that. Can you talk about it again?
I have mentioned an Indian doctor, Raghunath Singh, who was on the ship and betrayed his people by spying on them and telling the Canadians what they were planning.
>On the other hand, there was Mr Bird, a lawyer, who was very sympathetic to the people aboard. He took up their case and put himself in harm's way as he fought for them, telling the government that it was inhuman the way the asylum-seekers were treated.
Have you someone in mind to play this role?
Terrence Stamp, one of the best character actors around, will be playing this very important role. I have adored his work since my college days, especially in films such as Far From The Madding Crowd.
At the Toronto International Film Festival, some directors from India were saying that more and more filmmakers in Bollywood are trying to make films keeping one eye on the mainstream overseas market.
Once you start thinking about targeting a film to an audience, you are in trouble. You are in trouble when you say you are making a crossover film.
Why would that be?
The moment you start thinking what your audiences may want to see, you are compromising. You are not making an honest film. You are not making a film with your heart
Satyajit Ray's films had a strong base in art theaters in many countries, especially in America and Britain. But I don't think he ever made a film thinking of an audience.
What's next?
We have plans to wrap up The Exclusion by the end of next summer. Then I will be working on a project that I have signed just now. It is tentatively called The Julia Project and I will be directing it for Focus, a division of Universal. It is based on a real story.
It is about an American woman, Julia Mullock, who marries Korea's last crown prince in 1959 but is shunned by him a few years later because she cannot bear him an heir. But it was he that was impotent.
Princess Julia, as she is called, is about 75 and lives in South Korea. She has embraced that country, making it her own.
The question the film poses is: Who is the real noble person in this episode? I will shoot the film after The Exclusion is edited.
The film will touch a theme that exists in many of your films going back to your first film Sam & Me in 1991, isn't it?
Very much so.
Sam & Me was about the friendship between an Indian immigrant and an older Jewish man in Toronto. I have always been fascinated by the question -- even at a personal level -- what it means to negotiate another country.
Princess Julia had to negotiate a country that was very different from the America in which she grew up in. I have also been concerned about how new immigrants, and people in general, are marginalised.
Could you tell us more about it?
There were efforts to marginalise Princess Julia, but she triumphed. We know people are marginalised all over the world all the time. Sometimes it is a class that marginalises another. Sometimes it has to do with physicality.
We often feel superior over others, and we feel strongly against people who go against the grain. I will explore these themes in The Exclusion as well as The Julia Project.
Water was also about being marginalised, isn't it?
Absolutely.
It is also a film about the politics of religion, and how it was misused to punish and exploit vulnerable women, in this case widows in a holy city.
It also became the highest grossing Hindi film in North America. What was it that brought the film close to mainstream audiences?
It struck a chord with people from all across the world because many people, especially women, felt they have been marginalised in different ways.
Black people in Detroit told me they felt like the widows in the movie because their ancestors were excluded and segregated -- in this case because of colour.
A Jewish widow from Europe, who saw the film in an American city, told me she had often wondered why in the old days (and even now in many societies) women had to wear black following the husband's death, as if to signal that all light, all life had gone from them.