The top posts on social media from your favourite Bollywood celebrities: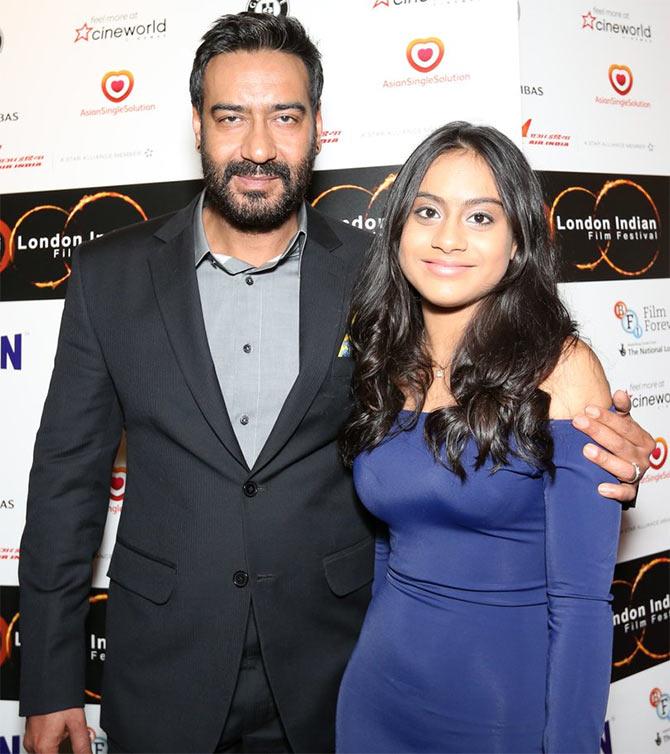 Ajay Devgn walked the red carpet at the London Indian Film Festival with his daughter Nysa.
He posted shared this picture on the Twitter and wrote, 'Empowering the girl child. Walking the red carpet with my power besides me. She's my true strength #MyGirlMyStrength.'
Ajay will next be seen in his directorial venture Shivaay which is slated to release on October 26.
***
B-town celebs condemn Nice attack
Following the horrific Bastille Day attack in the French Riviera city that killed 84 people, Bollywood celebrities took to Twitter to condemn the terror attack:
Priyanka Chopra: The world is turning so cruel...How do human beings do this to each other.My heart bleeds for the victims of the Nice attack #PeaceForNice.
Shahid Kapoor: Shame shame shame. Inhuman and cowardly. #NiceAttack.
Akshay Kumar: Sad 2 wake up 2 the news of the #NiceAttack! Heartbreaking!Was there last yr,beautiful place & people. Prayers 4 the families of the victims.
Anushka Sharma: Heartbreaking!! How many more times will we witness horrific attacks against humanity?cannot express the anger #NiceAttack.
Alia Bhatt: Cannot believe these attacks!!!Are we all supposed to lock ourselves at home now?SHOCKED! Prayers for the families and victims #NiceAttacks.
Dia Mirza: Weapons are destructive. They can not accord peace. The world is living proof of that.
Sidharth Malhotra: Down with violence and up with humanity and that's how we all will get back to sanity ! Stop these attacks #NiceAttack.
Bipasha Basu: Heart goes out to all the victims of yet another shocking and brutal act of terrorism#NiceAttack.
***
Shraddha Kapoor catches up with her friends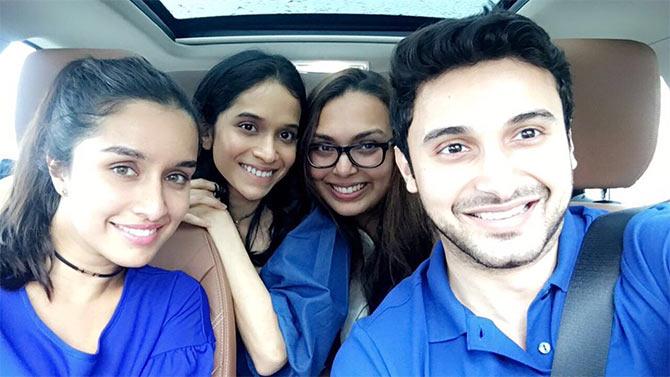 After wrapping up Delhi schedule of her film Half Girlfriend, Shraddha Kapoor is back in the city.
The actress caught up with her best friends and went for a drive.
She tweeted a picture, above, and wrote, 'When you finally meet your bestest friends in the universe again after way too long. #FishGang.'
***
Varun Dhawan meets army officers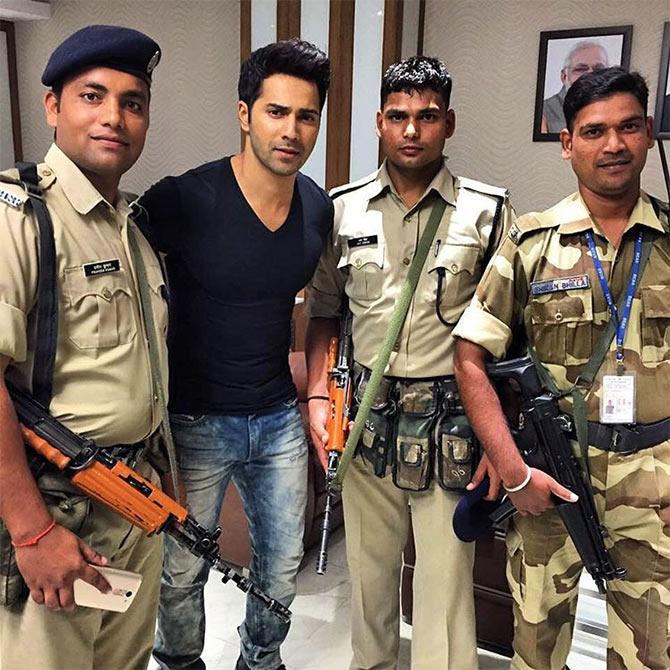 Varun Dhawan, who is busy promoting his film Dishoom, recently met army officers.
He shared a picture on Instagram, above, and captioned it, 'Live to protect and serve. Really admire the army and police of our country who keep us secure each day they are my biggest inspiration for Junaid ansari.'
Co-starring Jacqueline Fernandez and John Abraham, Dishoom is scheduled to release on July 29.
***
Imran takes a road trip!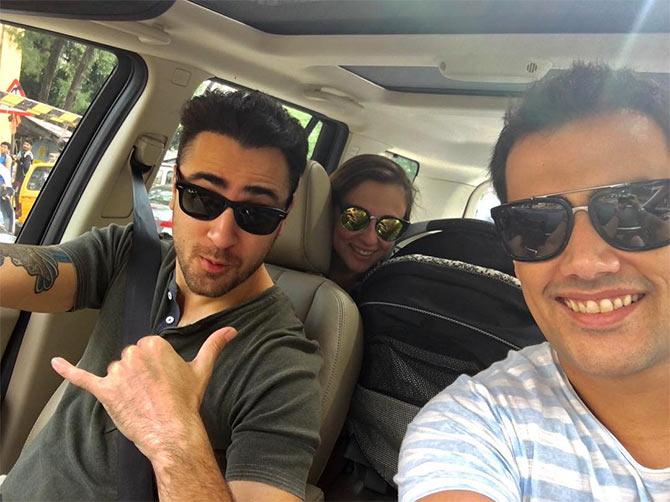 Imran Khan has gone on a road trip with a friend and wife Avantika Malik.
The actor shared a picture on Instagram, above, and wrote, 'Kicking off the weekend with a road trip.'
***
Karan Johar, Shilpa Shetty chill in London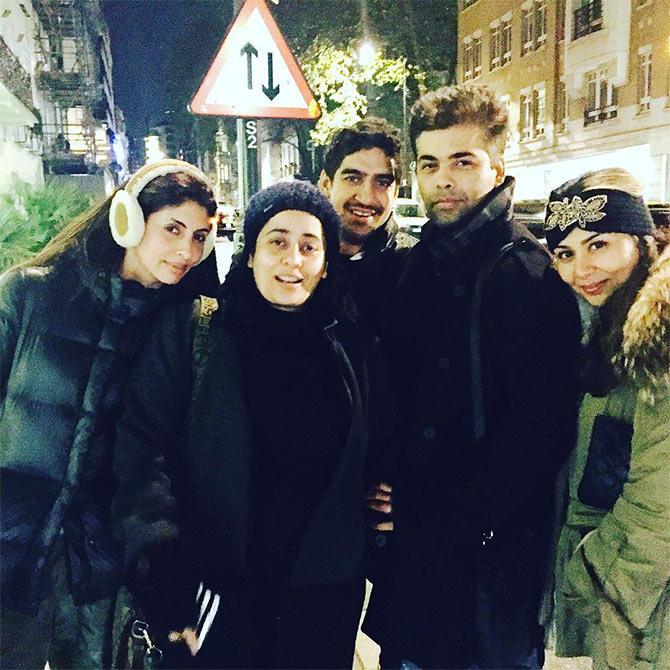 Filmmaker Karan Johar is in London chilling with his friends.
The Dharma Prodcutions' head honcho posted this picture and wrote, '#Londonights.'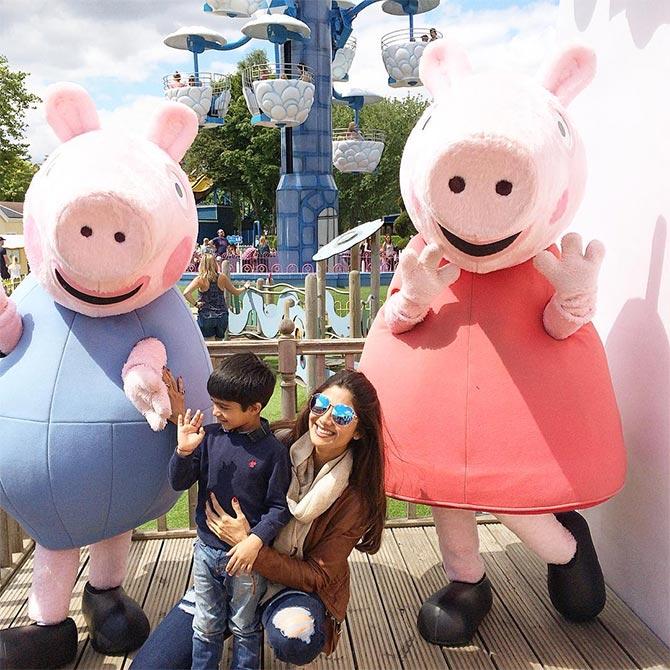 Shilpa Shetty Kundra is also enjoying time in London.
The actress shared a picture on Instagram, above, and captioned it, 'Waited for 30 mins in a que for this picture?the smile on my sons face when he saw "George" was well worth it all#londondiaries #peppapigworld #littlejoys #sontime'