Airlift may turn out to be Akshay Kumar's best-performing film, surpassing Rowdy Rathore, reports Urvi Malvania.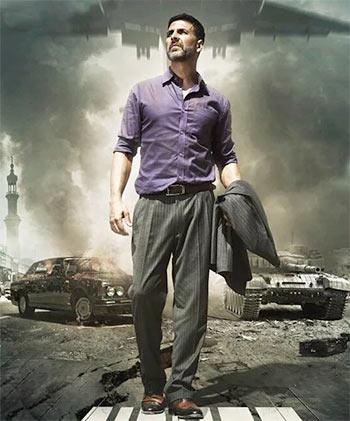 While the Khans have time and again proved their prowess at the box office, regularly delivering films that end up earning in excess of Rs 100 crore (Rs 1 billion), there is another force in the industry who has consistently build his equity at the box office -- Akshay Kumar.
The actor, who earned himself the nickname of Khiladi Kumar, thanks to a spate of action films that he acted in during 90s, has delivered his fifth consecutive hit with Airlift.
The movie, which follows the events of the civil operation for evacuation of Indians based in Kuwait during the Iraq-Kuwait war, has made Rs 82 crore (Rs 820 million) at the box office in its first week.
Positive word-of-mouth marketing and reviews by critics, coupled with an open field at the box office, have helped the film race to profitability in the first week itself. Made at a budget of around Rs 40 crore (Rs 400 million), the film has already broken even and is booking profits for producers.
Suniel Wadhwa, independent distributor and box office analyst says, "After experiencing a career resurgence with movies such as Special 26, Baby, Gabbar, Akshay Kumar's Airlift, based on a true story, has been widely appreciated. As a result, the film took off with a strong first week of Rs 82 crore (net) during the Republic Day holiday week. It continues to dominate in the second week as other releases have underperformed."
Airlift, which released alongside Kyaa Kool Hain Hum 3 on January 22, has managed to sustain itself even after the opening weekend.
While the opening weekend contributed to 52 per cent of the collection, the weekdays (including a holiday on January 26) made up for 48 per cent of the first week net collection, an achievement for any movie.
Akshay Kumar has, over the past couple of years, established himself as a bankable leading man. "He is one of the guys who keeps a low profile, avoids controversy and silently delivers the goods to his producers."
"Unlike other leading men of his stature, he stars in three to four films a year, each breaking even and booking profits. These films may not be phenomenal hits crossing Rs 200 to Rs 300 crore (Rs 2 billion to Rs 3 billion), but they make money," says a marketing executive with a leading film studio in India.
Analysts believe that Airlift may well be Kumar's best performing film till date. Given it still has a couple of weeks of free run at the box office, it is expected to cross the benchmark set by the actor's highest grossing film -- Rowdy Rathore. That film, directed by Prabhu Deva, made Rs 134 crore (Rs 1.34 billion) at the box office.
Experts believe Akshay Kumar's regimen of doing multiple films a year has held him in good stead. The actor reportedly charges somewhere between Rs 23 crore to Rs 27 crore (Rs 230 million to Rs 270 million) as an outright fee depending on the project.
In case he agrees to a revenue/profit share deal, the outright fee comes down to as low as Rs 15 crore (rs 150 million). His business strategy has put Akshay Kumar in the list of the top taxpayers for a number of years now.
According to media reports, in 2015 too, he was the second highest taxpayer (Rs 16 crore/Rs 160 million advance tax), behind Salman Khan (Rs 20 crore/Rs 200 million) who gave the top two grossing films of 2015.
Wadhwa adds that Akshay Kumar's choice of films in the recent past has also helped him.
"Generally his films are mass oriented and appeal to his loyal audience in the north and central regions, Singh is Bling and Gabbar being prime examples. In the case of the western and southern markets, if the film appeals to the multiplex audience, then it does well. Films such as Special 26 and Baby performed well due to the positive reviews and strong word-of-mouth marketing. However, a film like Housefull 2, which has universal appeal, will do well across all regions," observes Wadhwa.