'Rakesh's life is hard, but he knows how to find joy.'
'He doesn't think his life's value comes from money. He sees no shame in his poverty.'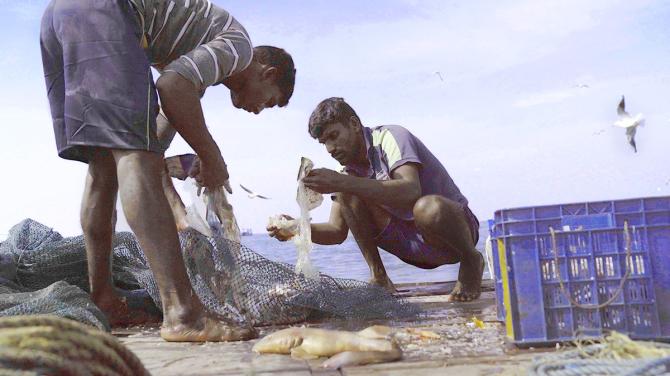 In what seems like an annual affair, a third Indian documentary won a top award at this year's Sundance Film Festival.
Sarvnik Kaur's Against The Tide won the Special Jury Award for Verite Film-making at the festival in Park City, Utah.
Against The Tide follows the awards for Writing With Fire (2021) and All That Breathes (2022), which were also nominated in the Best Documentary category for the Academy Awards.
Kaur's film follows the lives of two Koli fishermen from Mumbai, who are friends. Rakesh lives in a small house near the fishing site while Ganesh's economic fortunes have made it possible for him to live in an apartment in the city. The film tracks their friendship, as the two face immense challenges fishing in the Arabian Sea.
Kaur is a graduate of New Delhi's Jamia Milia University's mass communications programme. She attended Sundance with her friend and producer Koval Bhatia. Like Kaur, Bhatia and the directors of Writing With Fire and All That Breathes are all graduates of Jamia.
Aseem Chhabra, Rediff.com's long-time contributor, spoke to Sarvnik Kaur before she received the award at Sundance, where she says, "It felt as if someone had handed over something precious to me, like a secret ancestral wisdom, this feeling of do not fear, you are being looked after, you will be alright."
Sarvnik, I didn't know about the world of Koli fishermen. What led you to this story, especially the characters Rakesh and Ganesh?
The starting point for me was the history of generational trauma that my family handed down to me. My grandfather came from Pakistan. He was in a refugee camp. They had a hand-to-mouth existence for almost 20 years. They finally built a home.
But then in 1984, the anti-Sikh riots happened and my house in Ghanta Ghar, Hari Nagar in Delhi was burned down.
So there have been constant stories of displacement in my family.
I decided to understand the emotional impact it had on me when I worked on my first film, A Ballad of Maladies, where I looked at the music of resistance in Kashmir.
While I was filming, I read in the newspapers about an upcoming coastal road, which was going to displace Maharashtra's Koli fishermen from their villages.
I thought people get displaced all the time for a collective good.
Sometimes, it's called nationalism.
Other times, it's called development.
The 'ism' changes, but you really do not know the impact it has on people's lives.
When I got a National Award for the film, I felt morally compromised. You make a film on the music of resistance and then go accept the award from the President.
The vacuum the National Award created in me became the emotional reason for me to initiate Against The Tide.
In early 2017, I went with a camera to Mumbai's Sassoon Docks.
I had this idea that the land belongs to the Kolis because they are the native indigenous people and have lived here longer than anyone else had. But in the 1800s, the land was reclaimed from the sea and the seven islands were connected.
How do you make a case for who the land belongs to?
That was the central question in my mind as I started working with the Koli fisherwomen's collective that operates out of Marol Machi market.
Women come from really far outside of Bombay to sell fish.
But the market is in a bad shape.
There are no amenities, no toilets.
The women had heard many promises from the BMC (BrihanMumbai Municipal Corporation) which didn't mean anything to them. So one day, about 200 odd women started a sarak roko protest.
Nothing came off that protest.
But one of the women, who was part of the collective, invited me home.
I call her Kaki now. Her son is Rakesh.
The first time I had gone for lunch to their home, he took me fishing and we cooked the fish, ate it.
Rakesh had this amazing quiet pride in him.
He said to me on that first day, 'Koli aadmi kabhi bhooka nahin marega. Usko pani main pair dalna hai bus (A Koli man will never die of hunger. He just needs to put his feet in the ocean)'.
I didn't know what it meant at that point of time.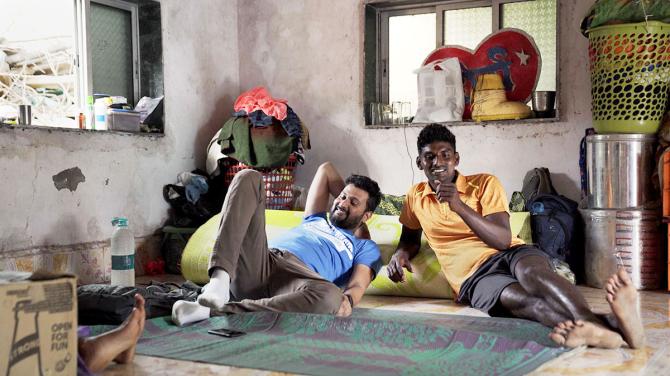 How did you meet Ganesh?
Another part of this film emerged out of the Sagarmala Project, which was basically connecting all the ports of the country for merchant vessels to have a clear passage. The project would have displaced the Kolis, who traditionally do shallow water fishing.
There was a major protest at Sassoon Docks which was organised by Ganesh.
I had no idea who he was. I went with the Koli women's group.
Strangely enough, this man's vocabulary was so close to mine.
He was not talking the language of protest.
He was talking nautical miles and science, how the Kolis were saving the mangroves and literally the city from drowning. I saw a lot of basic elemental truth to this man.
I met him over a cup of coffee.
We exchanged ideas.
He talked about how the city needs to take responsibility for what it's doing.
But I still did not have the story for this film until one day, I visited Rakesh and saw Ganesh sitting there and drinking with him.
Over the next year or so, the three of us drank copious amounts of whiskey.
I would set up my camera and we would just talk.
In that time, I saw them argue, cry, love, walk away in a huff, swear never to talk to each other and then be back again together.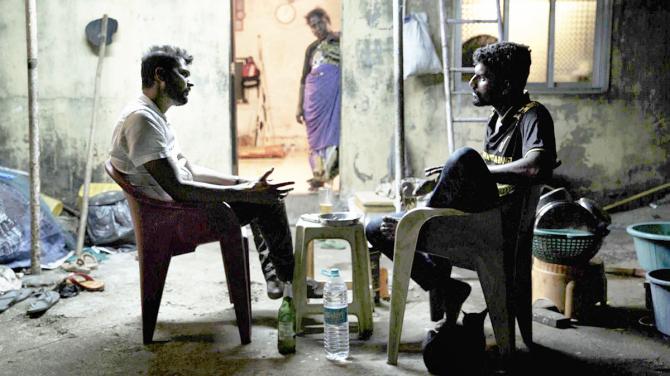 How did they become friends? The economic differences between them is interesting.
Ganesh and Rakesh grew up together. The class divide happened in 1980s, when a Koli segment was offered subsidies by the government to buy trawlers and they were asked to go to mid sea to fish.
Ganesh's father benefitted from this subsidy. His family moved to the city when he was young, but his friendship with Rakesh remained intact.
Besides, there is a very deep bond of Koli identity. That is what I meant that they would walk away, but then reconnect.
There is deep love because they weren't making cutting remarks to each other even when didn't see eye-to-eye on issues.
Ganesh's part of Koli community got modernised in 1980s.
But the trawler boats brought from Norway were not suitable for Indian waters. these are called ocean bottom scraping trawlers. They have a steel plate that they drop into the water. They drag it and it has a net tied to it.
It pushes everything that is on the seabed.
What I found interesting is that after Ganesh returned from Scotland where he had gone to study, he took over his father's business, and stopped doing ocean bottom scrapping. He bought a bigger boat to go to the deep sea, to do the least harmful way of fishing. He targeted migratory fish and the quantity he caught was huge.
But they would always blame each other for lack of fish.
Ganesh's point was Rakesh was catching smaller fish because the mesh size of his net was small. And Rakesh would blame Ganesh for catching large amounts of bigger fish.
I thought between morality and mortality, what do you choose?
This tragedy is not just Rakesh's or Ganesh's making. The tragedy is making of the times that we live in.
I knew my film would not have a hero or villain.
We had to see how people's choices are made for them.
That is where I wanted to put my camera because I knew the sea was in crisis and it was impacting their lives.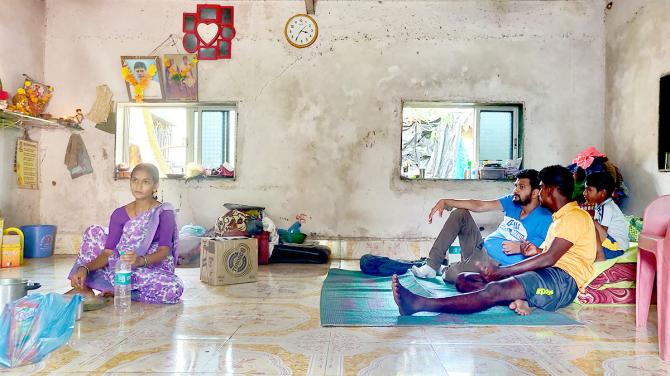 When you say the sea was in crisis, are you talking about climate change?
In the shallow sea, it's mostly chemical-based, mostly plastic.
In the deep sea, it is climate change.
The water surface temperature has risen up by two degrees.
Fish have changed their migration patterns.
Ganesh was competing with fishermen from Pakistan and Oman. There is algae bloom happening in the deep sea. It basically eats up all the oxygen.
Also, the coasts of Maharashtra and Gujarat are very gas and petroleum rich, so large swaths of the sea are reserved for oil rigging.
If the fishermen dare to fish there, some rigs have shoot at sight orders. Some rigs beat up the fishermen so they don't come back.
How did you plan where to start your story, and when did you know your film was finished?
There is no mystery here.
It's just over the course of time how things happened.
Rakesh had his first baby and I shot it.
Two months later, his wife was pregnant again.
Seven months later, when it was the time for the second baby's birth, Ganesh's wife was also pregnant, so it was like documentary gods were shining on me.
I decided I should start the film from the birth of Rakesh's baby and end with the birth of Ganesh's baby.
I also knew that this film is going to be a series of conversations between them because that is something I had witnessed.
In retrospect, it's serendipity, literally being guided to make your film.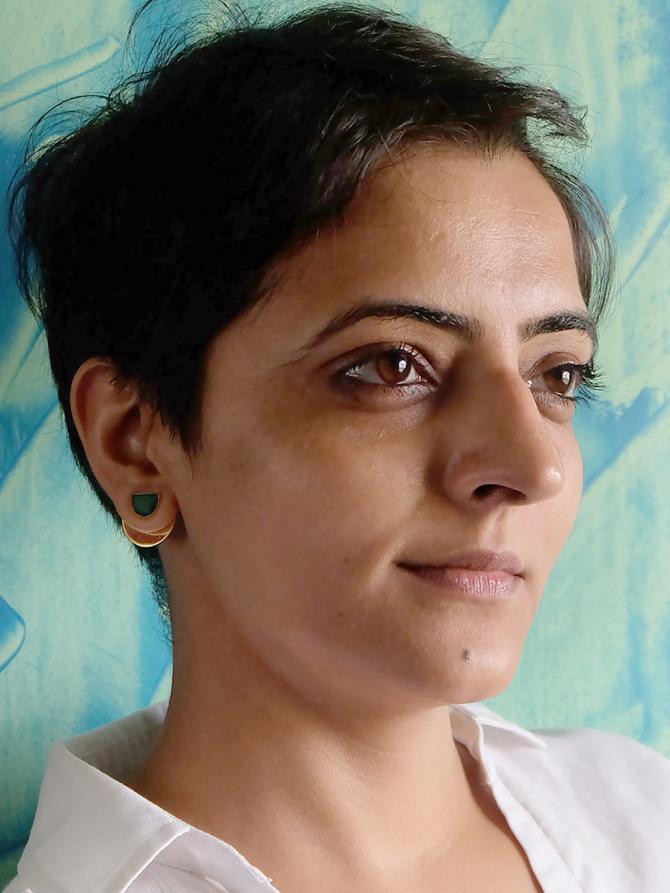 You attended quite a few labs for this film.
I was at the Chicken and Egg lab. I attended HotDocs Accelerator lab which is more about guiding you with your career goal, rather than the film as the goal. I had a lot of mentors.
In India, there is Nilotpal Majumdar, who we called Shantida. He runs DocedgeKolkota and has been instrumental in the rise of Indian documentaries.
We have been nurtured, prepared and literally guided by this man. He's also made a collective of senior documentary film-makers who guide you through the process. That platform is one man's vision.
What has the Sundance experience been like for you?
People have loved it, cried with the film.
It's really nice to be able to connect with an audience that has very little to do with your reality.
I wanted it to be a lived experience so you start to put yourself in the shoes of the characters because ultimately, in a very capitalist world, all of our life we focus on how much wealth and power can be acquired? There is this feeling of being inadequate, which is constantly perpetuated by this system.
I found Rakesh to be aspirational from the beginning. There was something beautiful and rich inside him.
I wanted to bring that out in the film.
Ganesh was living my life.
Rakesh's life is hard, but at the heart of it, he knows how to find joy because he and his community have a sense of pride. He doesn't think his life's value comes from money. He sees no shame in his poverty.
It felt as if someone had handed over something precious to me, like a secret ancestral wisdom, this feeling of do not fear, you are being looked after, you will be alright.