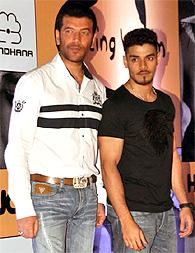 Aditya Pancholi has not slept or eaten properly for the last three days. After all, his son Suraj is in police custody, awaiting judicial custody untill June 27.

The Pancholis have been working with some of the best lawyers in the business, and from what one hears, Jiah Khan's mother Rabiya should brace herself for a long hard legal battle.

"Once a clearer picture emerges regarding Suraj, the Pancholis plan to file elaborate criminal and defamation cases against all those who have accused their son of serious crimes against the woman he loved," says a source close to the Pancholis. "In fact, Aditya has been dragged into mud as well. He is used to controversies but he wants to know what harm his boy has done to find himself where he is today."

According to this source, a fool-proof case has been drawn to counter Jiah's mother charges.

When contacted, Aditya Pancholi seemed uncharacteristically subdued and admitted he had been locked up with lawyers.

"My son has been called many names, accused of many horrible crimes," Aditya says. "As a father, I've borne all the humiliation that my son has undergone. My son has gone into jail as a boy but he will come out as a man. He will gain through the pain of this experience. It's that poor girl for whom my heart reaches out. She didn't deserve this kind of a public humiliation after her death.
"My wife and I are getting ready for a long battle ahead. We will be fighting not just for our son but for Jiah also. I've about two weeks' work in Salman Khan's film Mental but no more work after that for me. My focus will be on getting justice for these two kids. I won't rest until I succeed," Pancholi promises.