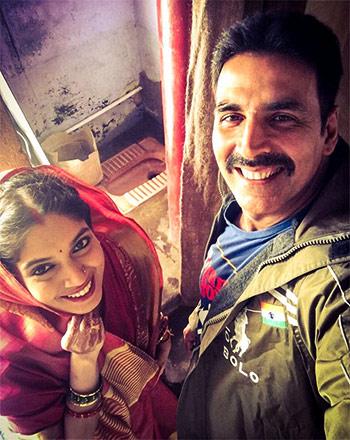 Akki's new film will likely be tax free in BJP-ruled states.
Subhash K Jha reports.
Akshay Kumar's superstardom traveled to another level after the trailers for his Toilet Ek Prem Katha made an impression on the Power That Matters.
So moved was NaMo with the movie's message of toilets for rural households that the Pradhan Sevak apparently asked BJP-ruled states to waive the entertainment tax for the film.
"Akshay's work towards building a better India through his films is evident in his recent films," a government source told me.
"After seeing the trailers of Toilet Ek Prem Katha," the source added, "it is very clear that this superstar doesn't look upon cinema as mere entertainment, but a tool of social reform."
"We feel he's the best messenger of social reform and progress in Bollywood right now."
"The message regarding open-air defecation and how damaging it can be to a woman's self esteem was driven home by the ghastly incident in Rajasthan," another government source told me.
On Friday, June 16, Zaffar Hussein, an activist, was allegedly beaten to death in Rajasthan by civic officials after he objected to them taking photographs of women defecating in the open.
There are also plans to screen Toilet Ek Prem Katha for officials at every level of the state and civic administrations in BJP-ruled states.