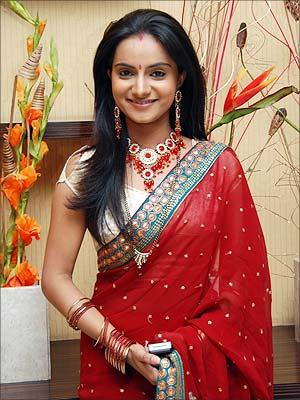 What's up with the lead character in Babul Ka Aangan Choote Na? Those of you following the serial must be wondering about the fate of the lead female protagonist Aastha Ranawat (Aastha Chaudhury), whose character has taken a 360 degree turn in the serial by suddenly ditching Shubh Ranawat (Siddharth Shukla) and marrying his elder brother Swyam Ranawat (Rahil Azam).
While Chaudhury chose to remain tightlipped about the unfolding events, sources close to the production team revealed that in the serial, Aastha has been kidnapped by Payel (ex-flame of Swyam and Aastha's look-alike) and is taking revenge on him.
So how difficult is it to pay a double role and that too, portraying completely different characters?
"It is very difficult. It has been almost eight months that I am working throughout the day -- no less than 15 hours day. However, since the feedback has been so positive I do not mind. I am also trying to put in my best and am enjoying my work thoroughly," Chaudhury says.
"Our unit has a very good mix of young and old. On one hand you have seniors like Rameshari, Vijay Kashyap and Raja Bundela, and on the other you find fresh faces like Siddharth Shukla, Itisree Singh and myself. Actors like Rahil Azam who has been in the industry for some time is also there. So there is a lot of fun at work. My on-screen sasu ma Navni Parihar is just like my mother and pampers me no end. I guess all of these clubbed together makes working in this serial such a nice experience," Chaudhury adds.
Itisree Singh (her on-screen sister) and Chaudhury have become such good friends that they even hang out in between shoots. "Whenever we have breaks, Itisree and I hang out," says the pretty actress who is all set to buy a new car. "This will be first car and needless to say I am excited. However, I a not going in for a big car since I do not know how to drive," Chaudhury says.
Recently the pretty actress has been offered a slot along with Siddharth Shukla in Sony's new reality show Kabhie Kabhie Yaar Kabhie Kabhie Pyaar. However, since none of them have an off-screen partner with them, they had to back out of the show.
Asked whom she would like to be paired up with on Indian television and Chaudhury says, "Iqbal Khan -- no doubt about it. I am a crazy fan of his and I don't think there is any hotter star than him. Today he is the only star who can act in films as a hero! This has led to some embarrassing moments as well!"
Apparently one day Iqbal was shooting in the next set where Chaudhury was shooting.  "The director of my show knew Iqbal very well and I asked him if he could introduce me to Iqbal. After introducing me the director openly told Iqbal about my crush. I was so embarrassed," she adds.
So would she be interested in films? "I am not interested in commercial ventures. If I get a sensible role in a movie, I will definitely do that."
Text: Srabanti Chakrabarti