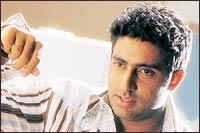 T
his Friday lifts the veil on 
Abhishek Bachchan
in two avatars. In Sanjay Gadhvi's
Dhoom
, he plays a serious cop chasing racer bikes. And in Revathy's
Phir Milenge
, a film about AIDS, he plays a lawyer, and his tough look is replaced by a more sensitive one.
The actor is currently in Calgary, shooting for Anubhav Sinha's Dus. The film was currently in the news when costar Sanjay Dutt
left the sets
in a fit of fury, after a section of the Canadian press
claimed
 he was a possible link to Islamist terrorists in India.
Abhishek chats with Subhash K Jha.
You have two releases on the same day...
My dad was asked this question some weeks ago when he had a spate of releases.
Arrey baba
, when a film releases, it is entirely the director's and producer's call. As an actor, my job is to act in and promote a film. I have no power over the release date.
Having said that, I must say that both are very different films. Dhoom and Phir Milenge share nothing in common except me. I hope they do not affect each other.
Dhoom
is a roller coaster ride while
Phir Milenge
is a thoughtful film. It's a far more serious film whereas in
Dhoom
the prime focus is to have fun.
Phir Milenge
discusses a serious subject that we felt very strongly about.
Dhoom
just wants audiences to have a good time and go home feeling happy.
Phir Milenge

addresses a very relevant issue...
It is possibly the most socially significant film I have done. It looks at AIDS with great sensitivity.
I give full credit to Revathy for taking up this subject without getting preachy. The AIDS issue is woven into the story with great feeling. Revathy mollycoddled me so much on the sets! She was almost like my mother. She would cajole shots out of me even when I was dead tired. I did not mind at all.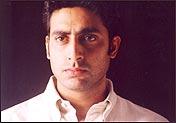 Your role seems inspired from Denzel Washington's in

Philadelphia.
You will have to ask Revathy about that.
But yes, I play a lawyer. How much like Washington, only the director can tell.
How was it working with
Salman Khan
and Shilpa Shetty in Phir Milenge?
Unfortunately, I did not get to work with Salman.
This is my first film with Shilpa. She made shooting entertaining! With her around, one is always laughing. She is a very gifted artiste. I think Phir Milenge brings out the best in her. She's the protagonist of the film and has shouldered the responsibility wonderfully.
What's really commendable is that she has played the role with dignity. It was not easy to do so, as she plays an HIV-positive person. The illness is associated with a great deal of darkness and pain. Shilpa's performance cuts through social barriers and prejudices and she emerges as a figure with great dignity. Just because you have an illness, it does not mean you have to hide in shame.
Dhoom

looks very hot!
I hope the audience has as much fun watching it as we had making it.
When you put Uday Chopra, John Abraham, Esha Deol,
Rimii
and me on the same sets, there is bound to be a lot of
dhoom
! It was a pleasure working with them.
Uday is a very, very old friend of mine. We have virtually grown up together and helped each other whenever necessary. It was wonderful to finally face the camera with him. There isn't a dull moment when he's around. He loves to improvise.
John Abraham has been a revelation. When you see his physicality, it is very easy to form an opinion about him. Far from being brawny and intimidating, he is gentle and soft-spoken.
I have worked with Esha Deol before in LoC-Kargil. She is opposite Uday, so we hardly met during the shooting.
But Rimii, who plays my wife in the film, was a giggle expert! Each time she was around she would make us laugh with her giggles. The whole team was very young and enthusiastic. We gelled perfectly. I hope that chemistry shows.
Which one would you see first?
Oh, what a tough question at 11pm, after a hard day's shoot! Gimme a break! I will see both one after another, depending on whose tickets I get first.
How is Dus progressing?
We have finished 90 percent of Dus on time. When I heard rumours about disrupted schedules, I told my co-stars and my director not to get rattled, and to just do our work. We have finished our work on time. That's saying a lot.
Sanjay Dutt left Calgary in a huff...
There was a newspaper article on Sanju Sir in the local press [in Canada] which really hurt him. I think it's unfair to talk that way about anyone who has gone through a long and painful legal battle. I treat him like an elder brother. We gave him emotional support. Being a thorough professional, he finished his work before leaving.
We Bachchans will always be there for him because he's always there for us.
You have another release coming up, where you have a guest appearance.
Rakht
is not a guest appearance. I don't believe in the concept. You are either in a film or not.
I did the song in Rakht for its producer Suniel Shetty. He's like family to me and I cannot say no to him. When he told me there was a song for me, I had to do it.
I had a great time shooting One love. They bullied me into changing everything -- from my hairstyle to my walk. I shot the song with Bipasha Basu, who's always fun to work with.
With three films promoted simultaneously, I hope the audience doesn't get bored of me.