Aashish Chowdhry's performance as Ajay Devgan's right-hand man in Harry Baweja's Qayamat is being talked about as one of the most striking debut performances this year.
Aashish is soft-spoken yet assertive about his aspirations. "I did my first serial Apne Jaise Types with Vikram Bhatt when I was 18. I haven't done much television since. Somehow, I couldn't bring myself to look at acting as a full-time profession. So I decided to try other professions. I worked with the Indian Market Research Bureau. Then I tried my hand at the export business. It took me a while to make my way around Bollywood. I had no one to support me. I am still so lost in the film industry."
As Aashish rattles off his numerous modelling assignments, you realise he has modelled for about 50 ad campaigns, including the Kawasaki Bajaj ad. "My girlfriend Samita Bangargi is also a model," he reveals. He now owns an ad agency that has produced around 40 ads.
Aashish thought entering films would be difficult. "So I made ads; acted in about 10 music videos, including Asha Bhosle's Na marte hum with Diya Mirza; a telefilm (Arjun Sablok's Humko Ishq Ne Mara) for Yash Raj Productions. I continued with my business and never had to struggle to get anything. I wasn't very keen on doing television. But my last serial, Hum Pardesi Ho Gaye, got me a lot of recognition. There were lots of shades in that role."
"I am a college dropout," he says, reflectively. "I wanted to make money. At 23, I could buy my own house and car. I wanted to be an actor. But it was very embarrassing to say that. Everyone wants to be an actor. That is why I have always said I am a businessman. But people started noticing my acting skills. Director Satish Kaushik was very keen to launch me. He took me to meet Subhash Ghai and I was finalised for a film with Arjun Sablok and Kareena Kapoor. I had also been signed by Mukesh Bhatt when I was 28. Unfortunately, the films never happened."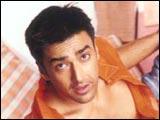 Aashish had almost decided the serial Hum To Chale Pardes would be his last acting project. "People say television kills your chances as a movie actor. I disagree. It may be true of those actors who are overexposed on television. I was lucky enough to choose my television assignments properly. After Hum Pardesi Ho Gaye, it was time for me to move on. I set a deadline to get a solid movie offer and waited. I didn't want to be launched as a solo hero. I have seen what happens to new solo heroes. No one wants to see them."
When Aashish was called to audition for the National Films Division Corporation's Chalo America directed by Piyush Jha, his confidence as an actor was boosted. "Everyone from [actress] Shabana Azmi to Sudhir Mishra [director, Is Raat Ki Subah Nahin, Calcutta Mail] told me I did good work. I knew I could act. But the film was never properly released. I decided never to work with NFDC again."
He was still involved with television when Qayamat happened. "I was supposed to do Kashmeer on Star Plus. I even shot for Sara Akaash, a serial on the Indian Air Force, where I was supposed to reprise Tom Cruise's role in Top Gun. When I got Qayamat, the makers of Sara Akash let me go even though I had shot for nine episodes. Everyone was so accommodating."
On the first day of shooting, Aashish fell and crushed his ankle. "There was this Rs 50 lakh [approximately US $106,600] set erected at [Mumbai's] Filmistan. Harry could have easily replaced me. Somewhere, Harry's guilt that he had not trained me for the 50-foot jump and Ajay's guilt that he fell on me when the accident happened worked to my advantage.
"I hobbled my way through the film in a well-concealed cast. I have permanently damaged my foot. I would run for the action shots and then fall to the ground and cry in pain the minute the shot was over," he recalls.
Aashish was in Delhi recently shooting for the English film, Enjoy. "It is being directed by two young guys, Siddharth and Ankur. In Qayamat, I was the juniormost actor. Here, I am senior. The film is filled with bright young theatre actors. The entire script unfolds within one evening."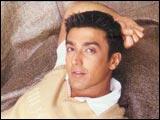 Aashish says he is now ready for a serious stint in cinema. "I know how to act. I am being projected as a newcomer in Qayamat though I am not one. I once overheard someone call me a flop actor. But I want to work the way I want. I have done well for myself as a businessman. I want to alternate one commercial film with an offbeat one. I am not here to sign autographs."
Also on the anvil is a film by Ramgopal Varma's cousin Som Shekhar Varma. But Aashish is most excited about the film by adman Raj Kaushal (Pyar Mein Kabhi Kabhi), in which he co-stars with real-life girlfriend Samita Bangargi. "It is a comedy called Shaadi Ka Laddoo to be shot in London. It also stars the director's wife [actress-anchor] Mandira Bedi with Sanjay Suri."