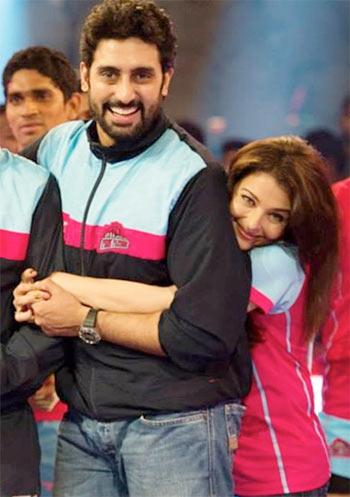 The second season of the Pro Kabbadi League will kick off from July 18, and Abhishek Bachchan, who owns the team Jaipur Pink Panthers, seems quite excited.
"More nations play Kabbadi than cricket -- 36 nations play Kabbadi. I am sure that soon more Indian youth will be interested in playing Kabbadi," Abhishek says.
His father Amitabh Bachchan has sung the anthem for this season, and Abhishek claims he's very proud of it.
"He's the best!" Abhishek exclaims. "Not many people know that he has not only sing the song but also composed the song with Aadesh Shrivastav."
Amitabh will also sing the national anthem at the opening match between Jaipur Pink Panthers and U Mumba on July 18.
"It's going to be a proud moment for all of us that dad is going to sing the national anthem," he says.
With IPL running deep into controversy, Abhishek feels India is ready to look at other sports besides cricket.
"India is ready for a sporting revolution," he says. "Sports in India is also seen as entertainment and the success of the Pro Kabbadi League and ISL (Indian Soccer League) proves it. The number of people, who watched Kabbadi last years shows the amount of enthusiasm."
Abhishek's little daughter Aaradhya is also very excited about Kabbadi.
"She has already learnt to do the thigh five," Abhishek says, referring to their style of cheering when the players score a point.
Abhishek's next film All Is Well is due for release on August 21 but the actor is going to make sure that he is present to support his team.
"I have planned my entire schedule and want to be with the team. I am going to juggle between the matches and promoting my next film," he signs off.