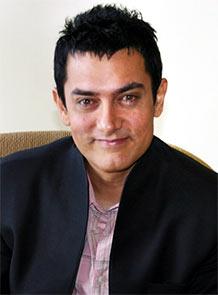 'My patience level has increased and I have stopped being judgmental. I have become more mature with Satyamev Jayate.'
Aamir Khan gets serious.
"It has been an encouraging journey so far. I am happy with the response," said a teary-eyed Aamir Khan, getting emotional during the screening of the promo of Satyamev Jayate: Season 3 at PVR Andheri, a western suburb of Mumbai.
The television talk show that shone the spotlight on a range of social issues had an overwhelming response in its first two seasons. The third season starts on September 21.
Aamir said there are a few changes in the format.
"This time I will be live with the people, and I will also connect with them through Twitter and Facebook.
"This season, we will have some stars and they will make a strong contribution. I can't say who will be there, as it's not for publicity or promotion. They are there not because they are celebrities but because they are related to the issue and will be contributing to the show," he said.
Aamir refused to discuss the topics that would be covered this time.
"We don't reveal topics. Several NGOs and lots of people on our website suggest topics for the show. We consider all the suggestions and opinions and plan accordingly," he said.
The actor said he is shocked at some of the things that research for the show reveals.
"The team goes around the country and they show me the research material which shocks me. I get angry. I get emotional. I feel the pain.
"It's very difficult for me to see such things -- it is difficult to absorb emotionally.
"My patience level has increased and I have stopped being judgmental. I have become more mature with the show," he said.
Aamir said that the show has changed his public image.
"When I was shooting in Rajasthan for PK, reporters didn't ask me a single question about the film. They were interested in Satyamev Jayate.
"I think people are not interested in my films and it's time for me to retire. Achha ho gaya Dhoom 3 ne bacha liya, it did well," Aamir said, with a laugh.
He credited the director of Satyamev Jayate, his good friend Satyajit Bhatkal with inspiring him to take up social causes.
"Satya was a very good student and used to always stand first in class, while I was an average student. He was also more popular than me."
Satyajit studied law and worked for various social causes.
"Seeing Satya's work, I used to think how can I also be helpful to people. It was something that used to prick me. As I became more successful in my profession, it began to prick me even more."
"As an actor, I made lots of donations to various causes but it did not give me that feeling that I was craving for.
"Around the same time, India began to experience a boom in television. I realised that TV was a very powerful medium and I should exploit it to do something for society.
"I told Satya about doing a television show and he readily agreed to partner with me and be a constant help to me."
Satyamev Jayate will be aired every Sunday on Star Plus.