The top posts on social media from your favourite Bollywood celebrities.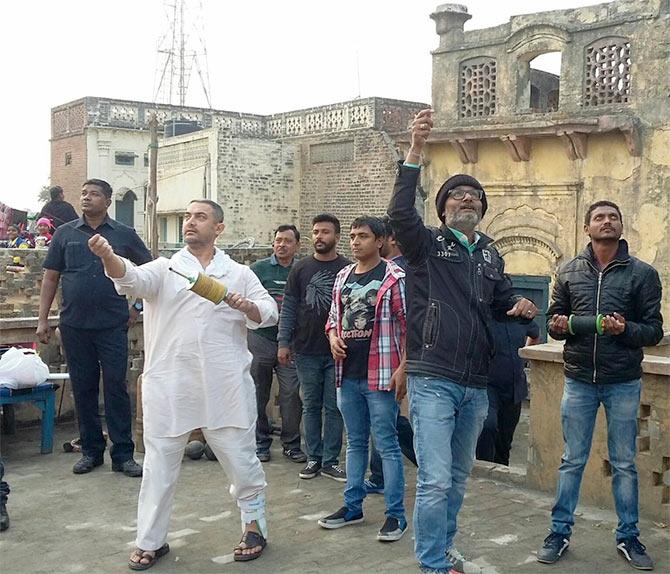 Celebrities turned to Twitter and wished their fans celebrating the Pongal, Bihu, Makar Sankranti and Uttarayan festivals:
Aamir Khan, who is shooting for Dangal, celebrated on the sets. He shared a picture, above, and wrote: 'Wishing everyone a very happy Makar Sankranti!!! Flying kites is one of my childhood passions! Love. a.'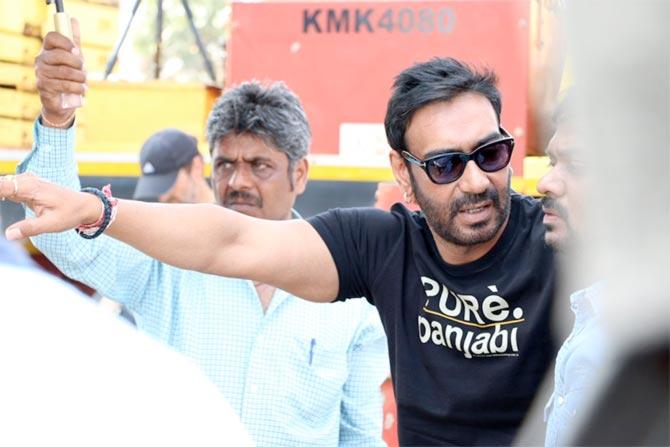 Ajay Devgn, meanwhile, is missing all the festivities, as he is shooting his directorial venture Shivaay in Lisbon.
He posted a picture on Twitter, above, and wrote: 'Khushiyaan rewdi jaisi meetheen, dil phul makhane, lohri ki lak lak badhaiyaan! Here in Lisbon shooting and missing home.'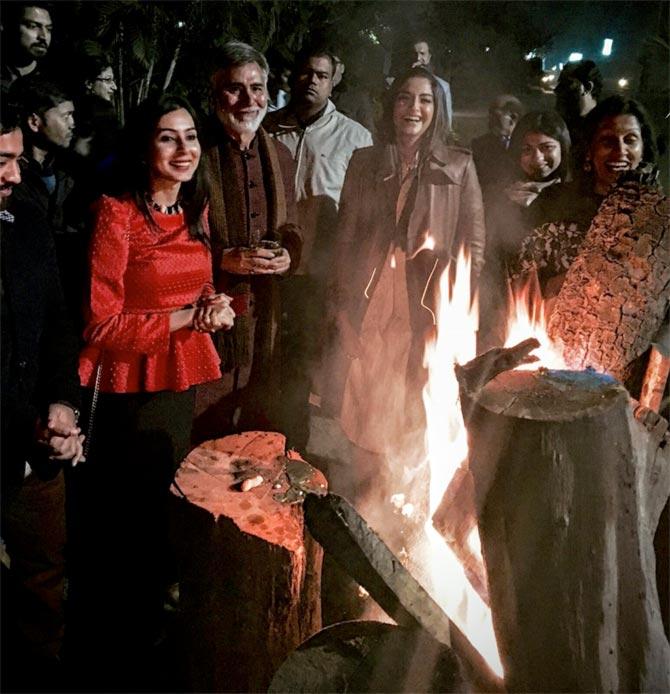 Sonam Kapoor enjoyed the Lohri festival in Chandigarh with members of the Bhanot family. The actress is starring in a biopic on Neerja Bhanot, a flight attendant who was killed by terrorists.
Sonam shared a picture, above, and wrote: 'Celebrating lohri in Punjab thanks to #aneeshbhanot #akhilbhanot and fly for letting me join in the celebration! Happy lohri everyone!'
***
'No laughing matter'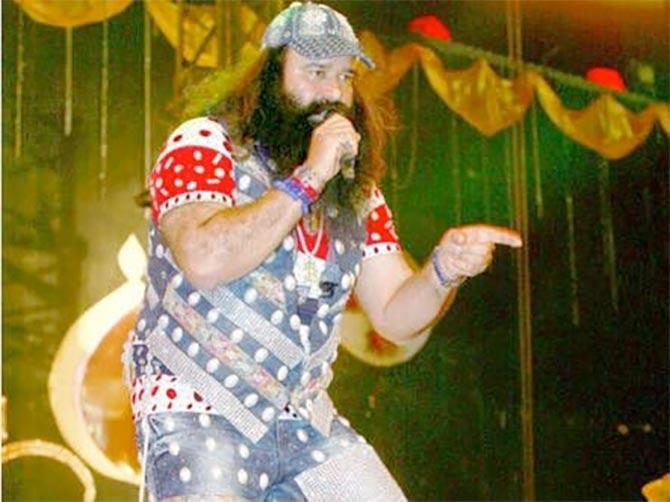 Support continues to pour in for Kiku Sharda, who has been arrested for mimicking Baba Gurmeet Ram Rahim Singh.
Rishi Kapoor shared a picture, above, and wrote: See this picture! I would like to play this rockstar in a film. Let me see who puts me behind bars? Go Kiku Sharda!
Anurag Kashyap: Gurmeet Ram Rahim insults the sensibilities of anyone who is sixth class pass with his MSG films.. Why is he not arrested??? Really the man who has to call himself Insaan to prove he is maybe a human, is of such weak disposition that he gets a comic arrested. This arrest of Kiku Sharda , the way it happened, and for reasons that it did is the really the rock bottom of democracy.
Twinkle Khanna: A country where everything is sacred except laughter #KikuSharda
Nimrat Kaur: So a professional comedian can be jailed for recognising an unintentional one. No laughing matter.
Shekhar Ravjiani: Arrest the ones who are still walking free despite committing serious crimes. Not those who entertain without prejudice.
Mini Mathur: The agenda is to systemically silence all opinion & free speech. So no one can question anything anymore. Can't everyone see it? Poor @kikusharda was doing his job. One that he is great at. Funny no one arrests him when he takes the piss out of actors. Oh wait.
Huma Qureshi: Living in the times where one can get arrested for laughing lampooning and imitation... will I get arrested for tweeting next? #outrage
Boman Irani: First things first, If the man has sincerely apologised could someone please put him out of his misery!!!
Sonakshi Sinha: Someone imitates god - nothing. Kiku imitates someone - gets arrested. This is wrong on SO many levels its not even funny.
Sonali Bendre: When do we learn to laugh at ourselves? @kikusharda disturbing.
Sonu Sood: So true.. Wakeup India. It's 2016.. @kikusharda bro we R with u.
Paresh Rawal: In Bengal a cartoonist was n in Haryana a comedian is arrested ! Free Kiku . It's an opportunity for Baba to spread love n happiness.
***

Fawad Khan joins Instagram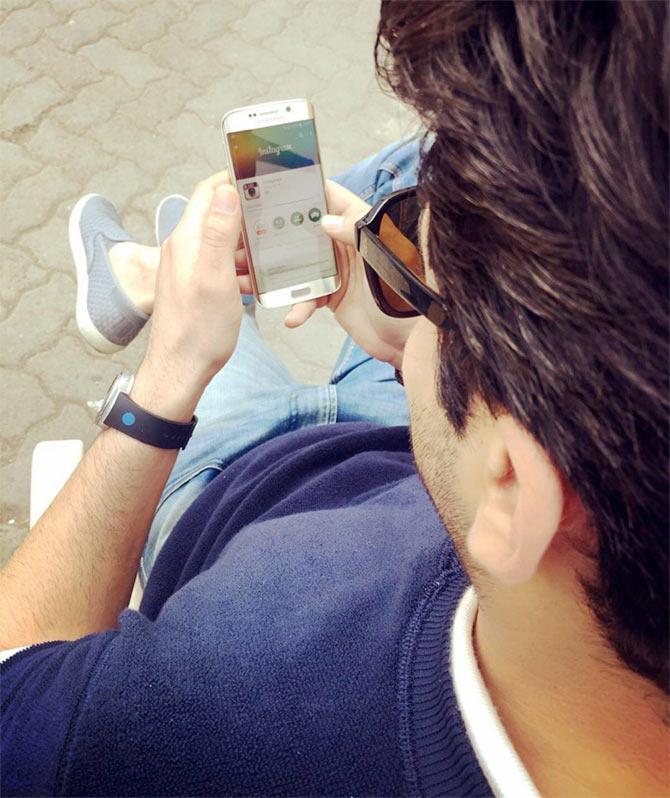 Pakistani actor Fawad Khan has joined Instagram and his Kapoor & Sons co-stars welcomed him on the social-networking site.
Sidharth Malhotra posted a picture, above, and wrote: 'Welcome my bro @fawadkhan81 to the insta world, more power and love.'
Alia Bhatt wrote: 'And the other kapoor is finally on Instagram!!!! Follow follow fawadkhan81 #KapoorAndSons #PromotionsBegin ;)'
Directed by Shakun Batra, the film will also feature Rishi Kapoor, Sanjay Dutt and Amrita Puri.
***

When Rishi Kapoor played a mujrewali
Rishi Kapoor continues to amuse his fans with flashback pictures.
He share a picture from his 1991 film Rishta Ho To Aisa, above, and wrote: 'Drag Queen. Played a "mujrewali" with Juhi, enticing Paresh Rawal in a film I cannot remember. Kya Kya naheen kiya lol.'
'Ok the film is called Rishta ho to aisa which never released due to unknown reasons. Jeetendra also started with Kalptaru directing it,' he added later.
***

Shreya Ghoshal shoots for Gulzar's album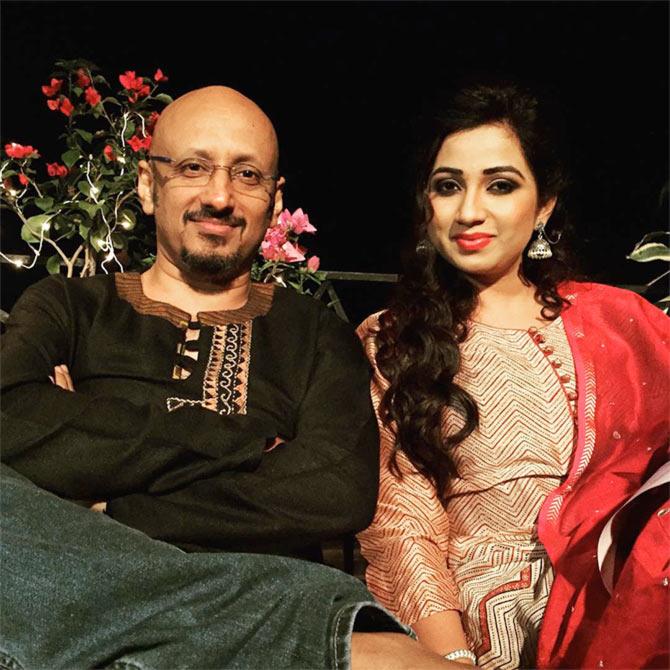 Singer Shreya Ghoshal recently shot for a music video for noted lyricist Gulzar's project on Rabindranath Tagore.
She posted a picture on Instagram, above, and wrote: '#BujhGayaThaKyunDiya #shoot #video #gulzar #album #madfun #chhatpar #windy #itssocold #mumbai #brrrr @shantanu.moitra
While the music is composed by Shantanu Moitra (seen in the picture with Shreya), the album will be releasing under SaReGaMa.
***
Shabana, Juhi take Chalk N Duster to Aurangabad
Shabana Azmi and Juhi Chawla recently visited Aurangabad to promote their film Chalk N Duster.
Shabana shared a picture, above, and tweeted: 'With teachers and students of Stepping Stone school in Aurangabad. overwhelmed by the good cheer for @CNDtheMovie.'
The film will release on January 15.