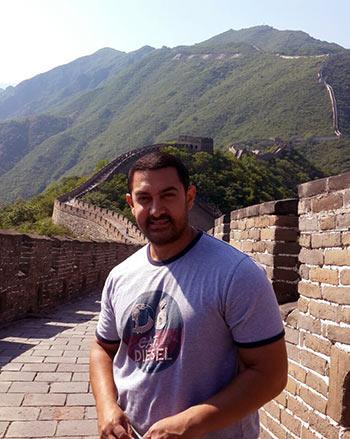 'I really had a lovely time interacting with Jackie Chan. In fact, he became my interpreter.'
'I have been a big fan of his since 1988. When Jackie's film Police Story 2 released in India, I had gone to see it in New Talkies in Bandra. That theatre no longer exists.'
'I liked it so much that I bought another ticket and saw it back to back!'
Aamir Khan gushes about Jackie Chan, and his recent China visit.
After breaking box office records in India, Aamir Khan's PK will release in China on May 22, on 4,600 screens.
The actor recently traveled to China for the film's premiere in Shanghai, where he met some of his fans. He had a fanboy moment himself when he met Jackie Chan.
Khan talks about his experiences in China as Sonil Dedhia/ Rediff.com listens.
You were in China for the Indo-China collaboration in films and your film PK will release in China on May 22. What's your experience of the country?
Visiting China was very exciting.
I was aware that my film 3 Idiots had done well in China, but I was shocked at the kind of reception I got. From the time I landed at Beijing airport to the time I took my flight back, I was constantly surrounded by fans.
We had two screenings of PK and the audience really enjoyed the film.
What took me by surprise was that people were aware of my films. They had seen 3 Idiots and Taare Zameen Par -- which they referred to as Like Stars On Earth -- Ghajini, Lagaan and Dhoom 3.
Most of the fans that I interacted with had already seen PK by downloading it.
I don't support piracy, but if I had to take anything positive from people in China watching my films online, it is that they are specifically searching for my film rather than watching anything that is available.
There were photographs of you being kissed by a Chinese girl.
(Smiles) It was an exciting but intimidating experience.
My wife Kiran was not with me so I took full advantage of the situation (laughs).
Jokes apart, people were very sweet to me; a lot of them liked my eyes!
A lot of my fans asked me why I had gained so much weight.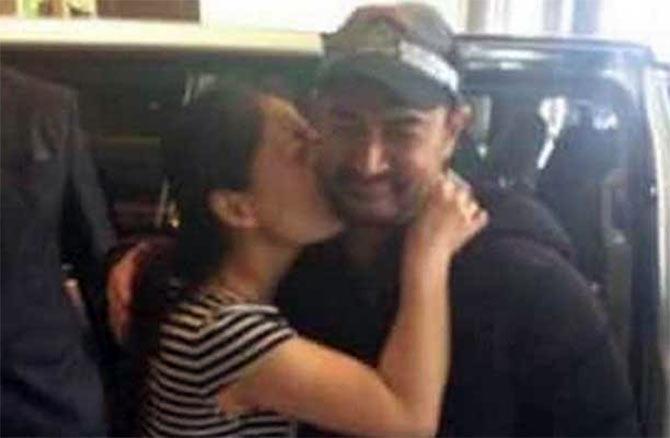 Image: A Chinese girl kisses Aamir Khan during his visit to Beijing. Photograph: AamirFandom/Facebook.com
How was your interaction with your fans in China?
While talking to my Chinese fans, I came to know that they love Raj Kapoor's films.
They remember the title song from Awara (1951). Another film that is very famous is Jeetendra's Caravan (1971), which was produced by my father (Tahir Hussain) and was directed by my uncle Nasir Hussain.
I was really thrilled and excited to hear that.
Also, Mithunda (Mithun Chakraborty) is very famous because of his song Jimmy Jimmy.
Did you enjoy the local cuisine?
I am on a vegan diet for my upcoming film (Dangal) so I couldn't really enjoy the food.
It is easier for vegans in China as there are lot of options. I didn't have much of a problem as I could eat noodles.
Did you get the time to shop?
I didn't get any time to shop and, anyway, I don't like to shop when I am so fat (laughs).
I have asked my designer to get me extra-large T-shirts and track pants. That is what I wear every day.
I gained 25 kilos in six months. Putting on weight is very easy at this age but losing it is very difficult.
It is very unhealthy at any age to put on or lose weight so quickly.
Have you seen PK after it was dubbed in Chinese?
Yes. The film looks and sounds pretty interesting in Chinese.
One of the biggest comic actors of China, Wang Baoqiang, has dubbed my voice in the film and it has come out really well.
Like we used the Bhojpuri dialect in the film for my character, they too have used a local dialect from the Hunan province. They have maintained consistency in the film.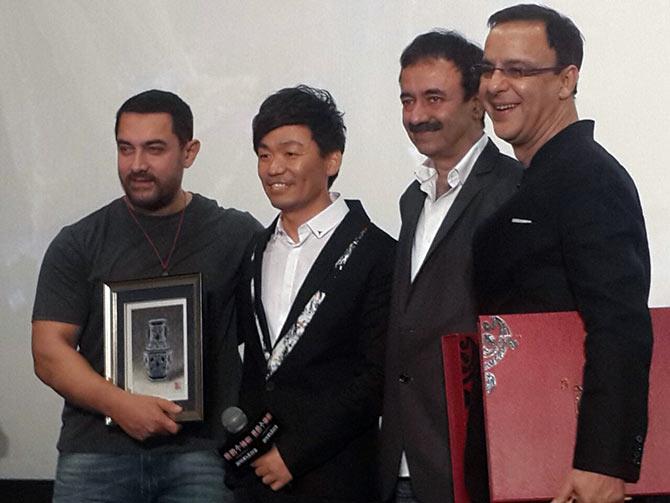 Image: Aamir Khan, Wang Baoqiang, Rajkumar Hirani and Vidhu Vinod Chopra.
Do Indian films have a market in China?
We met a lot of people from the film fraternity and they showed a keen interest in Indian films.
Currently, China has a policy where they showcase 40 films from outside the country. Out of that, 36 films are from all over the world but mostly Hollywood, and only four films from India.
They have a restrictive policy. But the new agreement will allow more films to release in China.
Also, there are plans to get into co-production with Chinese producers, which will automatically allow films to escape strict government quotas for foreign films and have a proper release without any restrictions.
You will be shocked to know that PK got a wider release in China than in India.
In India, we released the film in 3,500 screens while in China the film releases on May 22 in 4,600 screens.
They have 25,000 theatres across the country and are aiming to increase the number to 45,000 in the near future.
We just have around 8,000 theatres. We too are expanding, but their infrastructure works at a really fast pace.
Are you nervous that the film is having such a huge release?
I am nervous not because the film is having such a wide release but because most of them have already seen the film.
I went on a television show and the host tried to comfort me by saying, 'Most of the people have already seen your film but I would now request them to go and watch the film again in theatres. (laughs).
So now I am keeping my fingers crossed.
You also met Jackie Chan. How was your interaction with him?
I really had a lovely time interacting with Jackie. I met him at the Indo China convention.
In fact, he became my interpreter and explained what the other gentlemen were saying as my interpreter ran away (laughs).
He invited me for dinner later so I spent the entire evening with him. He was warm and cordial and we discussed our films.
I have been a big fan of his since 1988. When Jackie's film Police Story 2 released in India, I had gone to see it in New Talkies in Bandra. That theatre no longer exists.
I liked it so much that I bought another ticket and saw it back to back!
He is not only an action hero but is good at comedy too. As a performer, he is simply brilliant.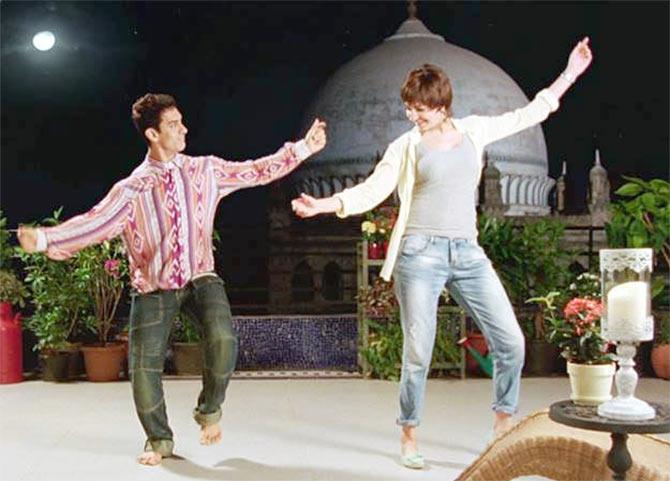 Image: Aamir Khan and Anushka Sharma in PK
There are reports that you are doing a film titled Kung Fu Yoga with him.
It's not possible for me to do the film because they are planning to start shooting by September this year.
I have gained weight for my upcoming film Dangal, which will start around the same time.
By December, I will start losing weight to shoot for the first half of Dangal where I need to look leaner and younger. I will only finish shooting the entire film by June 2016.
Much as I would love to be part of Kung Fu Yoga, it would be wrong to ask them to wait for so long. I am sure I will get another chance to work with them.
How is the preparation for Dangal getting on?
I am currently learning wrestling. I have been training continuously for it.
The two girls, Fatima Shaikh and Sanya Malhotra, who are playing my daughters in the film, are well ahead of me. I just told my trainer to speed things up.
Also I am 90 kilos now and will have to shed off all the weight after December and get leaner so its a tough task.
Any recent films that excited you?
I have heard a lot of good things about Piku but haven't got the time to see it.
I am also waiting for Tanu Weds Manu Returns. I saw the promos and Kangana looks fantastic with her Haryanvi accent.
I am also looking forward to Dil Dhadakne Do. I guess that will be the biggest film of the year.