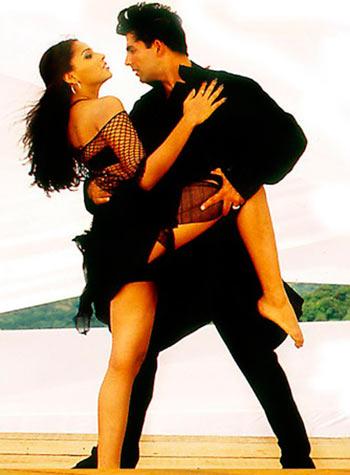 Saluting the late music composer's most memorable film songs.
Like most success stories, his too began with a dream.
To make it big on the Indian music scene.
The Jabalpur born Aadesh Shrivastava came to Mumbai in 1979.

With his extensive knowledge in playing drums, he began to work under the likes of Salil Chaudhary, O P Nayyar and Rahul Dev Burman that led to an 11-year long association with music directors Laxmikant-Pyarelal.
It wasn't long before the desire to turn independent, close on the heels of his brother-in-laws Jatin-Lalit's entry -- he's married their sister Vijayta -- took priority.
Where many would get disheartened over the struggle and shelved projects, Shrivastava didn't lose hope and refused to compromise.

His faith paid off and the early 90s witnessed a series of hit songs from the aspirant.
Catchy melodies, throbbing beats and an innate ability to create original, fresh sounds while staying true to the script marked his style.

This adaptability frequently led to collaborations with international artists like Akon, Wyclef Jean, Shakira and T-Pain.
After fighting a long and brave battle against cancer, the musician passed away on September 5, a day after his 51st birthday.

But his memory lives on through his incredible range and silvery compositions.

Here's a list of his ten most memorable chartbusters.

Haathon Mein Aa Gaya Jo Kal, Aao Pyar Karen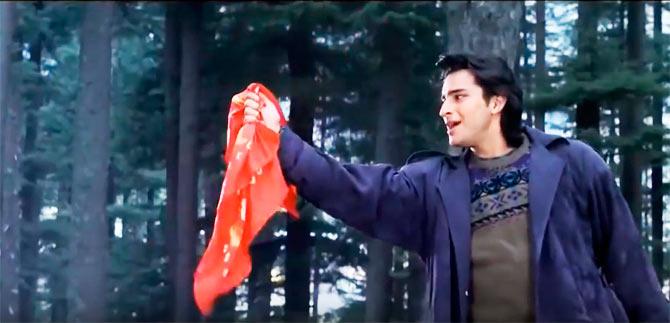 Image: A lovestruck Saif Ali Khan in Aao Pyaar Karen
The image of a sheepish Saif Ali Khan flashing a bright red scarf even as a gawky Shilpa Shetty blushes owes all its appeal to Shrivastav's easy, breezy Haathon Mein Aa Gaya Jo Kal Roomal Aapka.
The soundtrack of this little-remembered romance marked a breakthrough in Shrivastava's career.

Chand Se Parda Kijiye is another gorgeous melody from Aao Pyaar Karen.

Kya Ada Kya Jalwe Tere Paro, Shastra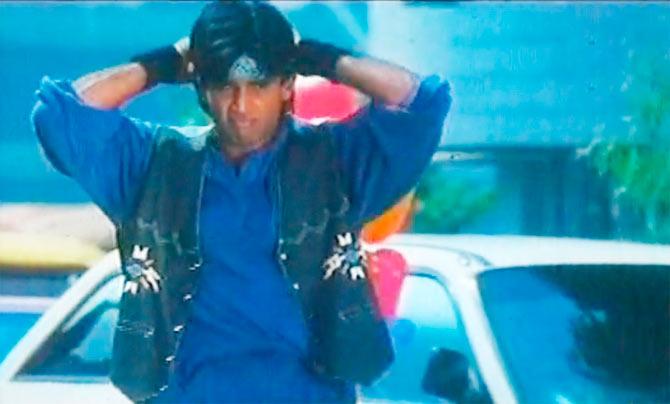 Image: Suneil Shetty gets flirtatious in Shastra
Once again Shrivastava injected zing in a lousy action vehicle with his musical interludes, most infectious being Paro.

The percussion play here has the music director's stamp all over it.
An instant hit with the frontbenchers and school crowds alike, Paro's upbeat appeal thawed Sunil Shetty's wooden hulk reputation considerably.

Sona Sona, Major Saab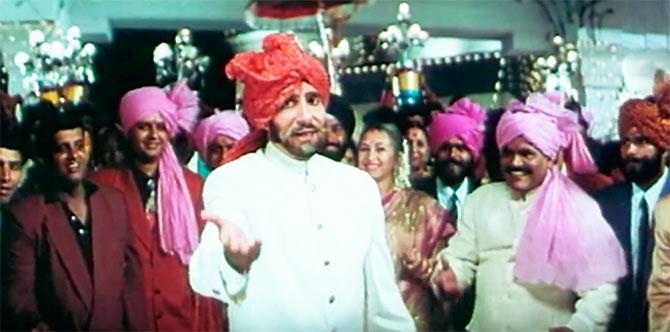 Image: Amitabh Bachchan serenades onscreen wife Nafisa Ali in Major Saab
Amitabh Bachchan nursed a soft spot for this young composer.

He had reason to.
Aadesh Shrivastava created some of the most vibrant tunes for Big B.
And the super hit Punjabi baraat track Sona Sona, performed by Sudesh Bhosle, in the latter's home production; Major Saab came at a time when the superstar was going through a rough patch in his hyped comeback.

Kiska Chehra, Tarkieb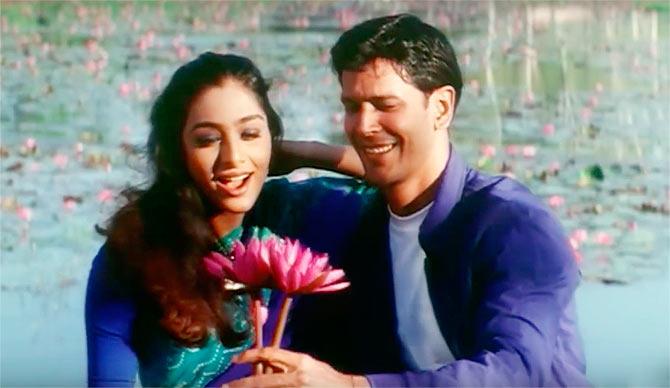 Image: Tabu and Milind Soman's blooming romance is bolstered by Kiska Chehra in Tarkieb
Proving there's more to his talent than lively dance numbers, Shrivastava put his sound classical background to good use in Kiska Chehra.
The lilting Jagjit Singh ghazal, picturised on Milind Soman and Tabu, is quite easily the most outstanding aspect of Esmayeel Shroff's wishy-washy whodunit.

Gustakhiyan, Aankhen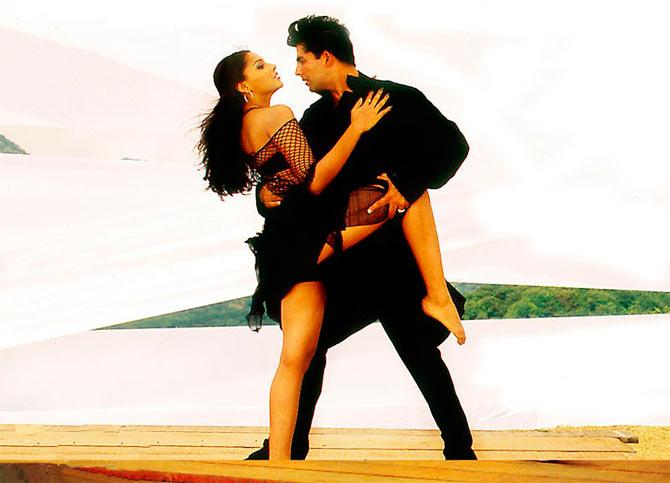 Image: Bipasha Basu and Akshay Kumar's passionate turn in Aankhen
Shrivastava got behind the microphone along side Vasundhara Das to croon the high-pitched, glitzy Gustakhiyan to thrilling results in the well-received thriller Aankhen.
He's equally adept at spewing tapori-tone gyaan for Jatin-Lalit in the other popular track from the album, Phatela Jeb.

Shaava Shaava, Kabhi Khushi Kabhie Gham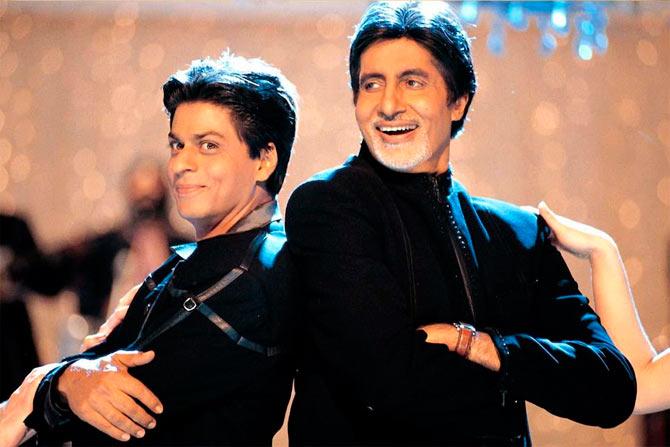 Image: Shah Rukh Khan and Amitabh Bachchan transform into party animals in Kabhi Khushi Kabhie Gham
The composer serves a much grander version of Sona Sona in Shaava Shaava.

Yet it's impossible not to be hooked to the vivacious rhythm and evolving design of Shrivastava's grand Punjabi number befitting a Karan Johar spectacle.
All the more enjoyable when Amitabh Bachchan, Shah Rukh Khan and Rani Mukerji burn the dance floor on celluloid.

Layi Vi Na Gayi, Chalte Chalte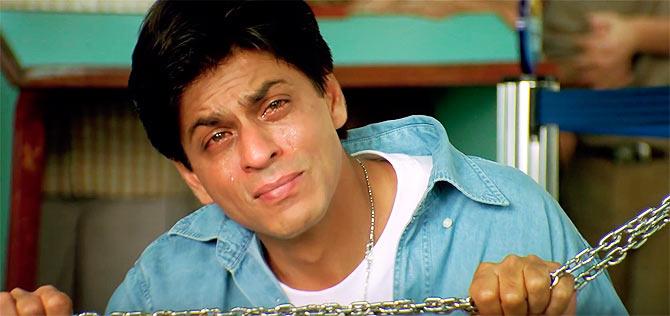 Image: A heartbroken Shah Rukh Khan in Chalte Chalte
The Shah Rukh Khan confection Chalte Chalte is high on rich melody and syrupy love duets.

But it's the highly-charged emotionality of Layi Vi Na Gayi, which both -- raises the standard of a poignant moment on screen and touches a listener's chords as a stand-alone.
Picking the right voice is essential too.

And Shrivastava finds a perfectly passionate candidate for one of his most sentimental offerings in Sukhwinder Singh.

Rang Deeni, Dev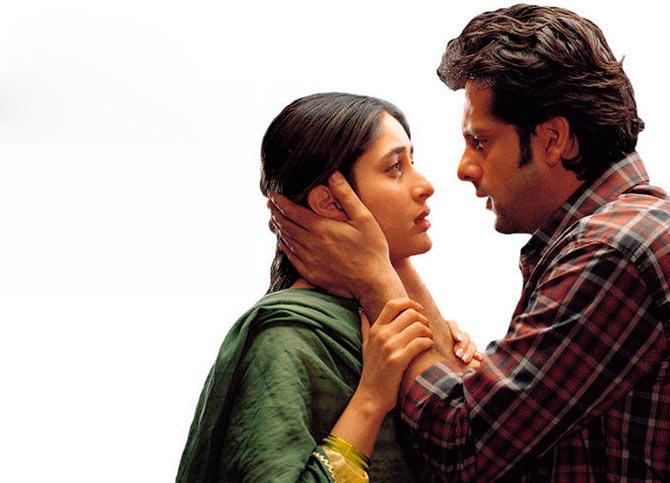 Image: Kareena Kapoor and Fardeen Khan are up against communal strife in Dev
For Govind Nihalani's Dev, which examines the Hindu-Muslim friction in turbulent times, Shrivastava worked an album that impressively resonates the aura of both communities.
Although the number Jab Nahi Aaye The Tum, sung by Kareena Kapoor, attracted most attention for obvious reasons, the one with more soul and ardour is Rang Deeni.

Holi Khele Raghuveera, Baghban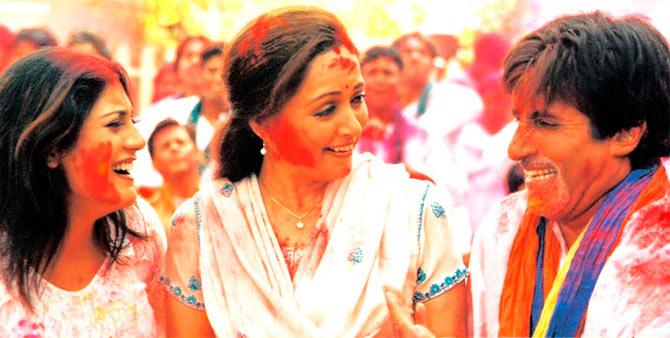 Image: Rimi Sen, Hema Malini and Amitabh Bachchan are classic Holi revellers in Baghban
Since Baghban's release, the frothy Holi track from the AB-Hema Malini family drama has found a fixed place among the festival's playlist classics.
If Bachchan rocked Rang Barse in his younger days, his enthusiasm around the folk flavours meet electronic arrangement of Holi Khele Raghuveera is no less an upgrade.

Mora Piya, Raajneeti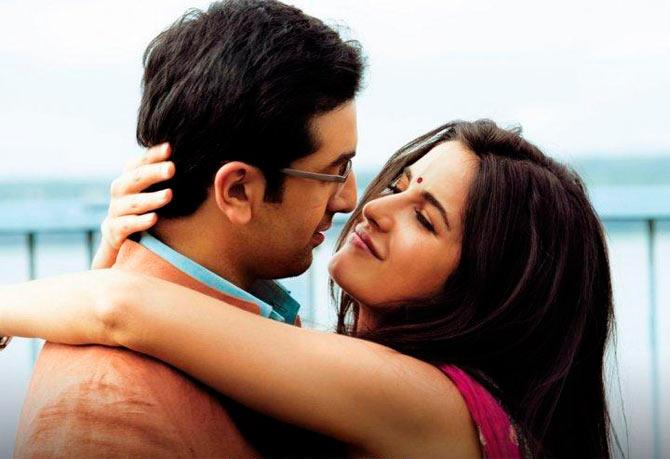 Image: Ranbir Kapoor and Katrina Kaif's love is rendered poignant with Mora Piya in Raajneeti
Shrivastava often said that he preferred a classical approach to music, be it in instruments or genre.

And some of his personal favorites are the ones catering to this belief.
Raajneeti's sublime Mora Piya captures the mood and melancholy of unrequited romance perfectly; especially in the version he rendered himself.