'When you make a commercial film, you will realise how tough it is to make one.'
'It is tough to make the audience believe in things.'
'A man hitting 10 people and still being resilient... it is not easy to do that.'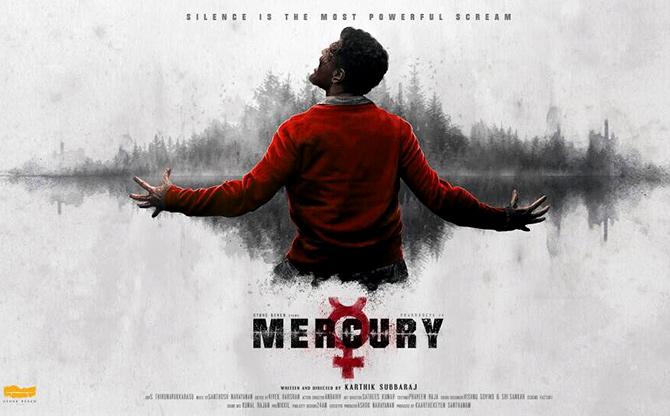 IMAGE: The Mercury poster.
Prabhu Deva is a fantastic dancer and choreographer, a blockbuster director, a good actor...
For a man who has been part of show business for almost three decades, he is incredibly shy.
A man of *very* few words, Prabhu Deva opened up to the Mumbai media on his 45th birthday.
Rediff.com's Patcy N listens in.
What is working in a silent film like?
I am doing a role like this for the first time. It is very different from what you have seen me do before.
I play a negative role.
I was waiting eagerly for the shooting to start. I would not call it a challenging role because the director had done all the work for me and made it easy. If I did something wrong, he would ask for another take.
When (director) Karthik told me it is a silent film, I asked him, "Does it mean there's no dialogue?"
When he confirmed it, I asked how it would be possible to hold the audience for two hours without any dialogue.
I asked why he thought of me for the role. Karthik was confident that I would be able to do it.
He narrated the story, and in 15 minutes I was on board.
I have seen all of Karthik's films. Even if he had come with another script, I would have done it.
Kamal Haasan starred in a silent film, Pushpak, in 1987.
I have seen Pushpak. This is a different kind of film, there is no comparison between the two.
Kamal sir is like a Thalaivar!
Did dance help you emote better in Mercury?
When people ask me this question, I realise that maybe dance helped me subconsciously, especially in my body language.
But when I was shooting, I did not think about that.
I did not do any preparation for the role, not even rehearsals, because I thought acting had to be spontaneous for this role.
Do you miss dancing in this film?
I am doing a lot of films with dance, so I don't miss it.
Mercury has a promotional song; I have danced in that.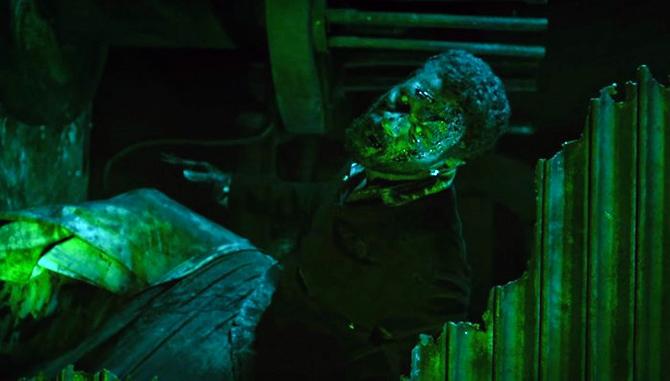 IMAGE: 'For the first time in my life, I needed two hours for make-up.'
Tell us about your look in Mercury.
For the first time in my life, I needed two hours for make-up. Normally, I need five minutes.
Look at my face. Where is there place for any make up? (Laughs.).
But I did not get bored waiting those two hours because my scenes were so interesting. I was always excited to go and act.
Is the story inspired from real life?
I know about the (Kodaikanal mercury poisoning) incident. I know what effects any chemical would have, but I did not know in detail.
Then, Karthik showed me and I was shocked. I had no idea how much damage it could do.
What do you think of Mercury?
I have seen the film, it is too good! One of my best films!
You are a director too. Did you wish you had made this film?
I am not that smart!
You are directing Dabangg 3.
It is still in progress; I don't know how much I can talk about it.
If I say something, Arbaaz (Khan) sir will call and ask, 'Why did you talk like that?' So I must be loyal to my producer. (Laughs.)
Dabangg has a huge fan following. Any pressure?
Only when you ask such questions! (Laughs.)
How open is Salman Khan to suggestions?
I am a director, I have to suggest, na? That is my work, na? He is very open.
(Salman) Sir is super cool.
Now, he thinks very commercially. In some scenes, we think it is too mass-y, but he thinks triple times mass-y than us.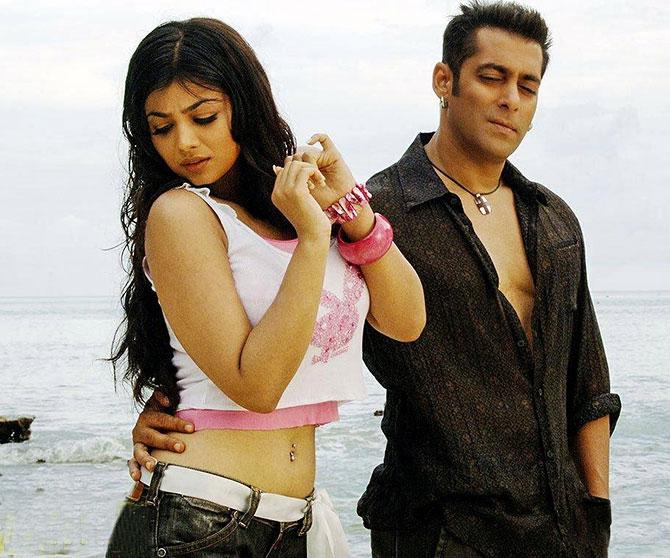 IMAGE: Ayesha Takia and Salman Khan in Wanted.
You directed him in Wanted. How much has he changed since then?
There is no change. Sir is the same as he was before. That's why God has given him everything.
Is he a disciplined actor?
Nowadays, they give the release dates at the launch of the film. So one has to be disciplined, otherwise it is not possible to release the film.
His dance has some signature steps.
He is a superstar!
When I was directing Wanted, Sir would tell me, 'Prabhu, you broke my bones, but you made me dance.'
He is very interested in dancing. He is a superstar and does not have to do so much.
But in the Da-Bangg Tour, he does a lot because he wants to connect with people.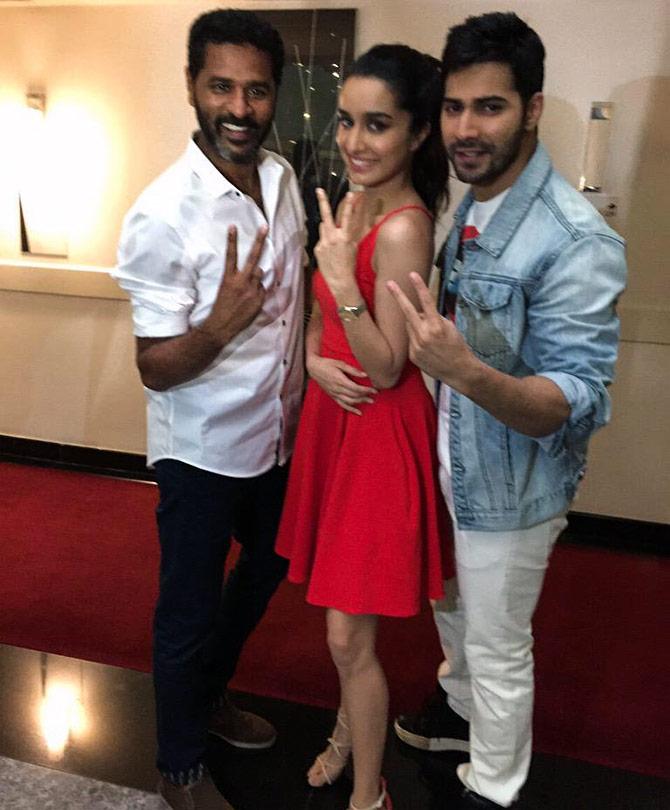 IMAGE: Prabhu Deva with his ABCD 2 co-stars, Shraddha Kapoor and Varun Dhawan. Photograph: Kind courtesy Prabhu Deva/Twitter
You are working on ABCD 3 with Varun Dhawan and Katrina Kaif.
They have just announced it, and that's all I know. How much you know, that's what I know.
Remo (D'Souza, director) is there, so I blindly believe him.
Why haven't you directed a dance film yet?
It is very tough. You are already telling the audience that it is a dance film, so their expectations will be more.
Do box office numbers matter to you?
Everybody wants their film to be a hit. If we work hard, we can achieve that.
Nowadays, audiences want content driven films.
Here (in Bollywood), there are commercial films and content-driven films.
When you make a commercial film, you will realise how tough it is to make one. It is tough to make the audience believe in things.
A man hitting 10 people and still being resilient... it is not easy to do that.
Even in Hollywood, Black Panther is about saving the world, correct? How come it is making millions?
Avengers, Spiderman... they all have the same stories. They are all saving the world.
Still, we watch them everytime a film releases. And they are all superhit films.
If a film is good, it will be a hit.
Do you read reviews?
Sometimes.
Eighty percent of time I don't, because they will scold (criticise) the film, so why should you read the reviews?
I mostly read when nobody is watching me, like when I am on a flight.
Do bad reviews upset you?
Of course, I am human, na?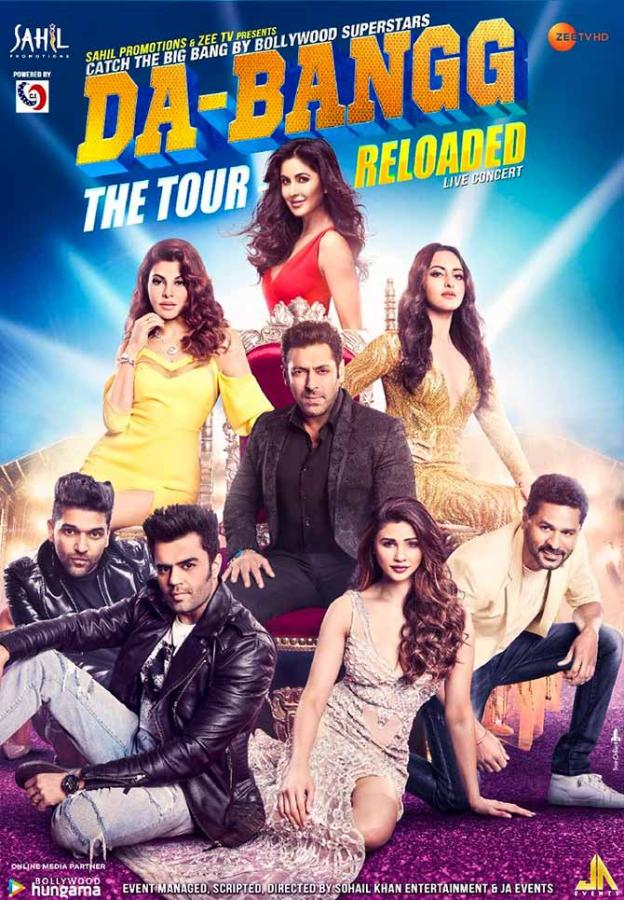 IMAGE: The Da-Bangg Tour poster.
You act, direct, and even go on tours, like the Da-Bangg Tour. How do you manage all that?
My day starts at 6:30 am, and I am awake till midnight.
Sometimes, even if I am sleepy, I don't get sleep till 1 am.
My mind is always working.
I do two days' work in one day.
Also, I take decisions fast. I don't think too much.
Of course, sometimes my decisions go wrong. But I work on my gut feeling.
Even when I am editing, I go fast.
I am acting in five films.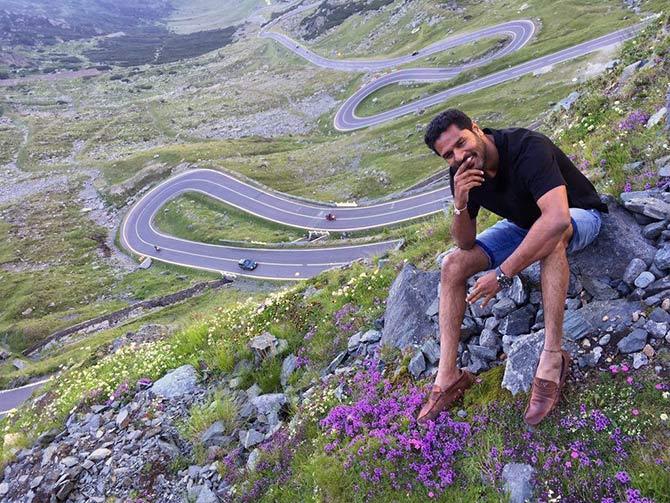 IMAGE: Prabhu Deva enjoys some time off. Photograph: Kind courtesy Prabhu Deva/Twitter
How do you unwind?
I watch movies.
When I am with my kids, I automatically sleep at 9:30 pm. I don't know how that happens, it is magic.
Do you work out?
Yes, but not in a gym.
I have never gone to a gym in my life but I work out for an hour everyday.
I do exercises, mixed with a little bit of yoga.
Now I am acting, so I have to be fit.
How do you look at younger actors?
Stars today work too hard. I have worked with Varun (Dhawan, in ABCD 2). He is very dedicated.
There are a lot of opportunities as well as competition now.