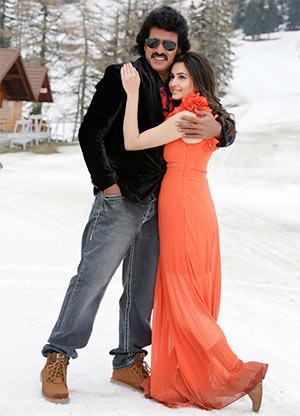 Popular Kannada comedian Sadhu Kokila's latest directorial venture, Super Ranga, starring superstar Upendra, was released a day after the actor's birthday and got a tremendous response across Karnataka.
It is said that the film is close to breaking even in just the three weeks since its release.
Sadhu Kokila has directed 12 Kannada films, of which six are remakes. Super Ranga is a remake of the Telugu hit Kick.
The big-budget Kannada film with Upendra, Kriti Kharbanda, Raghu Mukerjee, Priyanka Rao, Doddanna, Avinash and Rangayana Raghu and Sadhu Kokila too, was shot in Malaysia and Slovenia.
Sadhu Kokila is also a music composer but has not scored the music for Super Ranga.
In this interview, he talks about Super Ranga, why he didn't score the music for Super Ranga, his third directorial venture with Upendra and about remaking films.
What was it like directing a remake of a hit movie like Kick?
The Telugu original had a lot of kick in it. It is a high budget film with good performances. It was actor Ravi Teja's best film.
We didn't make any changes to the storyline but the songs have been picturised differently. Upendra's dialogues are the highlight although the movie revolves around Kriti Kharbanda's (the heroine) character.
The film has a very thin storyline. It scores because of its dialogues, screenplay and the comic feel. It is also a visual treat.
We had to incorporate all of this while remaking the Telugu film in Kannada. We have actually doubled the speed of narration.
What do you have to say about the Hindi version also titled Kick that starred Salman Khan and was also a huge box-office success?
Though it was expected that the Hindi film would do really well, I really didn't get a kick after seeing the movie.
They have tweaked the storyline considerably and left out the one-line story of the original.
It turned out to be a Salman Khan film. There is no comedy at all in the Hindi film. They have brought the comic sequences in the song.
Even the chase sequences do not match the original. The screenplay is also slower than the original. They have spent a lot of money on the Hindi version.
Why do some remakes fail at the box-office?
There are some limitations in Kannada when you remake from Telugu. The dialogues are lengthier in Kannada. We have to get the essence of the original and ensure that there are enough punches to entertain.
If they do not understand the format of a remake, film-makers are bound to fail.
It's difficult to cut, edit and even visually quicken the screenplay if you do not understand the original.
Why didn't you score the music for Super Ranga?
Originally, I was not signed up to direct the film. I couldn't have handled the music and direction together at the same time for such a big-budget film.
I myself decided not to compose music for the film after I was signed to direct it.
What was behind Upendra's makeover in Rakta Kanneeru that you directed?
Rakta Kanneeru is an evergreen film. I should clarify that it is not a remake.
It is actually a Kannada play that was adapted into Tamil for the stage by M R Radha in the 1950s and later made into a visual.
If you see Rakta Kanneeru on stage, you will actually get the feel of a drama and that everything is happening on stage.
The Tamil film was made in black and white. It was difficult to change it to colour and adapt it for today's generation.
The central theme was that the protagonist was afflicted with leprosy. Today, leprosy is curable and is not so prevalent.
Upendra had to improvise, change his mannerisms and try to come close to M R Radha's body language and style, which was difficult.
It became a visual treat with Upendra's dialogues giving him a new image makeover.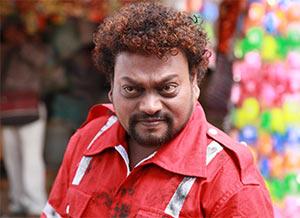 Anatharu again gave Upendra a different image despite being a remake of the Tamil film Pithamagan.
Again it was a visual cinema that didn't have dialogues for Upendra. We had a film that was backed by good performances from Radhika, Darshan and Rambha's dance.
Upendra's body language was a standout that enhanced his performance.
Though I thought Anatharu was better than Rakta Kaneeru, the former was not received so enthusiastically by audiences.
When we make original films, we enjoy ourselves more, creatively and visually. With remakes, we tend to lose that creative freedom.
Recreating Bala's film had to be authentically done and that required a lot of effort.
What is the fate of your directorial venture Anarkali that has been in the making for more than three years now?
Anarkali will be a film that can be truly called a Sadhu Kokila creation.
I am confident that we will be able to release the film by the end of this year.
The film is based on dance. Many people are learning Russian ballet. But nobody knows what a ballet is.
We have blended some elements of horror with dance in the story.
The film ran into financial problems due to too many commitments of its producer. I wanted to take to production myself and finish the movie. I invested about Rs 25 lakh in the project. But now, the producer has come forward to finish the movie.
We have to just finish shooting the songs. Actress Prajna has worked for three years to get the skin tone and all the nuances right. Just her make-up used to take six hours. We have shot climax sequences for 14 days.
Which are your forthcoming projects?
I have decided not to do remakes henceforth.
We put in a lot of hard work in recreating something, but people in the media and audiences question us 'isn't this a remake of this film or that film?'
That is when I begin to ask, what is our contribution? We should encourage original scripts as far as possible because our creativity is under the scanner.
A remake is a remake even if the producer spends crores of rupees on it.
Producers are unwilling to take risks because the audience for Kannada films has dropped.
Producers are looking for a minimum guarantee for their films, which is what a remake commands, according to the industry. They are not willing to take risks backing original scripts for this reason.
What do you enjoy the most – acting, directing or composing music?
Composing music for a film is a different ball game. It is highly creative.
I'm loved as a comedian and an actor. I feel there is nothing to create while you are acting.
I love direction because it is stimulating.
I have not got my due recognition as a music composer.