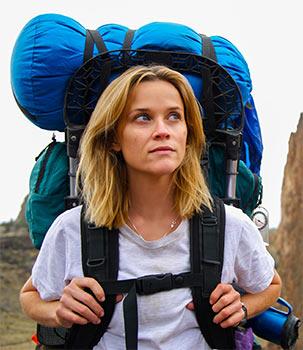 Aseem Chhabra/Rediff.com picks his 10 favourite movies from the Telluride Film Festival.
The Telluride Film Festival was a terrific opportunity to view some of the best films of the year.
While the Telluride programmers do not go looking for films with thematic similarities, many of this year's offerings -- including Foxcatcher, The Imitation Game, Madame Bovary, Wild, Mommy and even Two Days and One Night deal with lonely people with internal struggles that reflect how they relate to the outside world.
I have attended the Telluride Film Festival for 21 years now. And these are my favourite films from the festival:
Wild
In Wild, director Jean-Marc Valle (Dallas Buyers Club) works on Cheryl Strayed's bestseller memoir and novelist Nick Hornby's script.
Reese Witherspoon, in a performance that redefines her as an actress, plays Strayed, a woman who has gone through a difficult divorce, her mother's death and a period of promiscuity. She takes off on a self-discovery hike along the Pacific Crest Trail, running from Mexico all the way to Oregon.
Much of Wild has Witherspoon alone on screen, coping with the harsh realities of the outback.
The Pacific West Coast is beautiful, and the trail is crowded, but Witherspoon's Strayed prefers to be alone. Her mind is crowded with memories, mostly sad ones of her troubled marriage and her mother's death (Laura Dern, in her second mother's role at Telluride).
Witherspoon won the Oscar for her performance in Walk The Line in 2006, but her career has floundered since. With Wild, she is back with a bang.
The Salt Of The Earth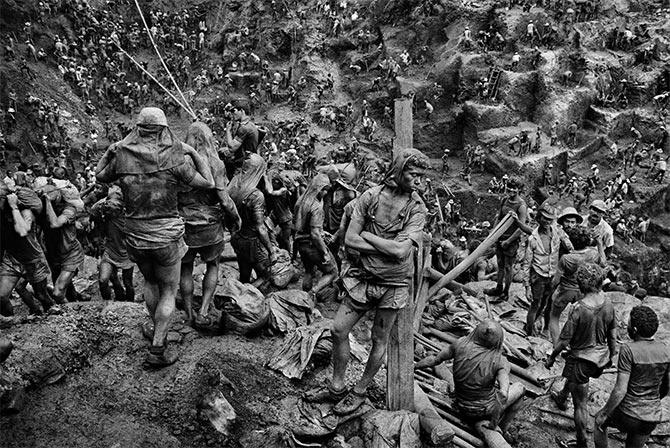 Image: A scene from the documentary The Salt Of The Earth.
This exceptional documentary by German filmmaker Wim Wenders (Pina, Wings of Desire) and his co-director Juliano Ribeiro Salgado captures the life and work of renowned Brazilian photographer Sebastiao Salgado, Juliano's father.
Juliano grew up in Paris with his mother and largely absent father who travels in remote parts of the world, capturing the lives of the poor and disenfranchised (his series on workers also brought him to India), and people living in conflict regions. And so for Juliano, this film and earlier footage he shot before Wenders joined the project, were attempts for him to get to know his father.
Sebastiao, a trained economist, gave up the profession. Instead through his photographs he became a witness, sometimes the first media person to travel to conflict regions in Rwanda, Ethiopia and Bosnia.
With Sebastiao's stunning black and white images and his commentary, The Salt Of The Earth is an emotionally rich documentary that gives a deep sense of all that is wrong with our world and one man's mission never to forget the less fortunate.
Foxcatcher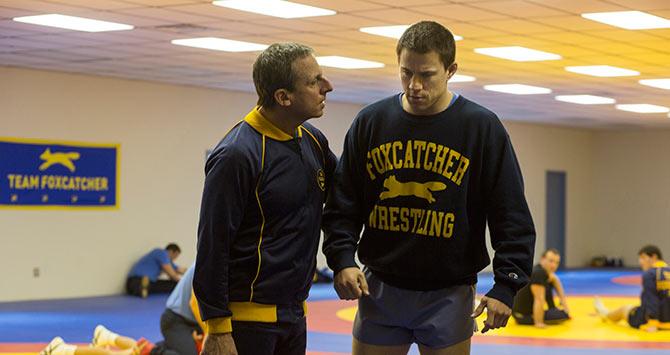 Image: Steve Carell and Channing Tatum in Foxcatcher.
Director Bennett Miller (Capote and Moneyball) creates a dark film, based on a true story about excessive wealth and the macho world of wrestling.
Foxcatcher focuses on John DuPont (a stunning performance by an unrecognisable Steve Carell), scion of one of America's wealthiest and eccentric families.
While his mother -- an excellent Vanessa Redgrave -- is obsessed with her horses, DuPont attempts to become the patron of the US Olympic wrestling team. He recruits promising young wrestlers, including the 2004 Olympic gold medal winner Mark Schultz (Channing Tatum) and later his older brother Dave (Mark Ruffalo).
DuPont's good intentions and his belief that money can buy anything end in unexpected tragic results.
Foxcatcher grabs the viewer, taking them through the world of the wealthy and their mad lives. A thoroughly satisfying film that will definitely receive a number of Oscar nominations, maybe even an acting nod for Carell.
The Imitation Game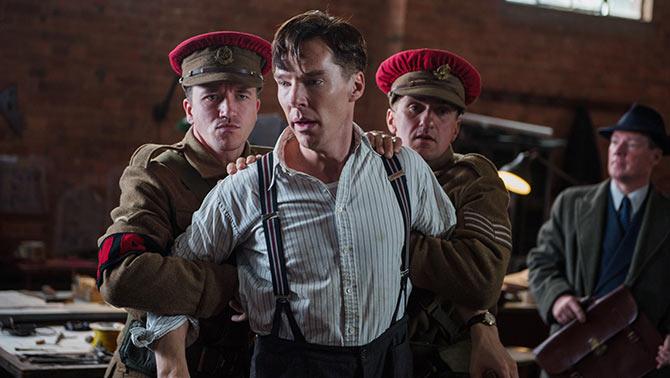 Image: Benedict Cumberbatch in The Imitation Game.
A gripping film that almost works like a spy thriller, Norwegian director Morten Tyldum's The Imitation Game is a World War II drama and a showpiece for the highly talented British actor, Benedict Cumberbatch, who will surely get an Oscar nomination his performance.
In The Imitation Game, Cumberbatch plays British mathematician Alan Turing, an idiosyncratic man hired by his government to decode the Nazis' military messages.
Cumberbatch transforms himself into a loner and gay man who struggles his entire life because of his lack of social skills.
The Imitation Game has a wonderful blend of fine performances (including by Keira Knightly) and cinematography, and captures all the elements of a period drama.
Wild Tales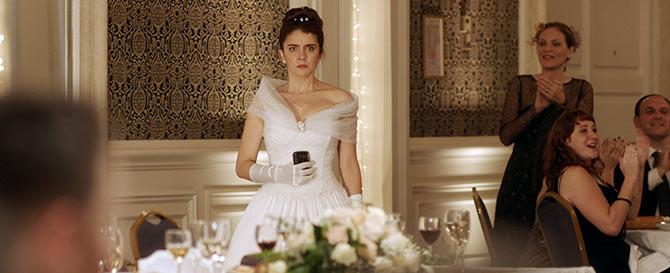 Image: Erica Rivas in Wild Tales.
In the midst of all the serious films that Telluride is often known for is a small Argentinian/Spanish production, Wild Tales.
It is written and directed by a young filmmaker, Damian Szifron, and has two amazing executive producers, Pedro Almodovar and his brother Augusto, a clear sign that it will be a crazy, outrageous film.
Wild Tales is made of six short narratives. The six stories are not connected; each starts, ends, and then another one begins. But the stories have a one common theme, that of revenge.
Some stories take a madcap tone -- like, the first story is about a depressed pilot and the various characters in his life. Some stories are violent and others explore the dark side of the human psyche.
Sony Pictures Classics are distributing the film in the US and it has the potential of becoming a sleeper hit.
99 Homes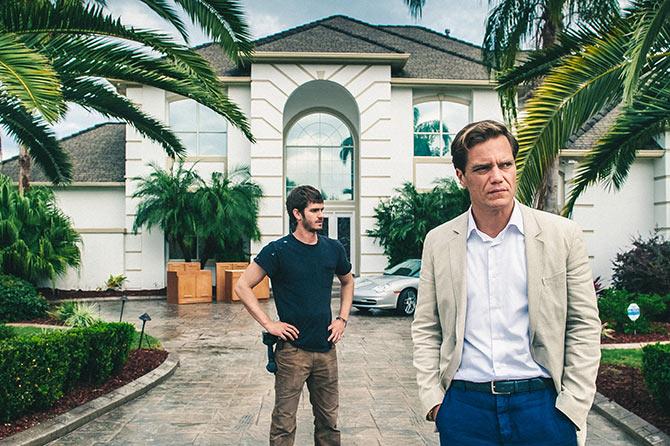 Image: Andrew Garfield and Michael Shannon in 99 Homes.
Iranian-American filmmaker Ramin Bahrani makes human dramas that look at the plight of the poor and those struggling under tough economic conditions.
His first film Man Push Cart, a cult classic among independent filmmakers, is the story of a poor Pakistani man in New York City who works on the streets with a food cart.
Roger Ebert was a big fan of the film and Bahrani is featured in the recent documentary about the late critic, Life Itself.
In 99 Homes, Bahrani focuses on the home foreclosure crisis in the US that devastated the country's economy. He gives a human touch to what could have been a dry economic story.
99 Homes tracks its narrative through two characters -- Dennis Nash (Andrew Garfield), a single father who loses his home, and Rick Carver (Michael Shannon), a corrupt real estate broker.
In the cat and mouse game, Carver is able to draw Nash into his world, making 99 Homes a study of morality and ethics, and how much a man can fall when he is desperate to support his family.
Both Shannon and Garfield deliver strong performances. Garfield is especially amazing, given that in recent years he has played the larger-than-life superhero SpiderMan. The lovely Laura Dern plays Garfield's mother and the moral centre of the story.
Mommy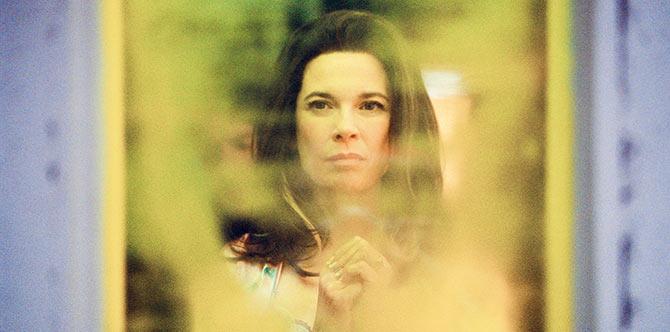 Image: Anne Dorval in Mommy.
French-Canadian filmmaker Xavier Dolan is only 25 years old and each of his five features has played at the Cannes Film Festival.
His latest Mommy won the special jury award at Cannes this year, an honour Dolan shared with the French master Jean Luc Godard.
The troubled mother-son relationship is a subject for Dolan. In 2009, he directed I Killed My Mother.
Mommy is a difficult film about a 15-year-old boy Steve (Antoine Olivier Pilon), who suffers from a serious case of Attention Deficit Hyperactivity Disorder. His working class mother, a widow, struggles to keep the semblance of normality in her home.
At times, Mommy is hard to watch, especially given Steve's volatile personality. There are many loud moments in the film that turned off some of the older viewers at Telluride.
But Dolan makes a very compelling drama where pleasure, joy, sadness and tragedy are all interconnected, and sometimes parents have to make difficult choices for the love of their children.
The Look of Silence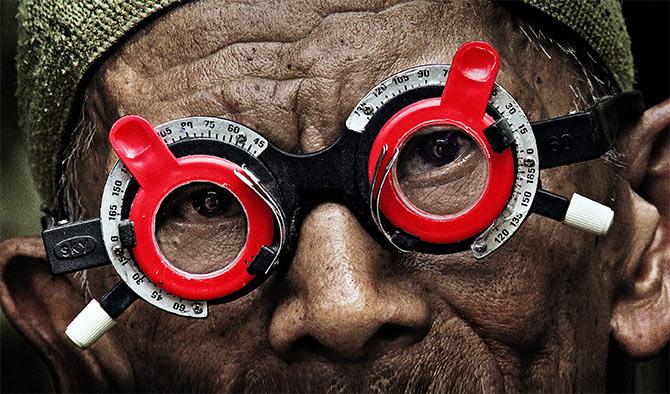 Image: A scene from the documentary The Look of Silence.
The Look of Silence is documentary filmmaker Joshua Oppenheimer's sequel to his Oscar-nominated film Act of Killing. Both movies focus on the Indonesian death squads responsible for the 1967 mass murders of the country's Communists.
Act of Killing traced the killers who are now old, but live freely in a society that has largely forgotten its dark past.
The Look of Silence is a more personal film -- it is the story of an ophthalmologist who tracks down his brother's killers and confronts them.
The film's protagonist, Adi, is not interested in revenge or justice. In understanding his brother's gruesome murder, he wants to close the chapter and in a way, forgive the killers who brought so much sadness to his family.
Winner of the Grand Jury Prize at the Venice Film Festival, The Look of Silence is tough to watch at times. It is a powerful documentary that reminds us how low human beings can fall. It is also a reassuring film about the power of survival and the act of forgiveness.
Two Days, One Night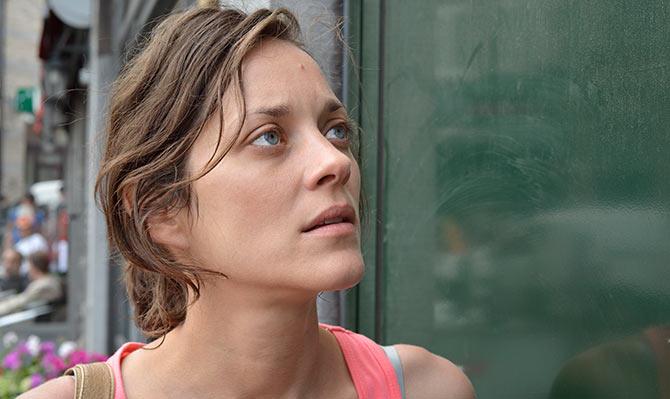 Image: Marion Cotillard in Two Days, One Night.
Belgian filmmaker brothers Luc and Jean-Pierre Dardenne have made emotionally devastating films dealing with working class characters, often children or teenagers.
In their latest film Two Day, One Night, they focus on an adult woman, Sandra (Marion Cotillard), coping with her depression and job insecurity.
Sandra works for a small company that wants to fire her and with the money they save, reward the other employees with a year-end bonus.
Sandra requests for a secret ballot and in much of the film, she visits almost all her colleagues, seeking their support. A vote to keep Sandra in her job would amount to her co-workers losing their bonus.
Cotillard is fantastic as Sandra, very vulnerable, popping pills to suppress her depression, and dealing with the difficult task of visiting or calling her co-workers.
Two Days, One Night is a reminder that Cotillard is one of the finest actresses of our time.
Madame Bovary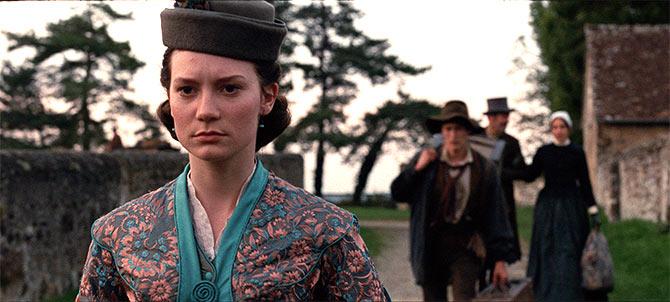 Image: Mia Wasikowska in Madame Bovary.
Gustave Flaubert's classic novel of a bored doctor's wife and her extramarital affairs in provincial France has been one of the most popular stories for film and television. But as the Telluride Film Festival programme notes suggested, this feminist tale had not been directed by a high-profile female director until now.
This adaptation of the story by French director Sophie Barthes gives a sumptuous look at life in small town France.
Australian actress Mia Wasikowska plays Emma Bovary who is married to Charles (Henry Lloyd-Hughes), a doctor deeply busy in his work.
Emma's bored existence leads her to acquiring clothes and other fine household goods from a local merchant, resulting in a huge amount of debt. Her affairs with other men add to considerable gossip.
Wasikowska is fantastic as Emma, and her performance is enhanced by her sumptuous dresses and the authentic production design depicting France in the mid-1880s.
The film also boasts of an excellent supporting cast, including Paul Giamatti and Rhys Ifans.