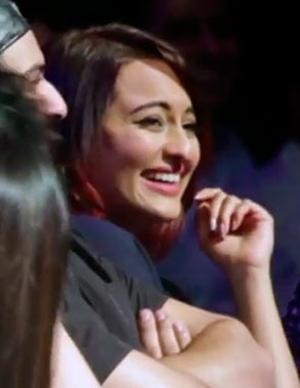 You won't know what hit you!

Comedy Collective All India Bakchod, whose Roast of Ranveer Singh and Arjun Kapoor was held in December in Mumbai last year, finally unveiled the edited version of the show on January 28 on YouTube.
Don't know what a roast is? Well, it's a comedy event -- generally for charity -- where celebrity guests (in this case, Ranveer Singh and Arjun Kapoor) are made fun of by the roast's hosts (AIB). The event is hosted by a roast master (Karan Johar did the honours). Everyone makes fun of everyone else and after having themselves thoroughly insulted (in good humour, though!), the roastees get to have their own back.
True to form, the show -- featuring roast master Karan Johar and the AIB crew Rohan Joshi, Tanmay Bhatt, Gursimran Khamba and Ashish Shakya, who were joined by stand-up comics Aditi Mittal and Abish Mathew, film critic Rajeev Masand and Roadies producer Raghu Ram -- was a laugh riot.
Former lovers, sexual orientation, casting couch, promiscuity, general doses of profanity, nothing was off limits in this first-of-its-kind show in India -- fashioned after the famous Comedy Central Roast.

We bring you the MOST (considering the content, let's modify that to 'most acceptably') HILARIOUS jokes from the show!
1. AIB's Ashish Shakya: 'Lootera was based on a O Henry story called The Last Leaf… because Sonakshi ate the rest of the leaves.

'Just kidding, Sonakshi doesn't eat salads.'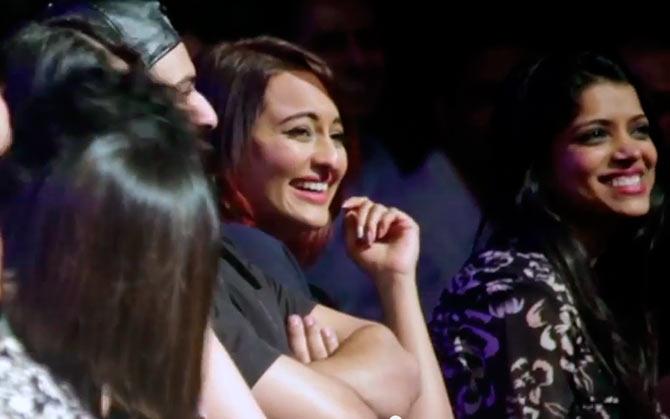 And that is Sonakshi's reaction!


2. AIB member Rohan Joshi to Arjun Kapoor: 'It takes a special something to be the least talented member in the family that has Sonam and Sanjay Kapoor.'



Ranveer Singh can't believe the roast went THERE, but Sanjay Kapoor in the audience got up and took a bow!


3. Comedian Abish Mathew: 'Ranveer, how does it feel to be the only person in India who is sad when Virat Kohli scores a century?'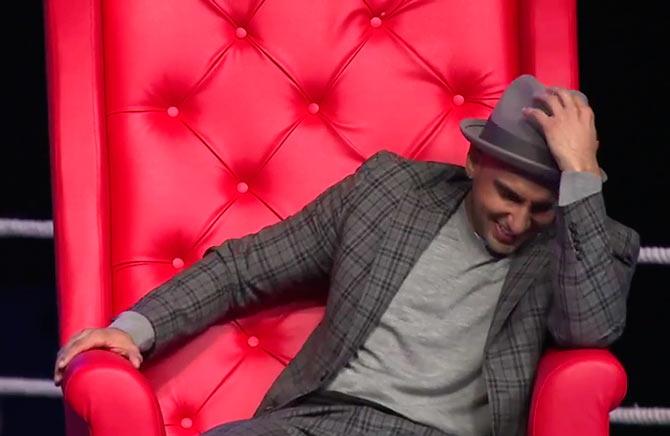 Anushka Sharma's former flame could only grin and bear that googly.
4. Roast master Karan Johar: 'I'm not saying that Ranveer Singh does shit films. But the last truly good thing he was in was Deepika Padukone.'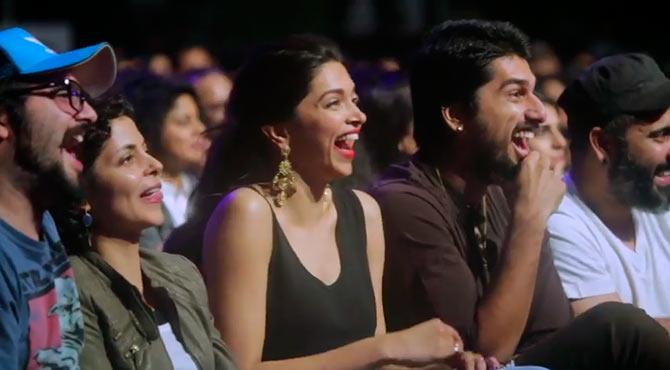 Deepika laughed loud and hard with the crowd.
5. AIB member Tanmay Bhatt: 'Arjun Kapoor has the creepiest smile in the film industry. His smile is so creepy, even Shakti Kapoor checks his shirt's buttons when he finds Arjun smiling at him.'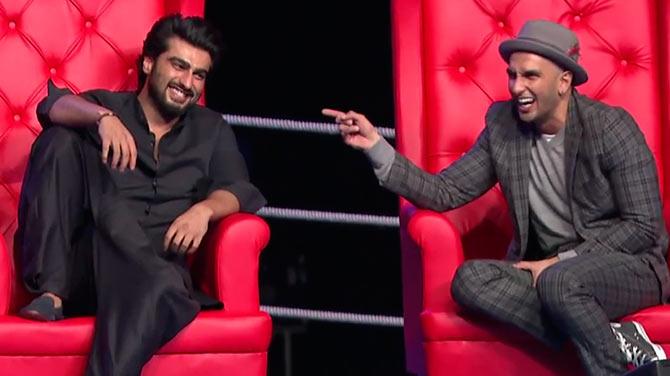 Arjun flashes his villainous smile for all to see.
6. Ranveer Singh: 'You guys paid Rs 4,000 to watch us here. Itne mein 25 baar Gunday dekh sakte the.'
Arjun Kapoor: 'Itni himmat toh hum mein bhi nahi thi.'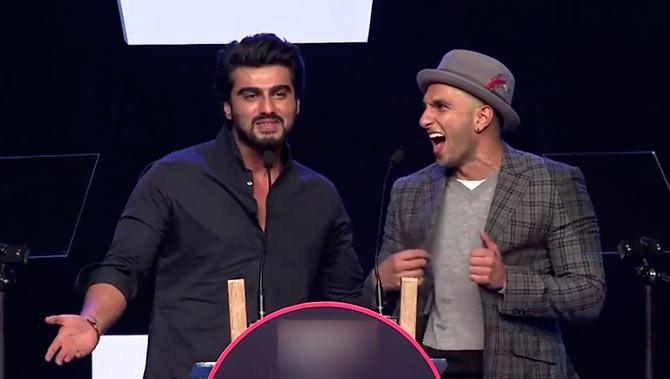 The duo marvel at their flawless delivery.


7. Tanmay Bhatt: 'Karan Johar, why do your movies pander so much to the NRI audience? If they pander to the NRI audience more, I'll have to call you Narendra Modi.'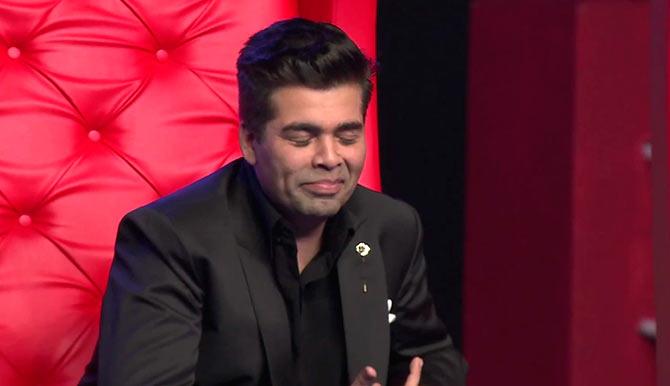 KJo is, needless to say, understandably sheepish.


8. AIB member Gursimran Khamba: 'Arjun Kapoor failed the 12th standard and after that he lost a lot of weight. He's Smriti Irani. In reverse.'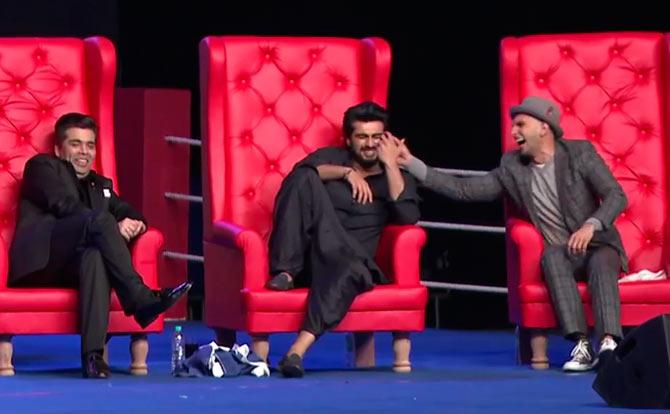 Ranveer Singh comforts his former costar and friend after this zinger. Karan Johar, on the other hand, cannot control his laughter.


9. Gursimran Khamba: 'Karan Johar is now best friends with Anurag Kashyap so he can get some, like, Indie cred.

'It's the first time in Bollywood that someone has slept their way to the bottom.'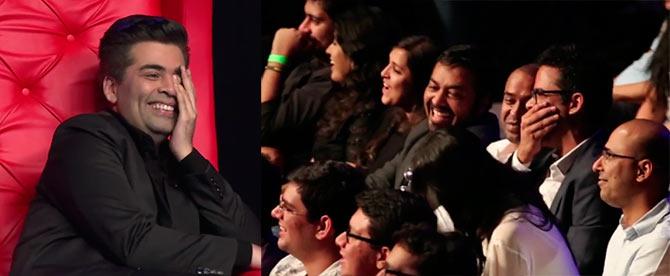 Anurag Kashyap, sitting among the audience, is tickled funny; KJo doesn't know where to look.


10. Karan Johar to the audience: 'You guys get me, Ranveer Singh and Arjun Kapoor -- three stars in Rs 4,000. Even Rajeev Masand charges Rs 5 lakh.'
The film critic decides to be a good sport.