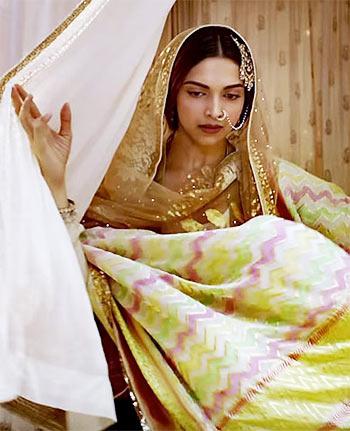 Some historical performances here!
India's heritage brims in rich history and heroes.
Bollywood has often attempted to tap its grand potential on celluloid too.
The result is some of Hindi cinema's most lavish, costliest period epics ranging from K Asif's celebrated Mughal-E-Azam to Sanjay Leela Bhansali's December offering, Bajirao Mastani.
In the picture: Deepika Padukone in a still from Bajirao Mastani
We look at 10 instances of actors portraying historical figures.
Hema Malini: Razia Sultan and Meera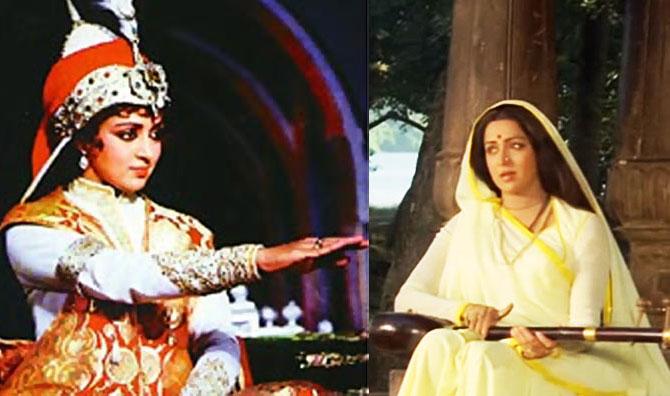 Image: Hema Malini in Razia Sultan and Meera
One of the costliest films of the 1980s, Kamal Amrohi's Razia Sultan, played by a spunky Hema Malini, chronicles the challenges faced by Delhi's first female monarch and her forbidden attachment for an Assyrian slave.
The costume drama, which boasts of Khayyam's exquisite soundtrack and striking art design took nearly a decade of filming but failed to draw in the audiences.
The actress simultaneously shot for Gulzar's Meera where she plays the legendary 16th century saint and poet renouncing her home, husband and comforts to devote herself in a spiritual pursuit of Lord Krishna.
A picture of grace and calm, Meera is easily one of her best works.


Prithviraj Kapoor: Sikandar and Mughal-E-Azam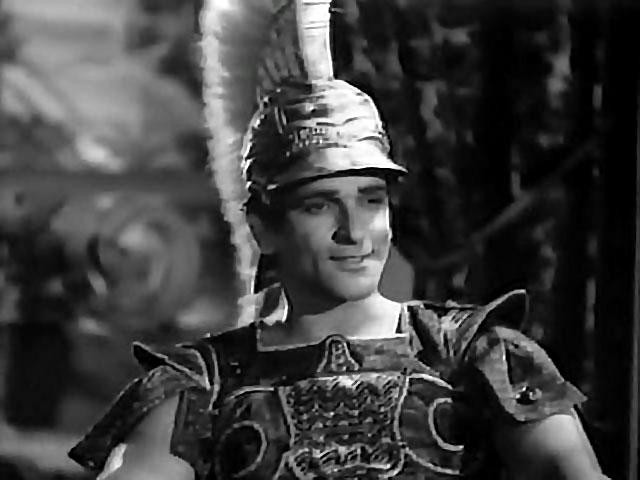 Image: Prithviraj Kapoor in Sikandar

His background in theatre was keenly reflected in Prithviraj Kapoor's stately charisma and grand dialogue delivery.
Two of his most celebrated performances, though released two decades apart from one another, feature him as a historical figure.
His pride and vigour as the great Macedonian conqueror won over by an Indian King's nerve in and as Sikandar is unforgettable as is his regal and (if need be) ruthless Emperor Akbar in K Asif's magnum opus Mughal-E-Azam.
His commitment to the latter was such that he wore heavy armour for the battle sequences and walked barefoot on hot sand for one crucial scene.


Hrithik Roshan: Jodhaa Akbar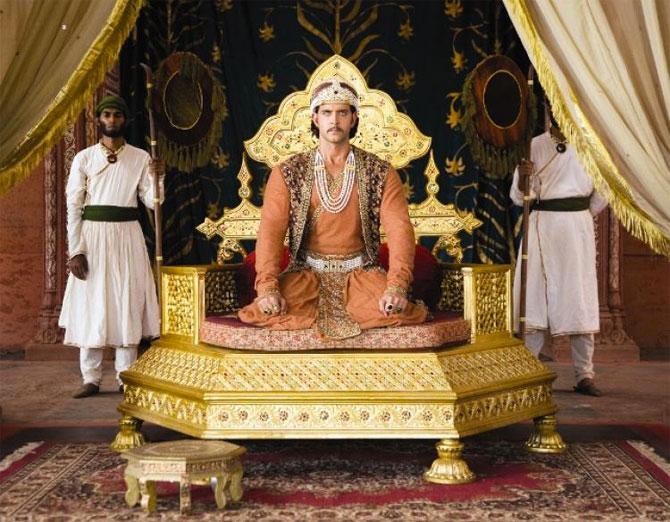 Image: Hrithik Roshan in Jodhaa Akbar
Although he's synonymous with brand Krrish, Hrithik Roshan cuts quite a magnificent picture as the wise and just Shahenshah Akbar in Ashutosh Gowariker's lavish romance Jodhaa Akbar.
The actor does well to bring out both -- the administrative and intimate facets of a magnetic personality in a story that unravels Akbar's reign and romance.


Shah Rukh Khan: Asoka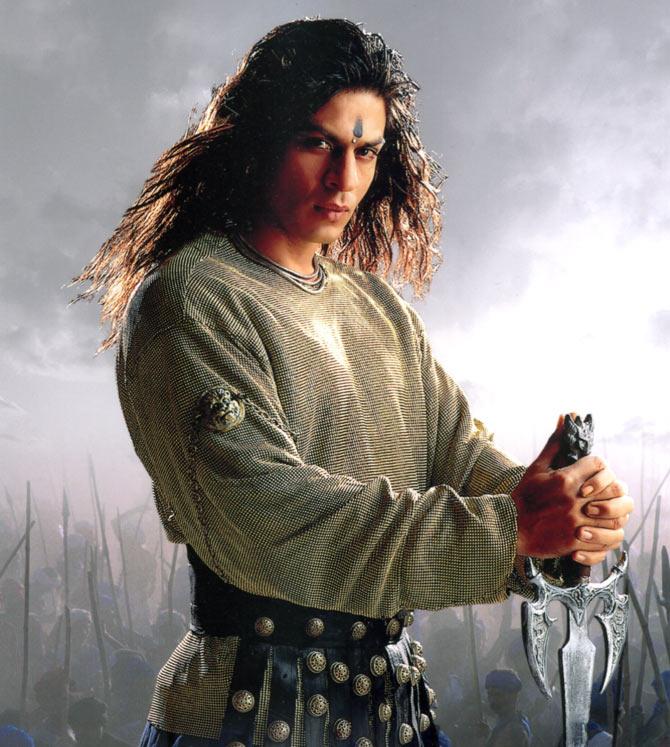 Image: Shah Rukh Khan in Asoka
Shah Rukh Khan took a break from Raj and Rahul to play (and produce) the great Indian emperor of the Maurya dynasty in Santosh Sivan's visually arresting Asoka.
Despite Sivan's sensibilities, SRK's superstardom and Kareena Kapoor's wild sex appeal, Asoka lacked the slyness, strategy and ferocity to truly summarise the ruthless ambition and redemption of Asoka.


Aamir Khan, Mangal Pandey: The Rising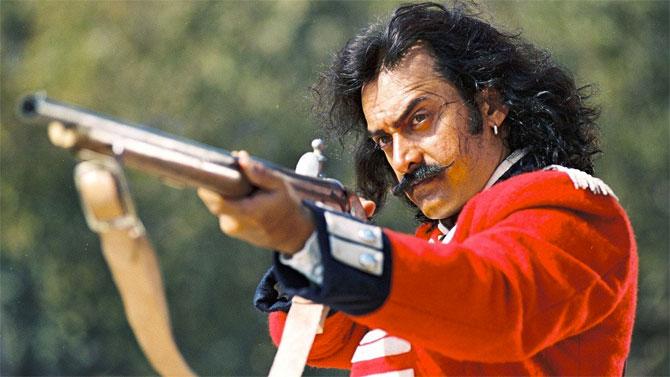 Image: Aamir Khan in Mangal Pandey: The Rising
'It took six months for my moustache and 18 months for my hair to grow. I didn't want to use a wig,' revealed perfectionist Aamir Khan in an interview to Rediff.com while discussing his titular role in Mangal Pandey: The Rising.
Ketan Mehta's dramatized depiction of the events around the 1857 Indian rebellion prompted by Mangal Pandey didn't set the cash registers jingling but garnered praise for Aamir's committed delivery.


Bharat Bhushan: Baiju Bawra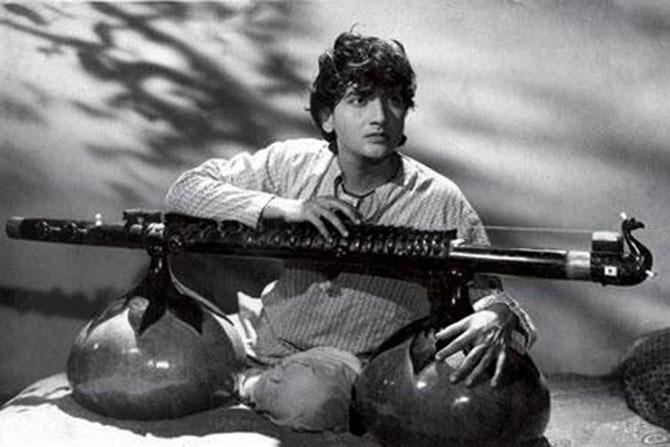 Image: Bharat Bhushan in Baiju Bawra
Baiju Bawra proved to be Bharat Bhushan's big ticket to fame and success.
In the mostly fictionalised 1952 hit musical, he plays a dhrupad musician seeking revenge from the famed musician Tansen in Emperor Akbar's court.
Interestingly, few years later the actor went on to play Tansen in Sangeet Samrat Tansen as well as Gulzar's Meera.
Quite a few of his best-known roles are laced in Indian history, be it Mirza Ghalib (Mirza Ghalib), Baz Bahadur (Rani Roopmati), Kavi Kalidas, Samrat Chandragupt (Samrat Chandragupt).


Sohrab Modi: Pukar, Sikandar, Jhansi Ki Rani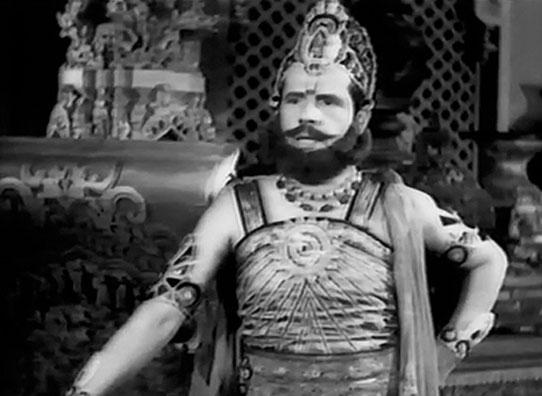 Image: Sohrab Modi in Sikandar
The fact there's a book named Sohrab Modi: The Great Mughal of Historicals says volumes of the legend's presence in the genre.
Under his banner Minerva Monotone, Modi and his heavily Parsi theatre-influenced sensibilities championed the cause of many historical dramas as well as acted in them.
His booming voice and dramatic manner of speech is rightly credited for the triumphs of his portrayal in films like Pukar, Sikandar and Jhansi Ki Rani.


Vyjayanthimala: Amrapali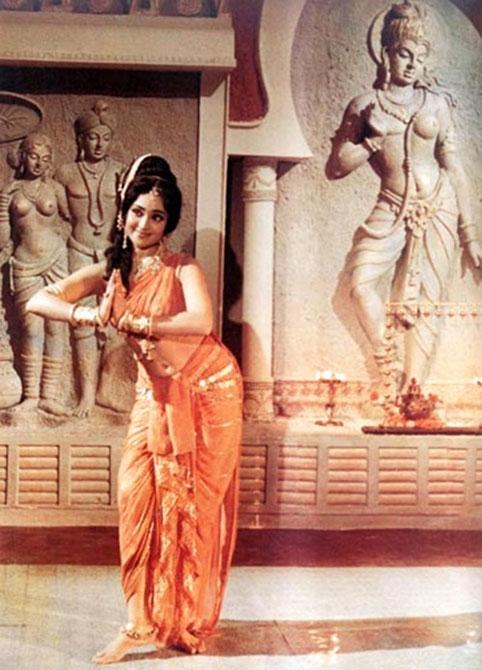 Image: Vyjayanthimala in Amrapali
The story of legendary courtesan and fiercely protective Vaishali inhabitant, Amrapali comes to life in Lekh Tandon's 1966 film of the same name.
A gifted dancer, Vyajayanthimala puts her heart and soul in a performance of a royal dancer in love with the enemy -- Magadha's power-lusting King Ajaatshatru.
For all of Shankar-Jaikishen's breathtaking melodies and grandly picturised war scenes (Tandon specially sought permission from the Ministry of Defence to use cavalry and jawans from the Army Remount Depot of Saharanpur in Uttar Pradesh), Amrapali, sadly, bombed at the box office.


Pradeep Kumar: Taj Mahal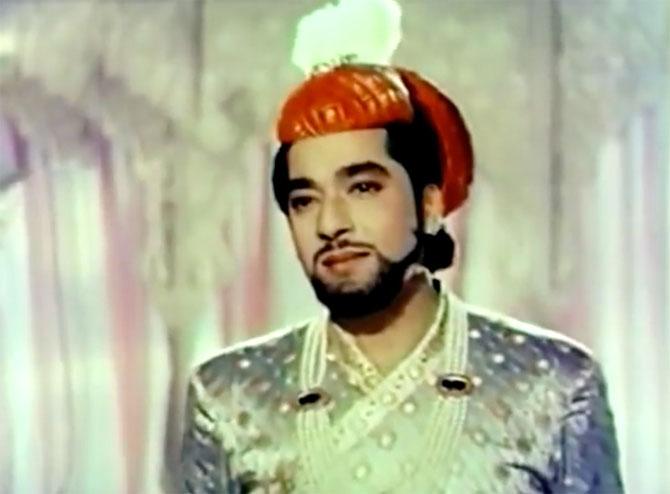 Image: Pradeep Kumar in Taj Mahal
The memory of a besotted Pradeep Kumar appealing Jo Wada Kiya Woh Nibhana Padega in M Sadiq's charming romance Taj Mahal is deeply etched in movie history.
And that's what the film is about -- Emperor Shah Jahan's affection for Mumtaz and the events that lead up to the building of Taj Mahal, the greatest ever symbol of eternal love.


Manoj Kumar and Ajay Devgn: Bhagat Singh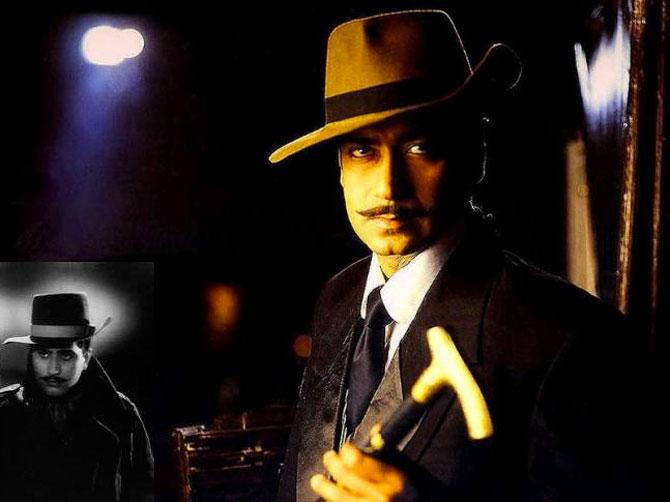 Image: Ajay Devgn in Legend Of Bhagat Singh. Inset: Manoj Kumar as Bhagat Singh
Before Ajay Devgn succumbed to mindless potboilers, he proved his mettle playing the bright young revolutionary Bhagat Singh in Rajkumar Santoshi's The Legend of Bhagat Singh.
To convey the intensity of Bhagat Singh's struggle for India's independence from British rule, Devgn did extensive research and lost weight.
Long before his National-award winning turn, Manoj Kumar greatly impressed with his contained fury playing the same part in the black and white classic, Shaheed. It marked the beginning of his love for patriotic roles.