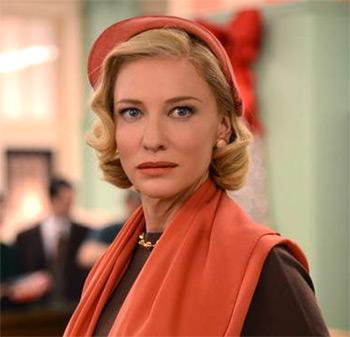 Watch the trailers and predict the winner at the end.
This is a tough year to predict the Best Actress.
There are three nominees under 25, which is rather remarkable and immensely promising as we look to their futures in film.
There is a screen legend and fashion icon, a woman who swung as wildly as the 1960s allowed, who has never won an Oscar.
There is a woman who betters herself constantly and might win her third.
They've all been superb, and I urge you to watch all their movies.
As always, my handicapping of the odds is clouded by bias and I couldn't help placing my favourite on top. Number Two, however, is decidedly poised to upset that cart.
Here, in my ascending order of odds, are this year's Best Actress nominees:
Jennifer Lawrence, Joy
At 25, the immensely talented Lawrence is already an Academy Award favourite, with three nominations in previous years for her work in Winter's Bone, Silver Linings Playbook and American Hustle.
She won the Best Actress prize, surprisingly enough, for a solid but un-spectacular turn in Silver Linings Playbook, and the Academy remains smitten with the outspoken actress -- with a particular talent for memorable podium appearances -- who may one day reach Streep stats at the Oscars. (Did I mention she's just 25?)
However, despite Joy being an inspirational, uplifting telling of a true story, told by her favourite director David O Russell, Lawrence has the worst odds of winning this year because it is the kind of performance that doesn't seem impressive coming from her.
It's consistent and believable but it doesn't soar like we now -- unfairly -- expect her to.
Charlotte Rampling, 45 Years
The 70-year-old Rampling has given a breathtaking performance in 45 Years, a performance that has won her Best Actress awards at the Berlin Film Festival and the European Film Awards, and it would certainly be fantastic to see the veteran pick up an Oscar after a long and luminous career. It is the kind of story the Academy seems to love, too.
Unfortunately, Rampling's befuddling response to the #OscarsSoWhite controversy is likely to cost her many a vote as she dismissed any claims of racism and called the controversy 'racist against white people.'
Um. Okay then.
It's a pity because hers is a beautiful, brittle performance, one for the ages.
Saoirse Ronan, Brooklyn
Distinctively named Irish actress Saoirse Ronan, at 21, was nominated for Best Supporting Actress for her stunning work in Joe Wright's Atonement -- a nomination that came when she was 13 years old.
The actress has grown tremendously since, essaying memorable characters in films as far-flung as Hanna and The Grand Budapest Hotel.
In Brooklyn, John Crowley's wonderful adaptation of Colm Toibin's novel, Ronan plays an Irish woman torn between two countries and two romances.
It is a lovely, lyrical period drama but remains sadly under-viewed and the lack of hype will certainly hurt Ronan's chances.
Brie Larson, Room
Will it be Brie? It sure could.
Larson is a prodigious talent we first saw shine in Short Term 12, Destin Daniel Cretton's irresistible 2013 film -- but who we first fell for when she played Envy Adams in Scott Pilgrim Versus The World.
A versatile and prolific performer who pops up in films like Trainwreck and Don Jon, Larson is the kind of actress who stands out amid any ensemble.
Lenny Abrahamson's remarkable Room removes any such need to stand out as it remains almost entirely the story of one mother and one son.
Larson plays an imprisoned mother trying to warp her son's worldview while making him a survivor, and it is a difficult, gruelling role that may very well give this young actress her first Oscar.
There's only one problem.
Cate Blanchett, Carol
All hail Goddess Cate. Can Cate Blanchett do everything?
Of course she can.
The Australian actress is a bonafide super heroine, frequently bounding over expectations to deliver in a way only she can, conquering our imaginations over and over.
At 46, she's already won two immensely well-deserved Oscars for her work in Martin Scorsese's The Aviator, where she played Katharine Hepburn, and Woody Allen's A Streetcar Named Desire update, Blue Jasmine, where she was devastatingly good.
Blanchett turns the wick up just as brightly in Todd Haynes' marvellous new film Carol, where she plays an enigmatic, disturbed, desperate lover who, well, wants what she wants.
It is a role that demands she be unattainable and perfect but then also be broken and bewildered and hungry for love.
Along with also-nominated co-star Rooney Mara, this is a sensational performance and I will, without doubt, be rooting for Blanchett at this year's awards.
Just that last look she gives the camera -- a look holding mystery and promise and satisfaction and dreams -- is worth every prize.
Amazing.