'People ask me when I will do a film that will see me as a serious actress. But to me, this is as serious as doing something else.'
Serious talk with Sunny Leone.
Sunny Leone loves being in a harness and is craving to work in an action film!
But for now, she's busy with her favourite genre: comedy.
The girl of the moment, especially after her controversial interview on The Hot Seat, Sunny isn't worried about what people might say or think about her new film Mastizaade. She claims the film is a walk in the park, compared to Hollywood films like American Pie and Meet The Millers.
Sunny chats with Jahnavi Patel/Rediff.com.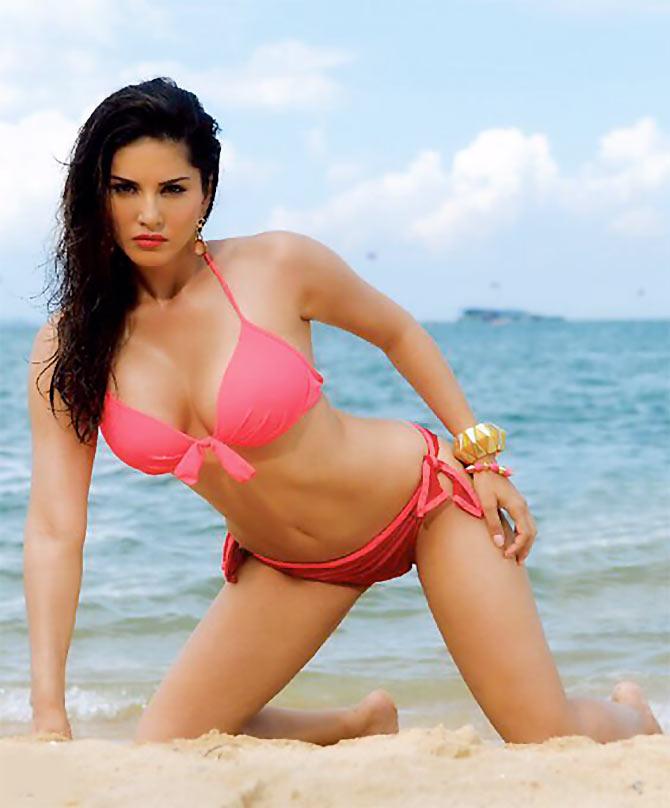 Image: Sunny Leone in Mastizaade
How has your Mastizaade experience been?
It is one of the most fun movies I've ever shot because it's a comedy. When you're doing comedy, there are no serious days. It's all about having fun and joking all day long.
Why did you take up this project?
When Rangita (Nandy, producer) and Milap (Zaveri, director) met my husband Daniel, they gave him a few scenes and narrated the story a bit. Daniel called me and said I *had* to hear the story. It was the first time that Daniel was so excited about a story!
Milap told me the first half of the movie and I thought it was so funny. When I do such movies, I don't think log kya sochenge (what people will think?). These things do not even cross my mind because I have grown up watching movies like American Pie and Meet The Millers. This movie is a walk in the park compared to those.
After Ragini MMS 2, I thought it would be nice to be in a comedy.
Is the second half of the film just as interesting as the first?
The second half is more for the women than the guys.
When you see Meet The Fockers or Wedding Crashers, they have the family games -- the mother is crazy, the father is crazy, the brother and sister are crazy and that's what makes it fun to watch. So I, as somebody who is watching the movie, liked all the characters they had created.
The first half is so funny, it's outrageous! The situations that the boys go through are hilarious.
But in the second half, you meet the family and it's even crazier but in a different way.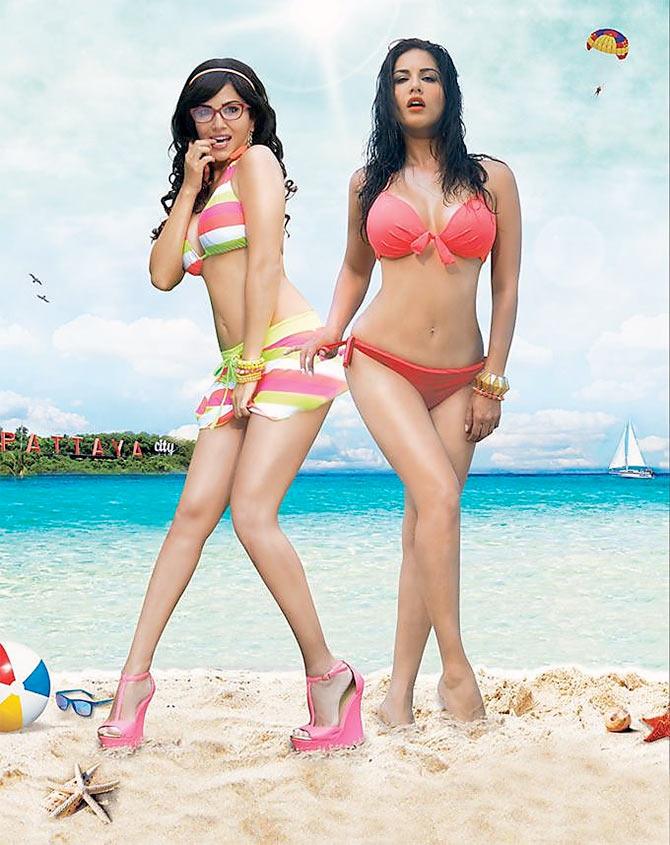 Image: Sunny Leone in Mastizaade
You have a double role in the film. Which character do you like moreL Lily or Laila?
Lily. She's closer to my personality than Laila is.
Laila has been created for the world and that's how people see me.
When Milap was telling me the story, I liked Lily more than Laila and that's when he came up with the idea of a double role.
It worked for me because now, people would get to see what they want to see and they would also get to see this other person, who is sort of me. Both the characters are opposite to each other, and it will be interesting to see which character the audience would like more.
How difficult was it transforming from Lily to Laila?
Lily is goofy, crazy and funny. She makes faces and she is completely the opposite of her sister Laila, who is always sexy and provocative.
I found it more difficult to become Laila.
Rangita and Milap would tell me all the time, 'Okay, Sunny, now you are Laila. Remember sexy.'
I always had this switch in my head.
Your craziest moment in the film?
I can tell you my favourite scene because everybody has seen the 'crazy' in the trailer and songs.
My favorite moment is when Laila has this nightmare and when she wakes up, she tells her sister, 'Ab mujhe woh karna hoga jo maine kabhi kiya nahi'.
The next morning you see her covered from head to toe in sari, performing a puja. And they have remade Baby Doll with Main Laila hoon. It's the same tune but with different words.
It's one of my favourite scenes and you don't see it in the trailer or any of the songs. I am dying for people to see that.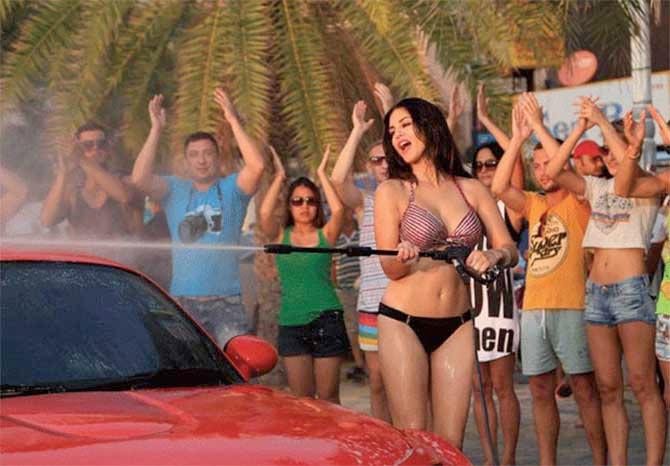 Image: Sunny Leone in Mastizaade
Milap said that shooting the climax scene was most difficult. Was it difficult for you too?
The scene has two Sunnys, so we had to shoot it, and then freeze. Everybody had to wait because I had to go and change into the other character. And that took a lot of time.
That happened during the songs too. For instance, in the Rom rom romantic song, I had to walk out of the pool while doing the steps, and then everyone had to wait while I changed into the other character.
So every time the scene had two Sunnys, the whole set would stop moving and the camera would stay still. I would go, change and come back again. Also, the outfits were very elaborate.
Because of Rangita and Milap, changing from one character to the other wasn't taxing on me. I love the idea of becoming something totally different. The fun part about making movies is that I can somebody else; I can be a fictional character who comes to life. Milap and the entire team made sure that if I was Laila in the morning, we would finish the Laila scenes then, and later do the Lily scenes.
So I did not have to go back and forth too much.
Would you like to be a part of any biopic?
I haven't been offered, you know, to be somebody. These stories of girls who come in the industry and what happens to them, that's not interesting to me at all; but I get such scripts all the time.
You come from nothing, then you become an actress, then you become larger-than-life and then you fall and then you commit suicide. It's the same story over and over again.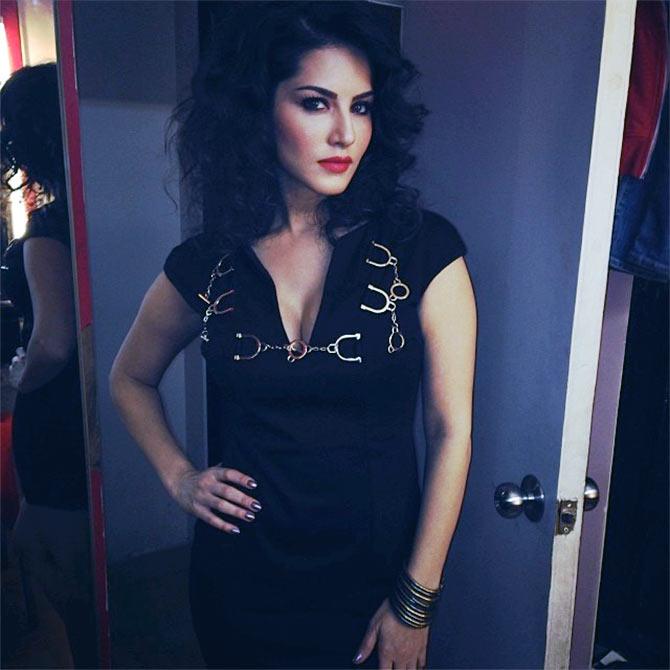 Photograph: Sunny Leone/Instagram
Do you fear being typecast?
If I'm going to be typecast, there's nothing I can do about it. So I'm okay with that. It doesn't bother me.
My job is to do the movies that I like.
My next two films are not in the same zone as this one. People ask me when I will do a film that will see me as a serious actress.
But to me, this is as serious as doing something else.
Would you like to do an action or a thriller movie?
Of course, I love action!
Anybody who has worked with me knows I love being in a harness. I love jumping around. I get hurt; I am very clumsy, but as long as something is not broken, I keep moving. So yes, if I get a chance to do an action or a thriller, I'd love to do it.
I love movies in general. I like lots of kinds of movies but my favourite genre is comedy.
Will we see you direct a movie in the future?
I don't think so. I think to be a good director, you have to do so many things.
I would rather be a producer than a director.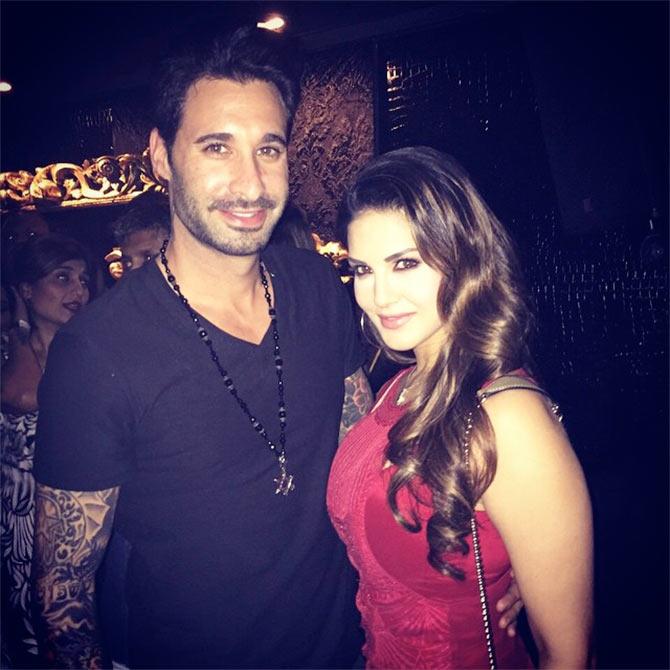 Photograph: Sunny Leone/Instagram
There were reports that you would like to play a mother in a film.
Sure, why not? I'm actually playing a mother in one of the movies that I am making.
I love children but I don't think I'll be getting pregnant anytime soon. There's so much going on now, it would be wise not to get pregnant.
What is happening with your films, Tina and Lolo and One Night Stand?
I am not sure about Tina and Lolo because Karishma (Tanna) is really busy and so am I.
One Night Stand will probably release next.