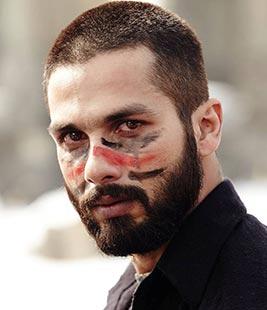 'Before I started Haider, I read a little bit of Hamlet. I saw a Russian version of Hamlet and, honestly, I got bored halfway through.'
But Shahid claims his latest film is the best movie of his career yet.
Shahid Kapoor plays Hamlet in Vishal Bhardwaj's forthcoming film Haider, based on the Shakespeare play.
Shahid tells Patcy N that his career is taking a beautiful turn, and why Haider is the most challenging best film of his career.
You are in a happy space in your career right now…
Yes, I am in a happy space generally.
I am happy with what happened with my last film (R Rajkumar ).
I am very proud that we made a film like Haider. Now, I am having fun on Shandaar.
Are you happy with the roles you are offered?
I never imagined I would get a role in a film like Haider.
The exciting thing about being an actor is that filmmakers surprise you by how differently they see you.
I never thought I would get an opportunity to go bald, hold a skull in my hand and say, 'To be or not to be'. Or shoot an entire film in Kashmir, or get to work with actors like Irrfan, Tabu, and Kay Kay.
Different filmmakers want to mould you in different ways and that's what makes it like an adventure, you don't know what is coming next.
Now when I sign a film I go with a completely clean slate. There was a time when I would think what I would do in my role; now I go without any thought because I feel that is the journey of a filmmaker and you have to do it along with the filmmaker.
Once my filmmaker starts downloading information on me, that's when I start the process of understanding what I should do with the information.
What was it like working in Haider?
It is liberating to shave your head to do your work. As an actor, it is always about how you look; you have to look attractive and let go of all your inhibitions and think that this is what my role needs me to do and this is what I am going to do.
Going from a genre of film like R... Rajkumar to a genre like Haider, and from a filmmaker like Prabhu Dheva to a filmmaker like Vishal Bhardwaj definitely makes you understand that you have gone from one (end of the) spectrum to another end.
It is tiring and scary but it is very liberating. I am up for anything now.
Why do you think R... Rajkumar worked? Some of your films like Mausam did not do well at the box office.
I think if there had been a more established action hero in R... Rajkumar, the film would have made even more money.
It was a new genre for me that I had never attempted before. First time you do something, nobody is sure (how you will perform), especially when you change from being a romantic hero to an action hero.
Producers are worried about whether the actor will work. The next time, people have decided whether they like you or not. So if I do another film like R... Rajkumar now, it will do well. R... Rajkumar opened a new avenue for me.
Kaminey was a non-commercial film and it made the most money of any film in my career.
I have been working for 11 years in the industry and today I feel comfortable jumping genres.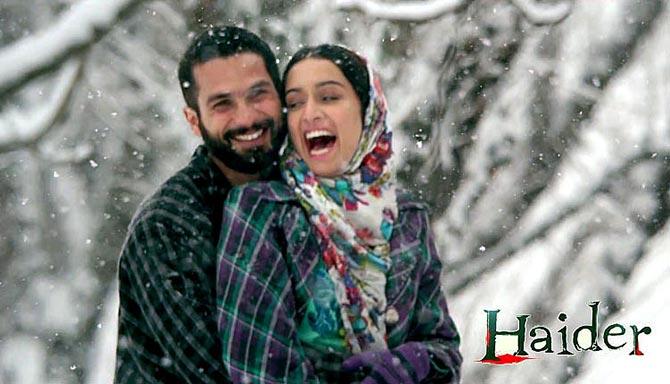 Image: Shahid Kapoor and Shraddha Kapoor in Haider
What is the novelty in adapting a novel when everybody knows the story?
Reading a book and seeing a movie are two different experiences. Even with the remake of a film, you are seeing a new version of something that was made in the past. Many film stories are similar yet people watch them.
Haider is an adaption. I know what Hamlet is all about -- Google it and you get to know the basic structure. Yet when I heard the script, I wanted to know what happens next -- it kept surprising me and I did not know where the film was going.
The promo of the film shows that it is a different version of Hamlet. If you were to truly make a film on what was written in the original by Shakespeare, I don't know if the Indian audience will connect with it.
When I heard the script, it felt very fresh to me. Vishal Bhardwaj has based the film in Kashmir. That changes a lot of the dynamics and gives it a completely new subtext.
Bang Bang and Haider are releasing on the same day. Did you think of changing dates?
We knew from the beginning that Bang Bang was releasing on the same day. I hope Bang Bang does really well. I like Hrithik's work and it's looking really good.
But I am very confident about my film. What Haider is offering the audience, Bang Bang can't offer, and vice versa.
Also, it's a five-day weekend, which happens very rarely. Even a three-day weekend is enough to handle two big films.
Haider has been made on a strict budget, so for us to recover the money won't take much time.
Would you call this the most challenging role of your career?
This is the most challenging role of my career.
I thought Kaminey was more challenging because of the double role and speech defect. But this eventually turned out to be far more challenging.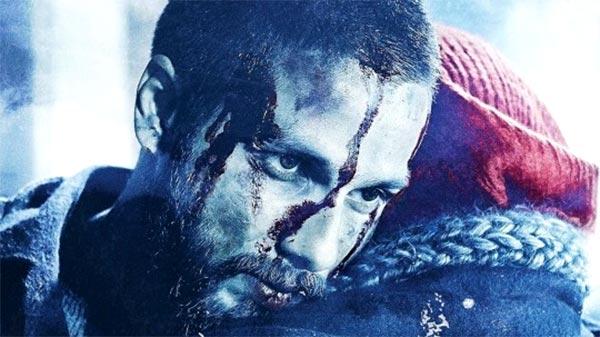 Shahid Kapoor in Haider
Tabu says you carry the film on your shoulders…
Tabu has an outstanding role in the film. She is underplaying it. She has a killer role in this film, so don't take what she says seriously.
Were you nervous working with actors of the calibre of Tabu, Irrfan Khan and Kay Kay Menon?
You are always nervous before you start. But if you really love what you are doing and are involved with what you are doing, that takes over everything.
You are busy trying to achieve what you want to and that becomes much more important.
Of course, I was nervous. But on the third day, I was enjoying and loving it and feeling that I am fortunate that I am getting to perform with these people.
How emotionally taxing was it working on this film?
It was taxing. It is the kind of role that drains you. It requires you to be in a certain space. It is not a sad role but there is lot of intensity.
You always feel tired after you have finished something. When you are in it, it's like a crisis situation and you can't afford to let anything go wrong. But after I finish a schedule, I don't get out of bed for 18 hours.
We shot in very cold conditions. We had a gruelling schedule. We finished the film in 54 days. It should have taken 75 to 80 days but we finished it fast.
Vishal Bhardwaj has always given you good roles. What does he see in you that others don't?
It's not just me; whoever he has worked with has done well, whether in Maqbool or Omkara or Kaminey.
He is also a director who gives women protagonists an opportunity to perform -- Tabu in Maqbool, Konkona Sen Sharma and Kareena Kapoor in Omkara, or Priyanka Chopra in Kaminey who had seven scenes but she bagged all the awards.
Even in this film, Shraddha Kapoor and Tabu are amazing characters, and they don't just have to dance around.
Which Shakespeare play do you like best?
I haven't read all Shakespeare's plays. Before I started Haider, I read a little bit of Hamlet. I saw a Russian version of Hamlet and, honestly, I got bored halfway through.
Shakespeare is timeless because he speaks about human relationships and the dynamics for those relationships are relevant even today.
So even if you adapt or modify it, the basic core of his story and characters and emotions are relevant. His plays are about love, hate, jealousy -- basic emotions we all feel.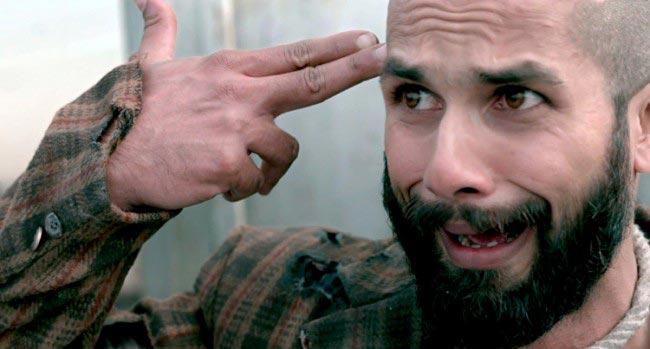 Shahid Kapoor in Haider
There is so much madness and weirdness in the character you portray… what did you do to get into the character?
Weirdness? What's weird? Everybody looks like this (laughs)
Weirdness comes naturally to me (laughs)
We did not have workshops but we had a couple of readings and we went to Kashmir a few days earlier to interact with people and to settle into that atmosphere and to feel where you are and what you are representing.
Kashmir has experienced terrible floods recently. Do you have anything to say about that?
Shahrukh Gilani, a local Kashmiri who was an assistant on Haider, sent me some pictures clicked from a chopper about what is happening in Kashmir. We had shot in all those places.
A very close friend of mine was in Kashmir when this happened and he was stuck for three days until the army rescued him.
What the army is doing out there is amazing. They are trying to help the tourists and locals. I think a great relationship-building exercise is happening between the locals and the Army.
It is sad what has happened and all of us should contribute in some way.
You have not got any awards so far. Do you think Haider will get you the National award?
It is weird -- four or five people have asked me this question. Don't raise my hopes please.
I don't think about that. May be in the first four or five years of my career I would dream about it.
I have to get better with every film that I do.
It could be the best film of my career.