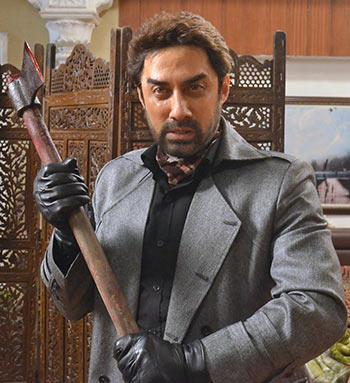 'Everyone in my family has got huge success in films but I failed. The person who hits rock bottom has to face his difficulties himself. People at a higher level don't know what's happening down there.'
Aamir Khan's brother Faissal tells us where he's been all this time.
Just when you thought Aamir Khan's brother Faissal had slid off the map, he made an acting comeback with Chinar Daastaan-E-Ishq, a few weeks ago. The film was not promoted well, and barely saw a decent release.
But acting for Faissal is just a way to spend his time.
Living alone in his father's house in Mumbai's posh suburb Bandra, the 49-year-old actor stays just a 15-minute walk away from Aamir.
In the picture: Faissal Khan in Chinar Daastaan-E-Ishq
He's a late riser, he admits, and drinks tea nonstop as he meets people at his home. A table full of chips, biscuits, samosas and water bottle is arranged for his guests.
Faissal is very secretive about his life, and wants to keep the mystery around him alive.
But he did open up to Patcy N/ Rediff.com:
What have you been doing all these years?

After my films Madhosh and Mela flopped at the box office, my market value went down. I wasn't getting the roles I wanted. I did some smaller films but they weren't released properly.
Basti and Kabu managed to make profits but no one talked about them and I did not gain any mileage out of them.

I did a television serial called Aandhi.
But I wasn't happy with the kind of work coming my way, so I stopped acting.
Then my life went through turmoil and I had to deal with some family problems.
After that phase, I joined Aamir Khan Productions as a script doctor in 2008.
What is a script doctor?
If any writer wants to sell a script to Aamir, he has to narrate it to me first. I evaluate it and decide whether it's good enough to be taken up by our production house.
Aamir calls me when he sits with the bigger directors for narrations. He takes my inputs.
Whatever experience I've gained so far in the film world, as well as my nine years of experience in theatre, has come in use now.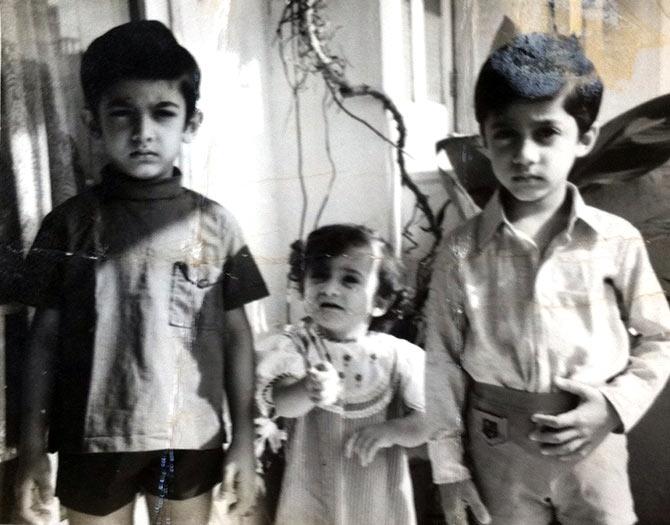 Image: Faissal with his siblings, Aamir (left) and Farhat
Did you ever told Aamir not to do a film but he's done it anyway?
Yes. I told him not to do Talaash because I felt his character was not moving the story ahead. I thought his character was not meaty enough.
I told him to take up Dhoom 3. (Producer) Aditya Chopra asked me what I thought about the film after the narration, and I said 'Superhit' right then.
Since Aamir asks for your suggestions during his script-readings, have you asked him for suggestions for your films?
I do not ask my parents, uncle or Aamir when I was doing films. Everyone in my family has got huge success in films but I failed. The person who hits rock bottom has to face his difficulties himself. People at a higher level don't know what's happening down there. They would never even suggest the small films to me.
But for me, even if it is a small film, if the script is good, I want to do it.

Why didn't you think of direction?
I have learnt direction and will do it later in my life.
The industry works in a certain way. If you decide to direct a film, they will not offer you acting roles. Or they'd pass some comments like, now he is going to teach us.

I don't mind doing negative or character roles, as soon as they are good.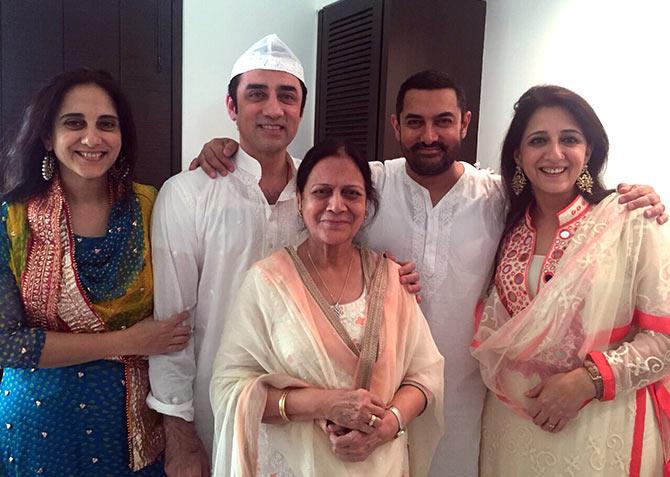 Image: Farhat, Faissal, Aamir, Nikhat with their mother Zeenat Khan.
You grew up in a film family. What were your early years like?
Actors would come home often. We would have parties at home. Whenever he was producing a film, my father would invite the team home for dinner. I remember Rishi Kapoor, Jeetendra and Aruna Irani coming home. They wouldn't eat much. Rishi Kapoor was very young then and maintained himself well. My grandmother had made elaborate Mughlai dishes and was disappointed because they didn't eat much. Later when we became actors, we realised why that happens.
There would be music sittings.
My father worked with RD Burman until Anamika. He gave Bappi Lahiri his first break in films with Zakhmi.
We've seen those days when he would come home with his tabla, harmonium and his team and he would play.
There would be story discussions at home. Writers would come home and my father made us a part of the sessions. We learnt how our father selected film scripts. Whenever my uncle Nasir Hussain used to narrate scripts, he would explain them to us. He entered films as a writer, and then became a director-producer.
How was your relationship with Aamir as children?
We were very friendly; we would fly kites and play marbles together. He was very boring and protective. I was very naughty.
My mother would drink a lot of tea and I learnt making tea from her. Slowly, I started drinking tea too. I would drink tea the whole night and study.
When Aamir took up acting, we were worried about his dance. Aamir would never go pubbing with our younger sister Farhat and me. He and our older sister Nikhat were not interested in dancing.
Today, he has picked up dancing so well. His tap dance in Dhoom 3 was very good.
How was Aamir Khan as a student?
He was very intelligent.
I was weak in French, so Aamir started teaching me. I passed because of him.
But in return, he would boss over me, and ask me to make tea and run errands. He's very lazy. He can sleep the whole day if he's not working.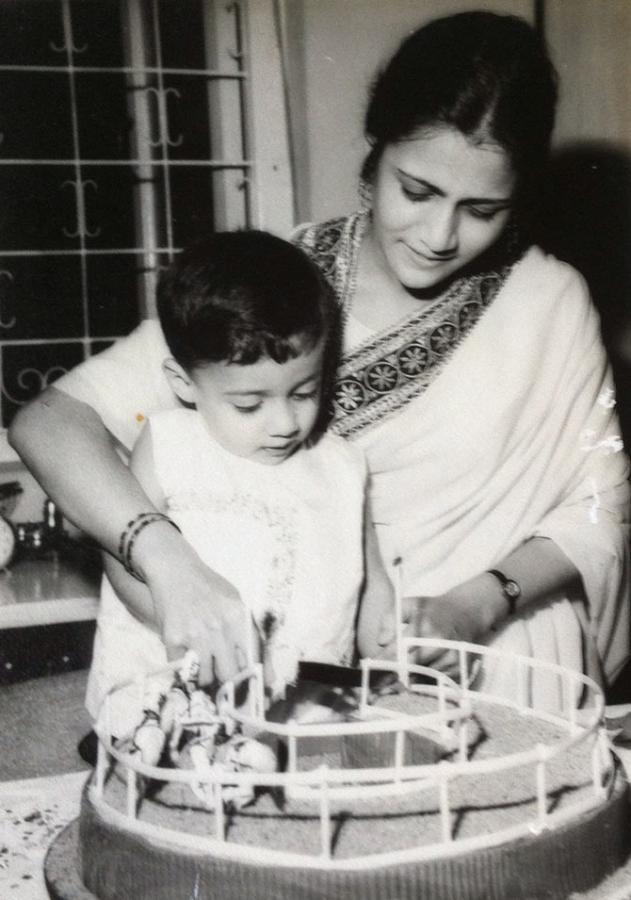 Image: Faissal Khan celebrates his birthday with mom Zeenat
You started off very young in films.

Yes, I was one and a half when I played Shashi Kapoor's younger part in Nasir Hussain's Pyar Ka Mausam. Aamir was supposed to play that part and was taken to Panvel for the shooting. He was three years old then. But he was not giving the shot and the shooting was getting stuck.
So they sent a car for me to pick me up. I gave the shot very fast and became a star (laughs) and started asking for chocolate. I don't remember that time but when I watch the film, I wonder how I did it.
When did you start acting as an adult?
I was the assistant director in Qayamat Se A Qayamat Tak, and was required to play a small part.
It was a home banner, where Aamir acted, Mansoor Khan directed and my uncle Nasir Hussain produced it.

What was that shooting like?
Aamir always had a passion for films and it showed in his work right from the beginning. He left his studies and joined my uncle as an assistant director in Manzil Manzil and Zabardast.

He was clear that he wanted to direct and act.
I wanted to a career in hotel management and that's why my journey is different. I completed my graduation.

But I could not give my hotel management entrance exams.
In fact, while I was still in college, Aamir asked me what my future plans were. When I told him about hotel management, he suggested that I give our family business a chance.
He told me, 'We will help you out here, since we have experience in all departments of this field. You can be the editor, cameraman, make-up man, photographer...'
I found that logical, and became an assistant director.
But my mindset was not of an actor. I got interested later, and joined theatre.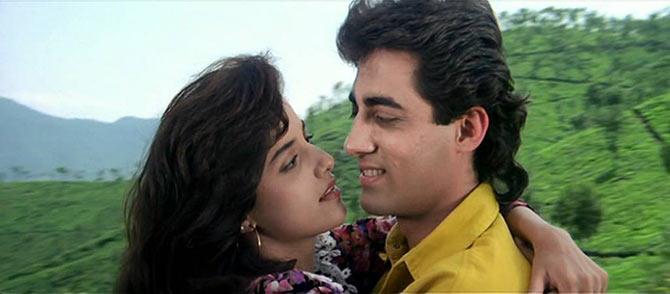 Image: Anjali Jattar and Faissal khan in Madhosh
Your first film Madhosh released five years after Qayamat Se Qayamat Tak.
Actually, seven years. The shooting of Qayamat se Qayamat Tak started in 1987 and it released the year later. My first film released in 1994.
In between, I assisted Mansoor Khan in Joh Jeeta Woh Sikandar, and then did a year-long acting course with Roshan Taneja.
Then, I assisted my father in Tum Mere Ho.

After that I decided to move to acting. It was a conscious decision to maintain a time gap (with Aamir's launch) because I wanted his career to be set first.

Madhosh was produced by my father and directed by Vikram Bhatt. It flopped at the box office. It was a bad film and I was a bad actor. I realised that.
So I did theatre with Makarand Deshpande and started re-learning my craft.

After four years of theatre, Mela came along. But that flopped as well. My acting career wasn't going anywhere, so I stopped acting.
Then, I went through that 'mental phase'. There were rumours about me being a 'mental person'.
What happened exactly?
Our family went through a tough time. There were some misunderstandings.
I don't want to say who was wrong and who was right because it doesn't matter now. It's in the past.
Were you staying with your parents then?
I had shifted to this house in 2000. My parents live in the next building.
You left home and were missing for two days at the time.

I don't remember the exact number of days. They said I was 'mental' and then the court case happened.
There was a custody battle for you between your father and Aamir.
But I did not want anyone. I was fine on my own and that's what the court said ultimately.
I was tested in a government hospital for 20 days. I stayed in JJ Hospital's mental department, and they conducted some tests on me. I got a clean chit.
My father was on my side and the rest of the family -- my mother, my sisters, Aamir and my cousins -- was on the other side.
I won the case but people still think I am mad.
When did things get resolved?
After I was given a clean chit, I did not return to this house because this is a family home. I chose to stay outside.
In 2008, I rented a flat in Tilak Nagar (Chembur, eastern suburb of Mumbai). After eight months, I shifted to another rented house, this time in Bandra.
I started writing scripts and looking for work as a director, as I realised my acting career was over.
Then, one year and eight months later, the family patched up.
I had calmed down and met Aamir. I told him to put everything behind us.
He was happy and accepted me. He immediately asked me to join his company as a script doctor. He pays me well.
After six months, I returned to this house.
If you had written scripts, why didn't you give them to Aamir Khan's production house?
I have to make it on my strength.
Someday, I will do it.
Right now I am not interested in directing; I'm interested in acting.
Why haven't you acted in Aamir's films?
I want to do it my own.
Besides, he can also tell me that he wants to cast me.
When Mela flopped, I was doing the rounds at producers' offices, looking for work but no one gave me.
Now, I will do whatever is in my destiny.
What made you sign a film like Chinnar after almost 10 years?

The story was very good. It is adapted from a novel called Jeel Jalti Hain, written by Farooq Ranjusha. When I heard the script, I was very excited to play the character, Jamal.
He's a poor lover boy, whose world changes and he becomes a rich powerful guy, and he starts dealing with people differently. He is a hero with grey shades.
Did Aamir watch your film?
Not yet because I was not very satisfied with the way it was turning out. If I can find some flaws, Aamir will find many.

You were rumoured to be a part of Bigg Boss.
Not this season. It was a while ago.
I was living in rented accommodation and needed money, so I said okay to Bigg Boss.
They gave me a signing amount but later backed out. I got to keep my signing amount.
Whatever happened was good. Who wants to get stuck in that (Bigg Boss) house and get tortured?

Are you married?
I tried marriage in 2002 but got divorced in six months. It was a love marriage. Her name was Samiya Kamruddin and she was from London.
Are you friendly with any actor?
I know them but they are not friends.
I know Salman Khan well. I respect him lot as an actor. He is a golden-hearted human being. I meet him on and off. I send him messages on Eid and wish him for his films, and he replies.
I meet Saif Ali Khan, Kareena Kapoor, Shahid Kapoor and Sohail Khan in the gym; we go to the same gym.