'Ranveer Singh likes to take off his pants in public.'
Parineeti Chopra spills the beans on her co-star.
Parineeti Chopra is known to speak her mind.
But recently, it all went wrong when she accused Bigg Boss 8 housemate Ali Quli Mirza of sexually teasing her when she went on the show to promote her film Kill Dil, along with co-stars Ranveer Singh and Ali Zafar.
It turned out to be a prank, and earned the rage of social media.
Parineeti justified her actions, claiming it was scripted.
She puts the incident behind her and prefers instead to talk about her new film.
Parineeti tells Sonil Dedhia how Ranveer is so unpredictable and working with Govinda.
You recently shot an episode for Satyamev Jayate. Tell us about it.
I can't give out the episode's topic. The reason (host) Aamir Khan called Kangna Ranaut, Deepika Padukone and me was because he wanted to discuss the relationship between a girl and a boy in the movies.
Aamir said he has acted in films where he kissed a girl in front of the entire college, or slapped a girl in public, but in the end, the girl still falls for the boy.
He wanted to discuss whether this happens in real life -- where a girl still loves the boy after he misbehaves.
He wanted an actor's point of view and that culminated in the topic of what does a girl look for in an ideal man.
So what is an ideal man for you?
I want a guy who can take care of me. He should be rock solid and someone I can depend on.
He shouldn't be someone who loves me just because of my looks.
He should accept me at my worst and even when I am sick and looking ugly or smelling bad.
Your last film Daawat-E-Ishq failed at the box office.
It's funny that people, who are above 30, liked the film because it was a very simple film with Indian roots. But youngsters couldn't connect to it.
I think because Aditya (Roy Kapur) and I were in the film, they expected a younger, cooler and happier film.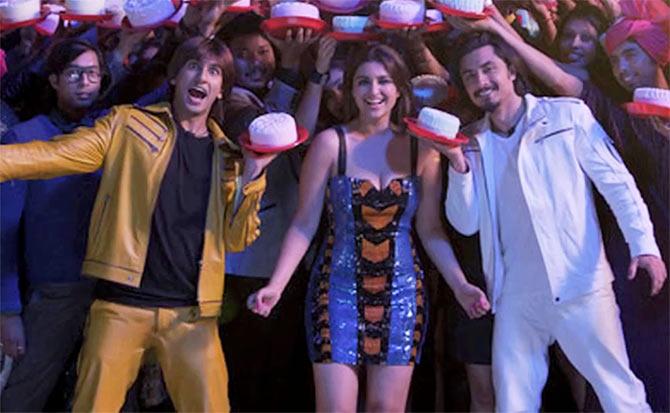 Image: Ranveer Singh, Parineeti Chopra and Ali Zafar in Kill Dil
Your contemporaries have done some path-breaking work, but you have stuck to the same kind of films.
I have done roles that are performance-oriented. Alia (Bhatt), Sonakshi (Sinha) and many others were doing all kind of films, and hence were waiting for that one performance-oriented character.
But I started my career with one such role (referring to Ishaqzaade). So I am not waiting for a career-defining film now.
I will always accept good films that require demanding performances.
Ranveer Singh said he is jealous that you got a proper song to dance to with Govinda...
I am happy that Ranveer is jealous! (laughs)
Let me tell you the entire story. A major portion of Govinda's part had already been shot before I started the film -- I was still shooting for Daawat-E-Ishq.
Govinda can act in his sleep. He is just amazing. When I started shooting, the crew pressurised me to match up with Govinda. Suddenly I had a lot of expectations from myself.
Govinda's dance is all about expressions and I learnt that from him. He came up to me and told me, 'Beta, tumne acha kiya hai (You have done well).'
I was relieved.
What was it like sharing screen space with Govinda?
I got to shoot with him only for one day but it was like once in a lifetime opportunity.
Since we are promoting the film, the entire cast meets every day so Ranveer, Ali (Zafar) and I get to spend time with him. Just to have food with him, or get into a conversation about his old films and listen to his stories is a surreal feeling.
I am a huge Govinda fan and the best part is that I get to hug him and kiss him every day and show my affection for him.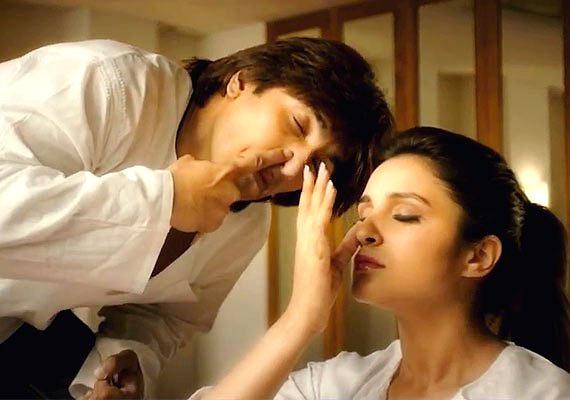 Image: Ranveer Singh and Parineeti Chopra in Kill Dil.
How do you think Ranveer has evolved?
I did my first film with him (Ladies vs Ricky Bahl), which was his second film. We were clueless about what to do on the sets.
There is a big change in him. He has matured in his acting. But as a person, he is still the same.
Do you like his bald look (Ranveer has shaved his head for his film Bajirao Mastani)?
I am used to him doing anything.
He can come without his pants and sit next to you. This happens so often.
I never enter his vanity van without his permission. He never wears clothes when he is in his vanity van. I guess he doesn't like to wear pants.
This has been happening since Band Baaja Baraat. I was doing the marketing of the film and many times, when I entered his room, he would be sitting wearing nothing.
He likes to take off his pants in public.
I remember during the shoot of Kill Dil, we were shooting a romantic, emotional scene. I was doing my make-up and suddenly he comes and stands next to me without his pants!
I shouted at him and said, 'I am in a zone to shoot this sequence so please help me.' After that, he wore his pants.
Ranveer is completely shameless.
You are a trained singer. Did you ever think of doing playback for yourself?
I am dying to sing! I have done a lot of live shows earlier.
I think I should do playback but somehow things are not falling into place. I hope it happens soon.
Have you never thought of coming out with a single like your cousin Priyanka Chopra?
Yes, many times. If you want to release your own single there cannot be a better launch than going to Los Angeles and collaborating with a renowned artist.
I haven't got any offers as of now, but I will surely do it in future.
Have you seen the trailer of Zid which stars your cousin Mannara in the lead?
Yes, I saw the teaser. I think she looks sexy. We grew up together and there is just two years difference between us.
Post Kill Dil you haven't taken up anything. Why?
I am doing a film which will be directed by Dinesh Vijan.
I have been getting offers, but the scripts are not exciting enough. So, there is no film in hand currently.
I don't want to do a film just for the sake of it. I will have to wait for my next film to release to see if anything interesting comes up.