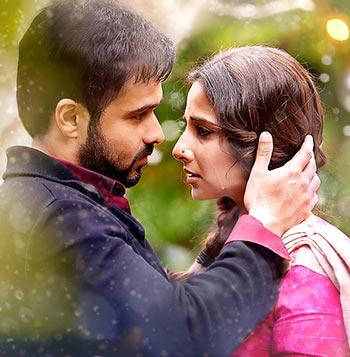 'The success of my last two films has been a game changer for me.'
'Earlier, no one noticed me or took me seriously as a director, so there wasn't much pressure on me. But now people are waiting to see me fail.'
Hamari Adhuri Kahani director Mohit Suri talks about finding success.
Mohit Suri goes over a new song teaser from his upcoming film Hamari Adhuri Kahani, and seems satisfied with it.
The 34-year-old director is busy with the promotions of his film, set to release on June 12, but takes time out to answer a few questions about it. And of course, show me a picture of his baby girl named Devi. "Isn't she cute?" he can't resist asking.
Hamari Adhuri Kahani, starring Emraan Hashmi, Vidya Balan and Rajkummar Rao, is loosely based on the life of Mahesh Bhatt's parents and his stepmother.
Sitting at the Vishesh Films office in suburban Mumbai, Suri talks to Sonil Dedhia/ Rediff.com about his new film, fatherhood, and his urge to work with Alia Bhatt.
Mahesh Bhatt wrote Woh Lamhe for you earlier. How did you convince him to write the story of Hamari Adhuri Kahani?
After Aashiqui 2 became a success, Bhattsaab gave me the choice of directing a sequel to Dil Hain Ke Maanta Nahin and Hamari Adhuri Kahani.
I chose the latter because of the depth of the script.
He had worked on the script for a year, and when he narrated the story to me, it moved me to tears.
It's such a simple romantic story yet so complicated. After hearing this story, I could not see myself doing a fluffy, journey romance. I wanted to make this meaningful, soul-stirring romance.
The story is inspired from Mahesh Bhatt's life…
(Interrupts) This isn't exactly Bhattsaab's story.
This has a inspiration from his life. It's a story about his father, mother and stepmother.
Essentially, the emotion that we felt against his stepmother was that she was the villain of their life. In the end, when his father passed away, everyone including Bhattsaab, requested to her to his stepmother.
The movie has got references from how Emraan's (Hashmi) grandmother was. So it has got references from a lot of people of our family.
Bhattsaab is really good at getting these personalised emotions out and I have realised that the more personal you get, the more universal that thought becomes.
Shah Rukh Khan is called the king of romance among actors and now you are called the king of romance among directors. Does that add any pressure on you?
Wow, that's really great! You just mentioned this and it has put me under a lot of pressure!
Earlier, no one noticed me or took me seriously as a director and so there wasn't much pressure on me. But now, people are waiting to see me fail. I know I will surely fail once and that will add to my experiences and make me learn new things about filmmaking.
To be honest, I wanted to make a romantic film after Murder 2. I was tired of making thrillers.
When Murder 2 released, I was only 30 and I had already directed eight films. I didn't know what was the way ahead. I remember getting up one day and telling myself that I want to make a romantic film with some really fantastic music.
I was convinced that I could do a good job, but people close to me weren't. I begged Bhattsaab to allow me to make Aashiqui 2.
At that time, I didn't have the liberty to work with big stars since my reputation of being an edgy filmmaker who was making thriller films preceded me. I cast actors who were fairly new to the industry (Aditya Roy Kapoor and Shraddha Kapoor) and the film worked.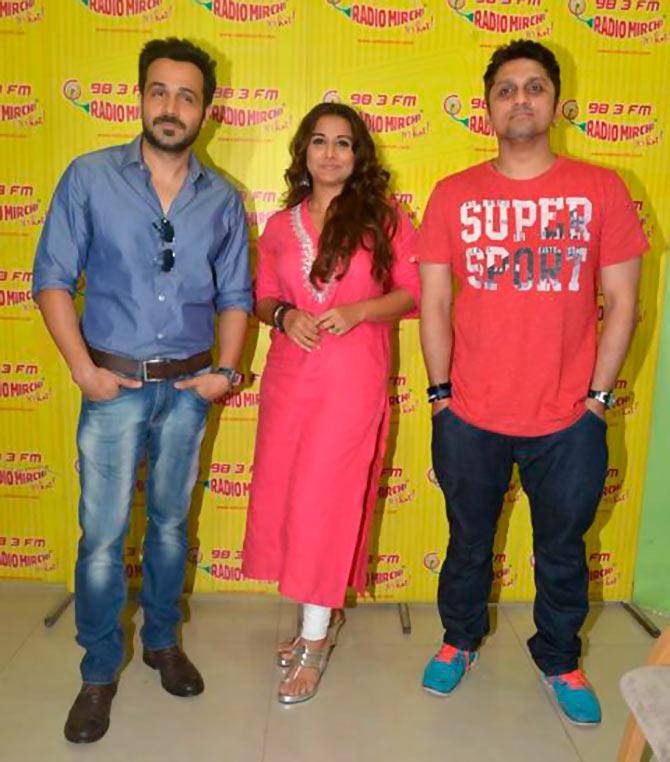 Image: Emraan Hashmi, Vidya Balan and Mohit Suri. Photograph: Pradeep Bandekar.
So you mean to say that the real filmmaker is coming out now?
I guess so. It took me a long time to arrive at this position.
I have always learnt from all the films that I have made. It was all about my growth but I was shy in embracing it. I always had sleeper hits. But after my last two films (Ek Villain and Aashiqui 2), the game has changed. There is pressure of delivering another hit.
The only thing that I am confident about is that if I make the same kind of film, I will fail.
How did you change as a director?
A lot of things changed after the success of Murder 2. I lost my father at the same time and it was a big setback.
Even though I wasn't very close to him, I realised a lot of things about myself once he passed away.
I remember when I started making Aashiqui 2, I told Bhattsaab that the success of this film will mean a lot to me life because then I would be sure that the audience has accepted me as a director. Thankfully, the film worked.
Your films are very distinct.
Kalyug, Awarapan, Woh Lamhe, Aashiqui 2 or Ek Villain have been well-liked. My other films have been appreciated as well.
Surprisingly, the audience never spoke about the porn industry when Kalyug released, or the guns and gangsters when Awarapan released. The human story and the emotional journey of the characters is what my audience has always been attracted to.
I really like to catch that raw nerve of my audience. A lot of directors put the skeletons in the closet, but I would rather expose them openly.
Even today, when I search for the best scene of Ek Villain, it is the one where Shraddha Kapoor's character draws a smiley on a car. This scene came to my mind when I was in the shower. Improvising is one of the few things that I have learnt over the years.
Vidya Balan and Emraan Hashmi's last film together (Ghanchakkar) did not work. Why did you cast them as the lead pair in this film?
My casting has always been questioned, and most of the time I have proved everyone wrong.
In Aashiqui 2, I was warned against working with new actors. Whenever I cast Emraan Hashmi, people say he is not hero material.
But I have never worked with stars. This is the first time I am working with actors who know their job.
In my last film (Ek Villain), I cast Riteish (Deshmukh), who is known for his comedy, in a negative lead, and Siddharth Malhotra, who has a chocolate boy image, in an intense role.
I worked with Kangana Ranaut in Woh Lamhe when she wasn't a big star, and with Emraan Hashmi, who got established as a solo lead with Murder 2.
So I have always experimented but at the same time, I am supremely confident about my casting.
Image: Emraan Hashmi and Vidya Balan in Hamari Adhuri Kahani
Have you learnt to be experimental from Mahesh Bhatt?
Yes, I think so. My education about films has all been through Vishesh Films, so certain qualities have surely rubbed off on me.
There is a lot of importance given to the music of your films.
Where would I be if I didn't have music in my films?
The stars of my films have never been the actors. The music directors and singers have been the stars of my films.
People always ask me how I come up with these fantastic songs. The fact is we don't have the liberty of coming out with bad songs.
The only reason we stood a chance when we made a film (referring to Aashiqui 2) with relatively new actors, was that the songs of the film were so good that it could compete with any Shah Rukh Khan song.
The music became like a survival mechanism for me.
Have tried to tackle the subject of domestic abuse in Hamari Adhuri Kahani?
There is a hint of domestic abuse in the film but we haven't portrayed anything in a negative way.
Domestic abuse is a mindset, which is totally wrong. There is a myth that domestic abuse can happen only between a husband and wife. It can also happen between a father and a son.
More than asking women to fight for their rights, we need to educate the boys in our society that you cannot just become a boss when you grow up.
Today, my wife (Udita Goswami) can work in the industry, but I cannot take care of the house and my daughter in the way she does.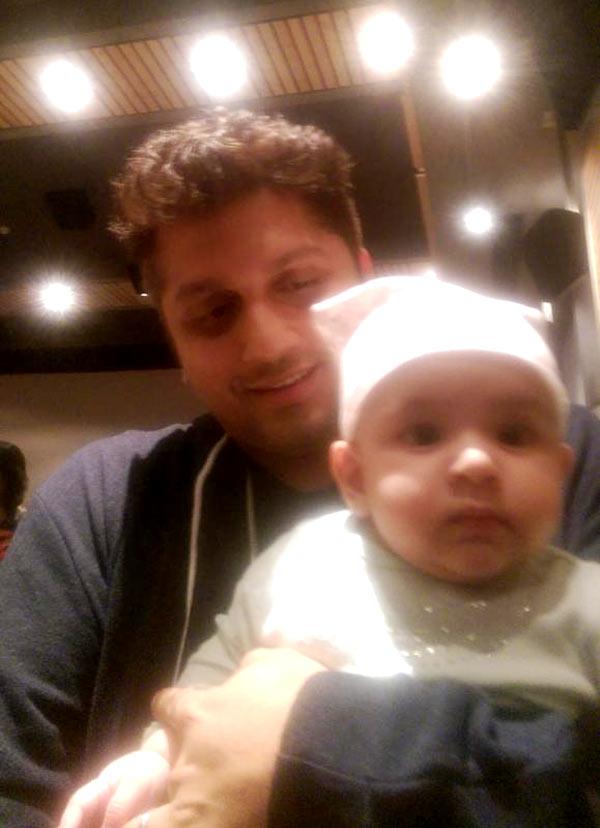 Image: Mohit Suri with his daughter Devi. Photograph: Mahesh Bhatt/Twitter
How are you coping with fatherhood?
I have to remind myself everyday that I have become a father.
Suddenly, I have realised that my one-time girlfriend has become a confident mother. It's really amazing how she has done that.
Are you good at daddy duties?
I do it but I think I will still take time to get comfortable at it.
Woh Lamhe was one of the films that showed Kangana Ranaut's talent as an actress. How do you look at her success?
I have always maintained that Kangana is one of the best actors I've worked with. I am not surprised at her success. She was always a great actor who never got stardom. Today, she is an amazing actor with stardom.
Any plans to work with Alia Bhatt?
I'd love to work with her but there is a huge pressure to direct her as she is such a fabulous actress.
Whenever I see her films, I ask myself what I can bring to her that is good enough for an actor of her calibre. She needs to be inspired to work with me. She is truly the first superstar of our family.