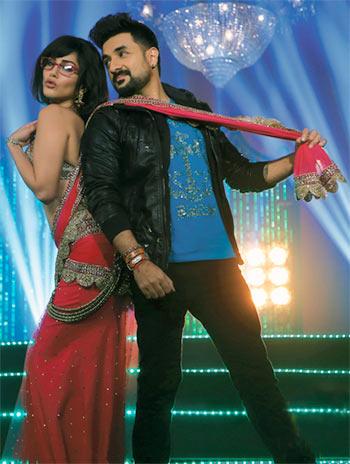 'Mastizaade is a very unrealistic film -- there are talking horses, flying wheelchairs and a lot of stupidity. So when you're doing that, you let go, let all inhibitions go.'
Vir Das prepares us for his latest film.
For Vir Das, films is his third career. It's what he does besides being a stand-up comedian and a musician.
And he says he takes up movies only if they're challenging enough.
Adult comedy Mastizaade, starring Sunny Leone in a double role, fit the bill.
Or was it his naked run on Mumbai's Worli sea face?
Vir Das tells Jahnavi Patel/ Rediff.com what really made him sign up for Mastizaade.
What made you sign up for Mastizaade?
Rangita (Nandy, producer) told me that she was coming over for lunch, and bringing Milap (Zaveri, director) with her.
Milap narrated the film to me.
Post Delhi Belly, I had been getting offers for adult comedies and I always said that I would wait for the right moment.
This film felt just right, because everybody seemed to be at the top of their game. PNC (Pritish Nandy Communications) make slick, polished and good looking films, Sunny is the prettiest heroine you could get, Milap knows how to write and direct this genre... so I thought it was the right time to do it.
This is probably the boldest film you have done till date. Were you apprehensive at any point?
Mastizaade is an outrageous, fun film. Nothing in this film is realistic.
But if you look at my earlier film Revolver Rani, that had a very real violence and abuse. That was much bolder than Mastizaade because that had a space in reality, not fiction.
No, I don't think I was ever apprehensive. I am a stand-up comedian and tell bold jokes for a living. So this was just doing that in Hindi.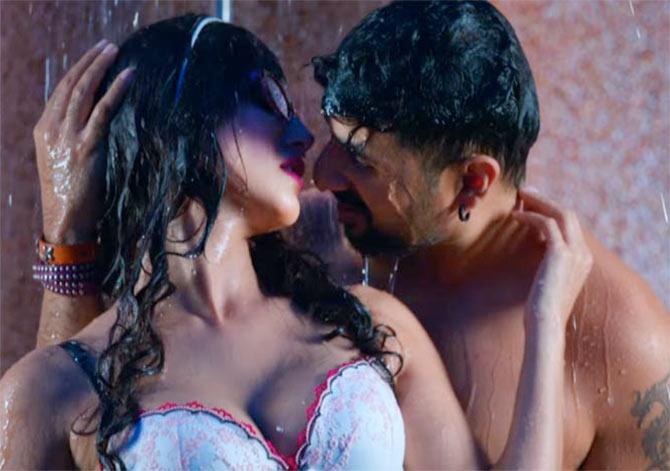 Image: Vir Das and Sunny Leone in Mastizaade
Milap wanted you in this film because you have never done a commercial masala film.
I don't think a film can be any more commercial than Mastizaade. This is my first commercial masala film and I've been wanting to do that for a while.
We've got music, adult comedy, a huge heroine... It's a very large film.
I don't do too many films. I do one or two a year because I manage two other careers along with my film career.
If I'm going to do a film, it has to be different from what I have done before. I have done a lot of urban comedy, almost four-five films, so I thought I should try this as well.
Last year, I decided that I should try things I haven't done before. So I signed a masala film like Mastizaade, a drama called 31st October, and Ajay Devgn's action film Shivaay. So last year was all about experimentation and the films will release now.
Why do you do only two or three films a year?
I spend six months a year being a stand-up comedian, so there's a lot of travelling and touring involved.
I also spend a month as a musician.
Also, I'm fortunate that I don't have to sign films to pay bills. So I take up films only if it's out of my comfort zone, something new for me.
Sunny said she connects more with her geeky side and that character is paired opposite you. How was it romancing her?
It was great. She is very different in both tacks. In her track with Tusshar Kapoor, she is more aggressive. But in my track, I'm the aggressive one. I'm the one pursuing her.
It was great. We laughed; there's a lot of physical comedy. Her character is very clumsy, and so there are two people, who fall in love while literally falling on the floor.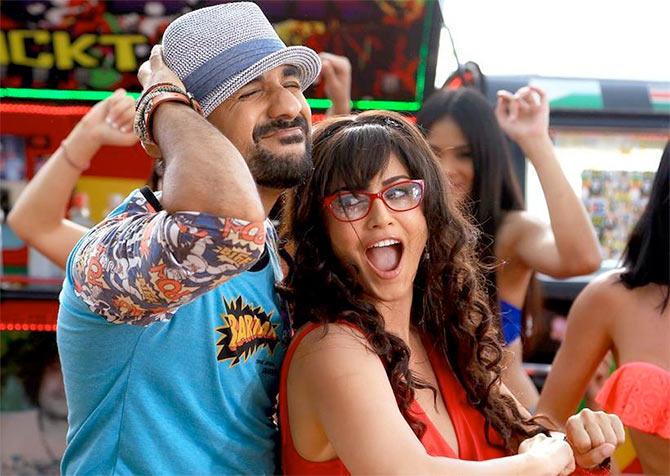 Image: Vir Das and Sunny Leone in Mastizaade
Since this is a comedy, the atmosphere on the sets must have been very light. Any anecdotes from the sets?
There's a scene when I run naked on the Worli sea face at 4:30 pm. There was a traffic jam! We did this scene in two takes because I wanted to get it over with as soon as possible.
But honestly, outside of Delhi Belly, this is the most fun I've had on a film ever. Everybody was a little older, we're all married, secure, we've been in the industry for a few years and we brought that security to doing an outrageous comedy.
I keep telling people that Mastizaade is a very unrealistic film -- there are talking horses, flying wheelchairs and a lot of stupidity. So when you're doing that, you let go, let all inhibitions go.
Your film is releasing just a week after Kya Kool Hai Hum 3, which belongs to the same genre. Will that affect Mastizaade's business?
No. Mastizaade has a casting you've never seen before. It brings three fan bases together -- Sunny's, Tusshar's and mine.
PNC is a slick production house, so the film stands on its own legs. If both films succeed, it would be very good.
Any genre or role you'd like to explore?
The one thing I haven't done yet is a negative role. I'm looking forward to that. I want to play a good villain.