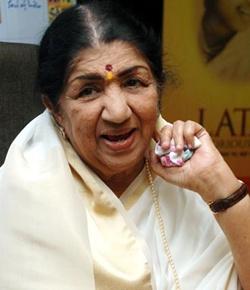 'I never criticised anyone or pulled anyone down to get ahead in my career.'
'If one of the yesteryear music composers was told to share a film's score with another composer, they would leave the project.'
'Kishoreda used to say that if people were listening to a song where he had slipped up, he would start talking loudly to distract them.'
Lata Mangeshkar rummages through her illustrious career on her 85th birthday on September 28.
You have turned 85. Do you feel you're 25 at heart?
(Laughs) I do. How time flies!

This time I'll be traveling on my birthday, so I want to thank all my friends and well-wishers in advance. It's because of them that I am still singing.
At one time, you were accused of monopolising the playback singing section.
People, who accused me of practising a monopoly, were wrong.

The media fuelled rumours about my monopoly. The first question I was always asked during interviews was about my supposed monopoly. Once I was even asked if I tampered with the equipment during other singers' recordings. Ab bataayiye main kyon aisa karun (How can I do that)? I never bothered with what other singers were doing. When Runa Laila came to India for the first time, I went to her first recording for Kalyanji-Anandji even though I had fever.

They said I was just indulging in dikhawa (show); that in fact I had gone to see how she sang. Arrey mujhe kya padi hai kaun kaisa gaata hai (Why should I care about how other people sing)? Runa Laila met me with lots of affection. Later she too was poisoned against me.

Even Vani Jairam, I praised all the time. She still turned around to say I would not let her sing.

Do you know Anuradha Paudwal sang the first song of her career for my brother in a Marathi film, directed by Vasant Joglekar? Forget about female singers, even some male singers accused of trying to stop them from singing. Anyway, I wish them all the best.
You have just recorded some new songs, a birthday gift for your fans?
You can say that.

I recorded some Bengali songs after a very long. These had to be recorded for Dussehra.

These are Dussehra Puja specials. As you know, Puja songs are very precious during this time of the year in Bengal. I haven't recorded them for 26 years.
The ones that you've recorded are played during every Dussehra in Kolkata?
Yes, their popularity is imperishable.

I did not want to record any other Puja songs unless something really worthwhile came up. The last Puja songs I had recorded were composed by Salilda (Salil Chowdhary). Now we found one song of his that had not been sung by anyone. I am proud to have sung it.
Salil Chowdhary and you shared an amazing work rapport...
What a composer he was! His songs were always challenging. We would work on them until they were polished to perfection.
Do you regret the fact that your brother Hridaynath Mangeshkar never became as successful a composer in Hindi films?
Very much so. There were many reasons for this. He never made the rounds of producers' offices to get work. Nor did I recommend him to any filmmaker.

Even when I wanted to, he forbade me from doing so.
Moreover, it's all a matter of fate. I'm happy that he has made a big name for himself in Maharashtra as a Marathi composer and stage performer.
Films songs are becoming increasingly unworthy of you.
I wouldn't blame music directors. It's what the films and their producers demand. Nowadays there are seven music directors in one film. I had never heard of such a thing before. If one of our old music directors was told to share a score with others, he would have left the assignment.

I remember a film for which Majrooh Sultanpuri was to write the lyrics. Composer Salil Chowdhary got Shailendra to write one lyric and suggested that Majroohsaab do all the rest. Majroohsaab chose to leave the assignment.

He reasoned that if he allowed this to happen once to him it could happen again. Now of course music directors and lyricists have no choice. Producers too have no choice since one music director cannot give them a bouquet of assorted compositions.

Earlier the music directors had the talent and the confidence. I remember an incident with Naushadsaab. It was during the recording of Uthaye ja unke sitam in Mehboob Khan's Andaz. The director felt that every line in the antara should be sung twice.

Naushadsaab said he'd rather remove the song from the film. Mehboobsaab backtracked. Finally Naushadsaab did comply but on his own terms. Music directors could assert themselves without fear or insecurity. Earlier, they had the guts. No longer so.
Who among the current lot of actors is your favourite?
Shah Rukh and Aamir Khan. I believe Hrithik Roshan eats, lives and breathes his work.

Aamir Khan is another favourite. I loved his dancing in Radha kaise na jale in Lagaan. In Aamir's case, every mannerism -- including the dance steps -- is dictated by the character he plays. He never steps outside the character's orbit. I like Aamir for this reason.
Name some memorable songs from your career.
That's the toughest one (laughs).
There are so many of them. Sajjad Husain's Ae dilruba (Rustam Sohrab) and Aaj mere naseeb ne mujhko rula-rula diya (Hulchal), Salil Chowdhary's O sajana barkha bahar (Parakh) and Raaton ke saaye ghane (Annadata), Naushadsaab's Jaane wale se mulaqat (Amar), Roshanji's Paaon choo lene do (Taj Mahal) and all the songs in the film Chitralekha.
Shyam Sunder's Saajan ki galiyan chod chale (Bazar), Sun lo sajan dil ki baat (Lahore) and Bahaar ayee khili kaliyan (Alif Laila), Madan Bhaiyya ke to asankhya gaane hain...
My favourites are Wohchup rahe to mere dil ke daagh jalte hain and Jab jab tumhein bhulaya tum aur yaad aaye (Jahan Ara), Phir Chitraguptaji aapke Patna ke (Akash Deep), Vasant Desai's Ghanashyam sundara, Laxmikant-Pyarelal's Woh hai zara khafa-khafa (Shagird), Chalo sajna jahan tak ghataa chale (Mere Humdam Mere Dost) and all the songs of Inteqaam, RD Burman's Dilbar dil se pyare (Caravan), Bahon mein chale aao (Anamika) and Na ja mere humdam (Pyar Ka Mausam), S D Burman's O mere bairaagi bhanwra (Ishq Par Zor Nahin) and Jogi jab se tu aaya mere dware (Bandini), Kalyanji-Anandji's Chandan sa badan (Saraswatichandra) and Akele hain chale aao (Raaz).
I love Khayyam's Baharon mera jeevan bhi sanwaron (Aakhri Khat) and Ae dil-e-nadaan (Razia Sultan).
What about the composers?
I like 70 percent of what I sang for Shankar-Jaikishan, especially Ajee roothkar ab kahan jaayeeyega (Aarzoo), Ajeeb dastaan hai yeh (Dil Apna Aur Preet Paraya), Meri jaan meri jaan (Yahudi), Yeh sham ki tanhaiya (Aan) and O mora nadaan balma (Ujala).
Then, there's Hemant Kumar's Kuch dil ne kahan (Anupama), Kahin deep jale kahin dil (Bees Saal Baad) and O beqaraar dil (Kohra).
C Ramachandra's Mohabbat aisi dhadkan hai (Anarkali), Ravindra Jain's songs in Henna and Ram Teri Ganga Maili, Ghulam Mohamed's songs in Pakeezah, Ravi Shankar's songs in Anuradha.
Then my brother Hridayanath Mangeshkar's songs in Lekin, Vishal Bhardwaj's Pani pani re (Maachis), Jatin-Lalit's songs in Jab Pyar Kissi Se Hota Hai and AR Rahman's Jiya jale (Dil Se). Though I have not sung the title song of Dil Se, I love that too. In fact, I love all the songs in Dil Se and the film too.
I like Anu Malik's song Sandese aate hain in Border.
Have you made mistakes in your singing?
Pehle bahut si baar ki hai (Many times before).
There are so many songs that I could not sing the way I wanted to. When such songs come on television or radio, I shut them off, or leave the room.
Kishoreda (Kishore Kumar) used to say that if people were listening to a song where he had slipped up, he would start talking loudly to distract their attention.
Do you feel you would have made a huge impact if you restricted yourself to classical singing?
Perhaps. I love classical singing. If I had the time to do riyaz and hone my classical singing, I'd have been the happiest woman in the world.
But circumstances willed otherwise. I never got the time.
But I don't regret anything. Whatever little I've learnt of classical music, I have applied to my film singing.
Is it true that composers used to wait for weeks and months for your dates?
Yes.
It was well-known in the film industry that if I went out of Mumbai or was unwell, composers would wait for weeks, sometimes months, to record their songs. Among those were Shankar-Jaikishan.
Then there was Madan Mohan. Sometimes he would be under a lot of pressure to record my song in another voice when I wasn't available. I would encourage him to use another voice rather than let his work suffer. But he would say, 'I compose songs with you in mind. Never say no to me.'
Those days composers and singers worked as a team.
What do you have to say about today's film songs?
I suppose they serve their function. If we look back, we may feel nostalgic. In those days, there used to be 30-40 gifted and popular composers. I had the opportunity to sing for all of them. Since every composer had his own unique style, there was a great deal of variety.

Today the scope for variety has shrunk drastically. There are only a handful of topnotch composers like A R Rahman, Anu Malik, Jatin-Lalit... that's it.
Fans behave with extraordinary restrain with you. They never mob you. They worship you from a distance. Has it been difficult for you to live up to their expectations?
I have had to make many sacrifices in my life. When I was a child, my father passed away. There were only sacrifices to be made thereafter. I was the eldest child of a family of daughters and one son, and he was the youngest.

Hridayanath was only four when our father died.
I had to shoulder all the responsibilities.
But I always feel I have got much more than I deserve. Maybe that's why I have evolved as an artiste.