'My father (Pankaj Kapur) is the best father in the world. He is not strict; he has never shouted at us.'
'Anybody who meets my mom (Supriya Pathak) will fall in love with her.'
'Bhaiyya (Shahid Kapoor) pampers me. But for him, I will always be a baby. The age difference between us is quite big.'
Shaandaar actress Sanah Kapoor talks about her famous family.
The pretty Sanah Kapoor makes her acting debut in Shaandaar, which also stars her father Pankaj Kapur and brother Shahid Kapoor.
She tells us how she was nervous about shooting for the film initially, and even forbade her family from attending the first day's shoot.
Patcy N/ Rediff.com chats with Sanah:
'I did not inform my family about the Shaandaar auditions immediately'
I was always interested in acting, and my parents knew that.
I've always participated in school and college plays.
My dad was very supportive (when I told them I wanted to act in a film) but my mom was apprehensive. She did not want her daughter to go through the ups and downs of the film industry. She has been in the industry for a long time, so she knows about the instability and the insecurities.
She tried to talk me out of it but acting is the only thing I have ever truly loved. Eventually, my mother gave up.
I took up an acting course at the Lee Strasberg Theatre and Film Institute in New York and did workshops with Neeraj Kabi (who was recently seen in the film, Talvar) and my father. During this time, I also completed my graduation.
I never actually told Bhaiyya (Shahid Kapoor) but he knew it.
I met a colleague of (casting director) Mukesh Chhabra at a get together and told him that I was interested in acting. One day, I got a call from his office for an audition.
I was given three tough scenes from Shaandaar.
(Director) Vikas Bahl saw the audition and selected me but he did not know I was Pankaj Kapur's daughter or Shahid Kapoor's sister. I told him that when I met him.
I did not inform my family about this audition immediately. I told them after two weeks. In fact, my father was signed on a month after me.
I went through the trial costume look, script-reading, getting to know my character better... To play Isha, I had to put on 16 kilos.
I know I am not the film's lead but I choose to do the role because I loved the character. And just because I'm doing a supporting role now doesn't mean I won't do lead roles later. As an actor, it's fun to mold yourself in different characters and do different things.


'I had forbidden my parents from coming on the sets on the first day of the shoot'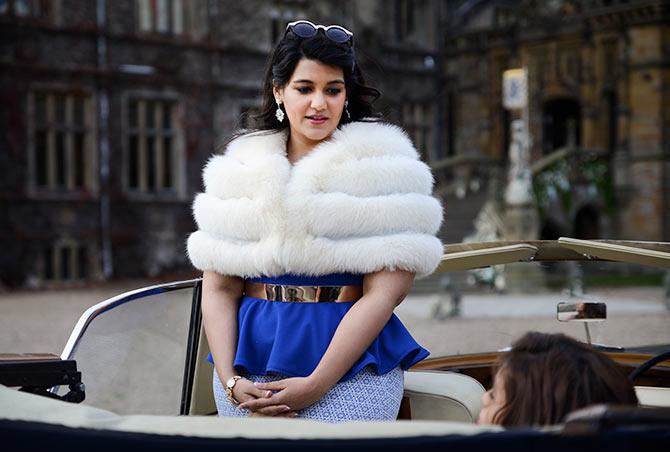 Image: Sanah Kapoor in Shandaar
I had forbidden my parents from coming on the sets on the first day of the shoot, as I thought I would be very nervous. My father was not shooting that day; Bhaiyya was. But I didn't know he was around. He was watching my shot on the monitor.
I was nervous in the beginning but as soon as the camera was on, I was very comfortable. I have always loved the camera; I love being on the sets. When the camera was off, it was intimidating because there were so many people around.
It was very scary to shoot with my dad; he is an institution. Any actor would find it intimidating to work with such a great actor. I was genuinely scared. But once we started shooting together, I was normal again.
He gave me space and just let me be. He would not tell me what to do or interfere in my work. But if I needed his help, he was always there.
Even Bhaiyya did not tell me what to do and how to do it. We worked professionally.
But I had to be at my best behaviour since my father and brother were right there.
The shoot was fun. I bonded with everyone.
I got along very well with Alia. She's very sweet. We play sisters in the film and we felt like sisters as well.
It was fun shooting for the song Gulabo. (Choreographer) Bosco and his team did an amazing job. We shot at Leeds, UK, in November and the weather was freezing! We would drink a lot of coffee to keep warm. We would dance and then run and put on our jackets.
I was very nervous shooting the songs. You have to get the steps right, according to the right beats. I have learnt Kathak dance and have a sense of rhythm but still I was nervous. Bosco made me comfortable, and we went crazy shooting that song.


'I was bought up like a regular kid'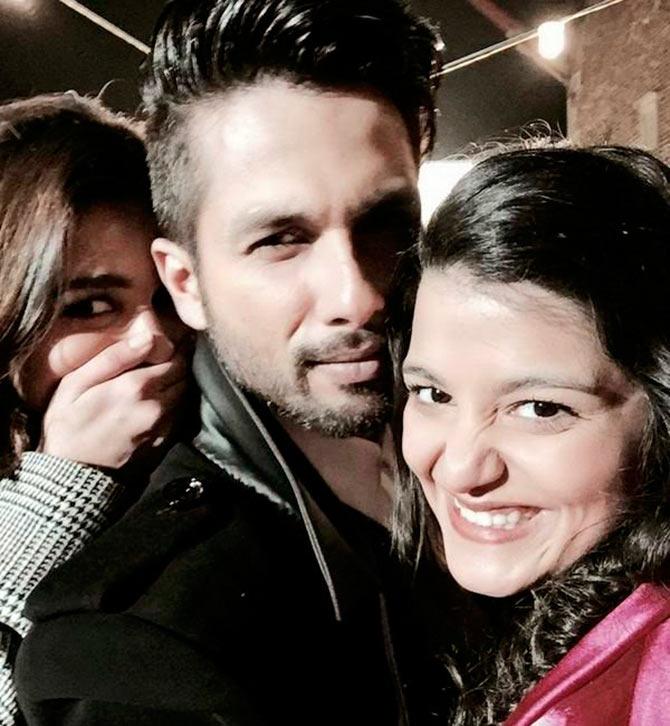 Image: Alia Bhatt, Shahid Kapoor with sister Sanah
I'm not like my character Isha at all. She feels people always look down upon her.
I am lucky because my parents took special time out to be with their kids. They turned down movies and started their own television company so that could be with us.
We have gone for a lot of family holidays. I've accompanied my father to outdoor shoots as well.
But I was bought up like a regular kid. I feel I don't belong to a film family. I have never attended any filmi parties.
'Our family has got very lucky with Mira'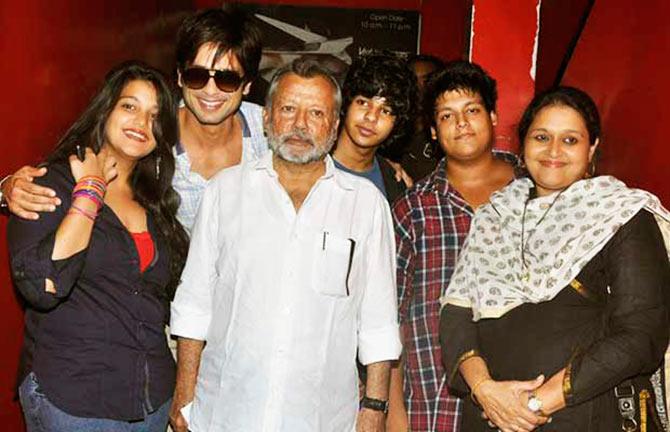 Image: Sanah Kapoor, Shahid Kapoor, Pankaj Kapur, Ishaan Khatar (son of Neelima Azeem and Rajesh Khattar), Ruhan Kapoor, Supriya Pathak
My father is the best father in the world. He is not strict; he has never shouted at us.
He is a friend and I can talk to him about anything. I am very possessive about him.
My mom (Supriya Pathak) is my best friend. Anybody who meets my mom will fall in love with her. She is very sweet. She has taken good care of all of us. It's fabulous to have a mother like her.
I love all their films, their work is amazing. It's impossible to pick a favourite film.
My brother Ruhaan is my life. I trust him the most in this world. I can't go a day without talking to him. I give him even the tiniest details of my life.
He is 21 years old, and the strictest one in our family. Everyone is scared of him, including my father.
I look up to Bhaiyya for everything. He is possessive and over-protective about me. He pampers me. But for him, I will always be a baby. The age difference between us is quite big.
I think our family has got very lucky with (Shahid's wife) Mira. She has fit in so well.
We get along very well. We have similar interests. We are both literature students, and like similar books, movies and food. We are both into art, history and culture. We became friends even before she got married.
I get along with my extended family as well (her aunt Ratna Pathak Shah, uncle Naseeruddin Shah and cousins Imaad and Vivaan). Vivaan and I are closer in age, so we would hang out and have lots of sleepovers. I have watched some of the funniest movies with him.