'People ask me if I miss living a normal life, since I don't have privacy, and I tell them I don't want to have a normal life.'
'I want people standing outside my house, I want to be loved by them.'
'I have been fortunate enough to live like a star for 25 years and I would like to die as a star.'
Shah Rukh Khan, unplugged.
Shah Rukh Khan was *really* in the mood to talk during a promotional interview of his new film Fan.
So the superstar chatted for over than hour, in his witty and humble style, giving elaborate answers, giving us a peek inside his star persona.
Wearing his hair neatly gelled back and a stubble, Shah Rukh talks about what stardom means to him. Jahnavi Patel/ Rediff.com takes notes.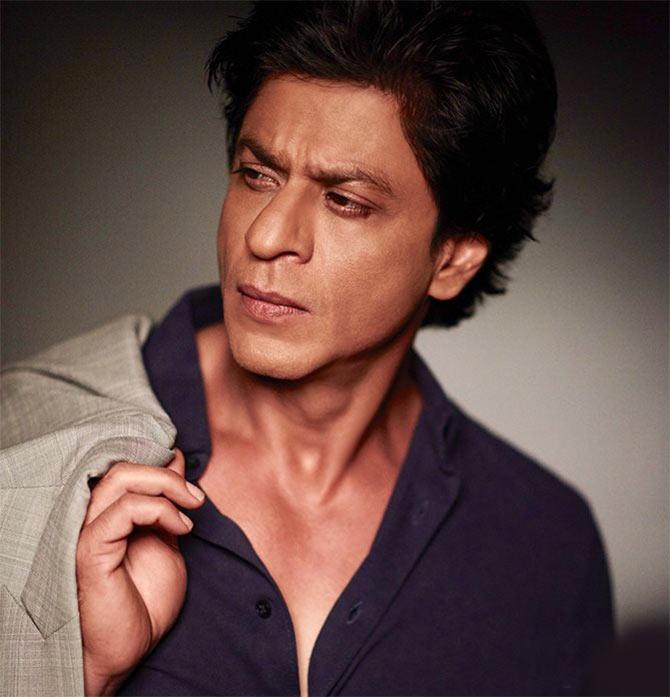 IMAGE: Shah Rukh Khan. Photograph: Shah Rukh Khan/Facebook
Maneesh Sharma is a relatively new director in the industry. What made you want to work with him?
When I am ready to work with new girls, why shouldn't I work with new directors?
To be honest, I don't get to meet too many people. When he called, he seemed like an educated boy, a young filmmaker in America.
I got my opportunities like this. I wouldn't have been an actor if Juhi Chawla hadn't agree to work with me (in their first film together Raju Ban Gaya Gentleman) or Rahul Rawailsahab (in Anjaam) or Yash Chopra didn't think I was good enough.
It has nothing to do with age or relative newness.
One night, I chanced upon Band Baaja Baaraat at home. Adi (Aditya Chopra, producer) had sent the film and I really loved it. I called up everyone I knew -- Anushka Sharma, Vaibhavi Merchant... I didn't know Ranveer Singh (at that time) or even Maneesh even though I had worked with him in Rab Ne Bana Di Jodi -- to tell them what a beautiful film it was.
The clincher (for Fan) was the story, it's so difficult to do something like this. Only a young person would want to do a film like this because you're a little stupid when you're young. There's a strange belief (in oneself) when you're young.
I had it too. Every hero said no to Baazigar, but that age, I said haa haa kar denge (yes, I will do it).
I remember Yash Johar asked me, what have you done to your career? But then he said, no problem, it will work. At that time, I didn't even know what a hit film was.
I am not a regional person but it's fun working with a Delhi guy. We have some strange things to share while talking.

Were you surprised that someone asked you to play a superstar?
Maneesh has graciously said that the movie star in the film is of my calibre and there's a fan who loves the superstar immensely.
I am playing a 24-year-old as well as a 50-year-old.
I've played a superstar in Billu as well, but that was a guest appearance.
It's not 'exciting' that I'm going to play a superstar; I am a superstar! (laughs)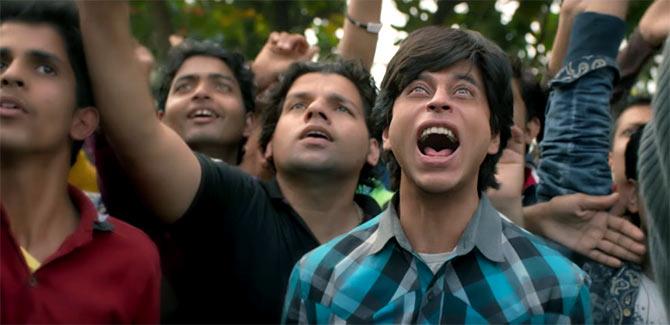 IMAGE: Shah Rukh Khan as Gaurav in Fan
How was it to unlearn being Shah Rukh, and become a fan?
This is the biggest takeaway for me from Fan -- how not to be Shah Rukh Khan, in both the characters.
Playing a superstar is very difficult. In the beginning, we had more retakes for Gaurav, as we were trying to figure out how he would be. Later, Aryan needed more retakes; we didn't know why it wasn't right, maybe it was too much of Shah Rukh Khan.
Maneesh had a clear idea of Gaurav, the VFX, the make up, the costumes, the cinematography...
Will we see Aryan's family in the film?
Yes, Aryan has a family: a wife and kids.
The way we wanted to promote Fan... we wanted the film to be about Gaurav and then the star. Maybe there hasn't been space for some fine performances -- Deepika Amin is my colleague from the theatre days, Waluscha De Sousa is an old friend, Sachin sahab's daughter Shriya Pilgaonkar, Sayani Gupta plays my manager in the film.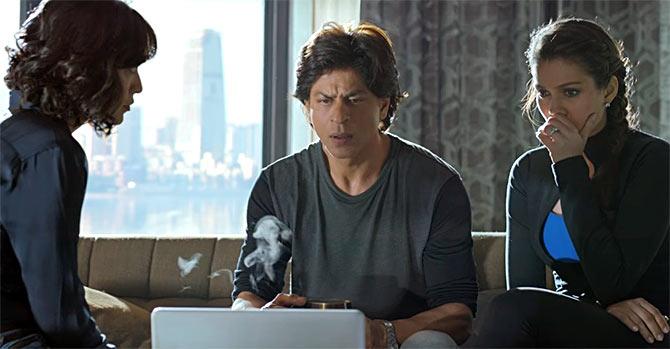 IMAGE: Sayani Gupta, Shah Rukh Khan and Waluscha De Dsousa in Fan
You were not satisfied with the VFX initially. What kept you motivated?
We saw the first test three months after the shooting.
As a matter of fact, I did not want to shoot it then as I was in the middle of Happy New Year, and injured. I would have to shave and come quickly on the sets but I did it anyway because we needed those three moths to see if it would work or not. We saw it, improved upon it, liked it and then suddenly someone from the team said it wasn't looking good, and we agreed.
Then, the VFX guys and make-up artist came up with an idea.
The Censor Board has asked for a few scenes to be cut. Until now, we hadn't heard about cuts in your films.
All my films are family movies.
The cuts aren't big. In one place, we say 'ghanta'.
There was a scene which they said was too vicious.
I have sat with those ladies and gentlemen, they're very nice people. They have explained to me that when you smoke a cigarette in a film, it can entice children to do the same. That's why they're strict about it, and I think it's okay.
They've told me that sometimes, when an actor uses abusive language, it becomes cooler for youngsters to use it, so maybe one shouldn't use such language. I wouldn't want my son to use those words.
The cuts in Fan will not make a difference to the film.
IMAGE: Shah Rukh Khan and Yash Chopra. Photograph: Pradeep Bandekar
You have collaborated with Yash Raj Films for the first time since Yash Chopra's demise. Do you miss him?
Pam aunty (Pamela Chopra) saw the film with us three-four nights ago and the first thing I said after the screening was that I wish Yashji was here, he would have loved the film.
Yash Chopra was compartmentalised as a romantic director with saris flowing in Switzerland but his stories were so edgy for that time, be it Waqt, Ittefaq, Lamhe or even Darr.

Have you been a fan of any actor?
No, I haven't.
But I have admired the work of many people like Amitabh Bachchan, Rishi Kapoor, Mumtazji, Saira Banu, Milkha Singh, Mohammad Ali, Mother Teresa, Sunil Gavaskar, Kapil Dev...
Sunny Leone recently said she wanted to work with you.
Sunny was very sweet. I feel very touched when people say that.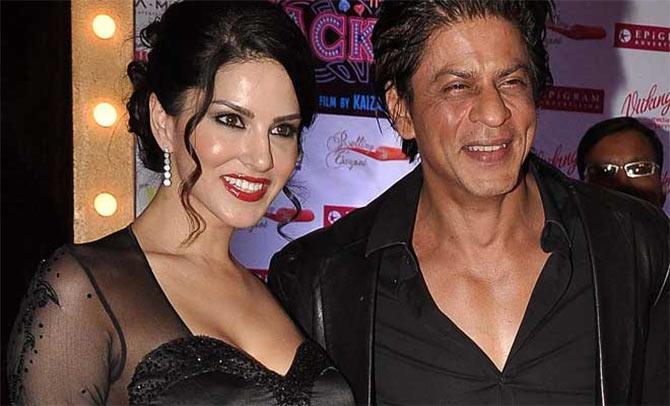 IMAGE: Sunny Leone and Shah Rukh Khan. Photograph: Pradeep Bandekar
Are you trying to make Bollywood the new Hollywood by making movies with such fantastic VFX? Have you got any Hollywood offers?
No, I haven't got offers yet.
They make awful films as well but their good films outnumber ours.
It's high time we make a film that the world admires, like Life Is Beautiful.

Everybody should say 'what a good film' even if they don't understand the language. We've made so many of them; Baahubali is very good.
Imagine Mahabharata told with the VFX of Jungle Book, Avatar or X Men! It would be mind-blowing. Technology can help us reach that -- to make a universal Indian film like Mahabharata, Ramayana, Shiva or Krishna because the world knows those stories, or a biopic on one of our great leaders.
I wish we had made Gandhi like Richard Attenborough. We didn't have the technology then but now we do.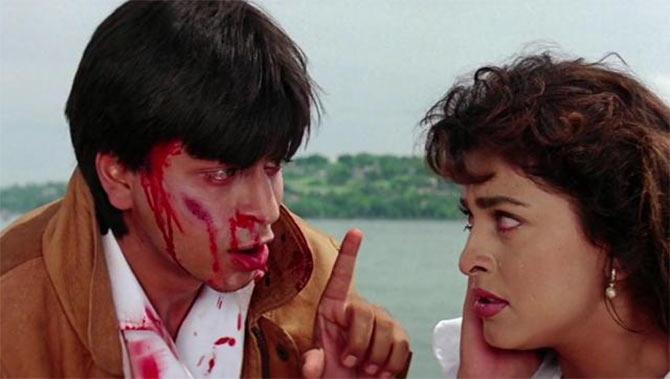 IMAGE: Shah Rukh Khan and Juhi Chawla in Darr
Suddenly, so many actors are making movies abroad. How do you see this?
It's amazing what Deepika (Padukone), Priyanka (Chopra), Irrfan (Khan), Om Puriji, Anupam Kher, Anil Kapoor and some others are doing; it's extremely gutsy, and fantastic!
I'm not including Mr (Amitabh) Bachchan because he is internationally known anyway.
It makes the West look at India in a way like wow, look at this talent! The world will see you in a different light; it's not just a typical Indian character.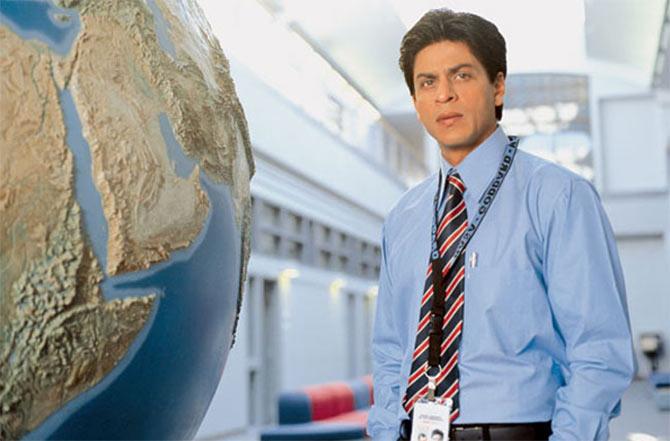 IMAGE: Shah Rukh Khan in Swades
Your films like Swades and Chak De! India have been much appreciated. Why don't you do much such films?
If I do that often, people will say he's doing the same things, and has become boring. So I do some bad roles, and then do good ones again!
But really, if I don't get a film like that, I can't make it appear out of thin air!
I am one actor who has never written a film for himself.
Shimit Amin hasn't offered me a film but if he has an interesting story, I would do it.
How do you view your success?
People ask me if I miss living a normal life, since I don't have privacy, and I tell them I don't want to have a normal life.
I want people standing outside my house, I want to be loved by them.
I have been fortunate enough to live like a star for 25 years and I would like to die as a star.
I am not attached or enamoured to my success at all; people who work with me will tell you that.
I'm like a fakir in my personal life. I have never had the time to enjoy the money that I have. It doesn't seem like it, but my family and I have a very simplistic lifestyle.
I have never sat down with my management and said my rating is falling.
I am very easy about the financial part of my life.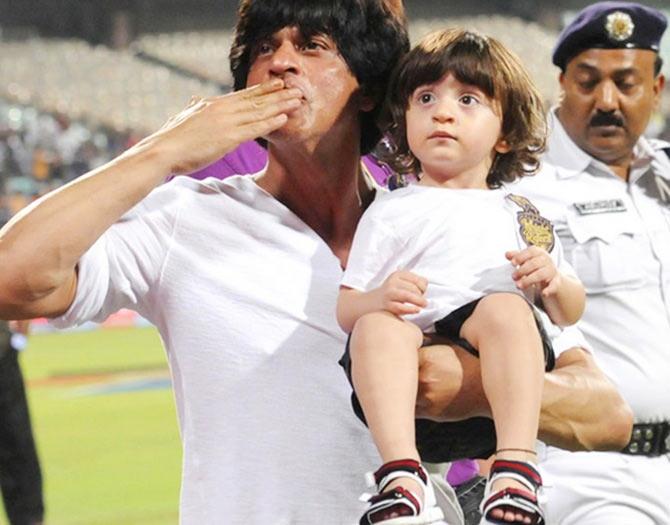 IMAGE: Shah Rukh Khan and AbRam Khan
Do you revisit your own films?
No, I never watch my films, even when they are telecast on television.
Even Fan, what I saw, was a technical patch, not the final cut.
You're forthcoming films -- Fan, Raees and Don 3 -- are all action movies.
We had four nice action scenes in Fan but we had to cut one out because I looked like a chudail (witch) in it! It was a very good action scene and I miss it.
I have done some really cool parkour in the film.
Raees is not completely action, it's very intense. There are four-five action scenes, and very different from Fan. When Raees fights, he is going to win; you don't mess with Raees!
I haven't heard about Don 3. Farhan (Akhtar, director) hasn't started writing it yet.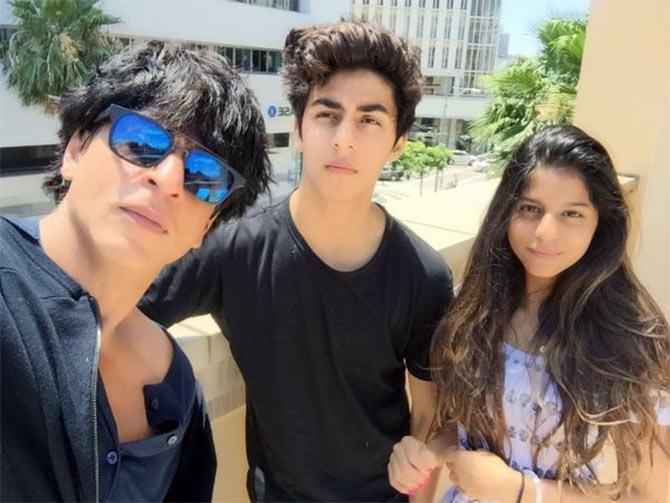 IMAGE: Shah Rukh Khan, Aryan Khan and Suhana Khan. Photograph: Shah Rukh Khan/Twitter
Aryan, Suhana or AbRam: who is your biggest fan?
I think they all like me but I play a lot with AbRam. I'm a little stupid with him, so he really enjoys it.
Out of the three kids, somehow he has had more time with me because when my (older) kids were growing up, they had different personalities -- Aryan wanted to be on his own and Suhana was shy.
AbRam is a very outgoing and happy kid.

I've played the same games with Aryan and Suhana but AbRam enjoys them more.
In the house, he seems more attracted to me than anyone else. I think he likes me a lot.